Although one of the earliest breeds to be registered with the AKC, the Field Spaniel almost faded into obscurity prior to the 1960s. And that would be a shame because this is one terrific dog. In the field, he's known for endurance and energy, equally adept on land or water. But where the Field Spaniel really shines is as a family dog.
1. One of the defining characteristics of the breed is an unusually docile nature. The Field Spaniel is a real people-pleaser and thrives on affection and human companionship. He has enormous charm and makes an ideal companion for young and old alike.
2. Although docile, he's not boring. The Field Spaniel has a playful and fun-loving side. He enjoys a good romp and wants to join in all the family's activities. He also has the independence of a sporting, hard-working dog, just to keep life a little interesting.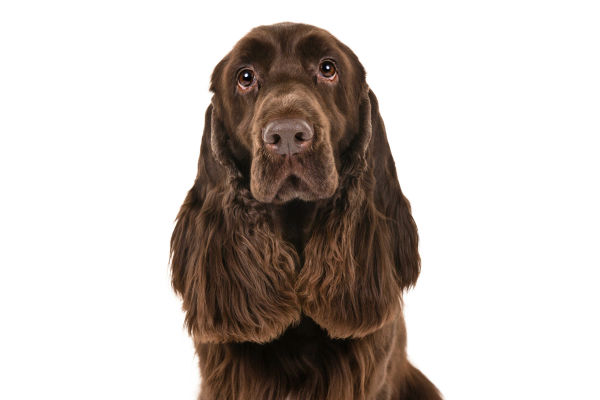 3. Take one look at that expression and those dark eyes and you'll see the Field Spaniel's intelligence and sensitivity. He's a quick learner and responds well to positive training. He has a natural ability to work in the field that is matched by his deep affinity and devotion to his humans.
4. The Field Spaniel is a handsome dog. With his glossy dark coat and feathery ears, he's pretty much irresistible. And no, he is not just a larger, longer Cocker Spaniel.
 
5. When fans of the breed are done swooning over what a delightful and loving companion the Field Spaniel is, they might also mention that he's initially quite reserved and aloof when meeting strangers. He's not shy or fearful, just a bit on the cautious side. He'll warm up in his own time.
While gaining in popularity, it's still relatively unusual to see Field Spaniels in the neighborhood or at the dog park. But to know one is to love one, and you'll be rewarded with a sweet, smart, and deeply devoted canine companion.
https://www.akc.org/wp-admin/admin-ajax.php
Get Your Free AKC eBook
Selecting a Puppy
How do you know what breed is right for your family? How do you find a reputable breeder? What questions should you ask a breeder? Download this e-book for guidance on these questions and other important factors to consider when looking for a puppy.