Header photo courtesy of Christina Phillips, AKC Breeder of Merit
The Irish Red and White Setter is not as well known as his dazzling cousin, the Irish Setter, with only about 500 dogs in North America. Even in Ireland, the breed nearly went extinct during World War I. It took the dedication of a handful of breeders over decades to keep the Irish Red and White Setter breed alive. Sportsmen, hunters, and active families everywhere are delighted that this high-spirited, fun-loving breed has survived and thrived. But before you rush out to choose your very own Irish Red and White Setter, there are some key things you should know.
1. He is primarily a field dog. Hunters sing his praises as a natural pointer. This Irish Red and White Setter has the stamina and intensity to hunt all day long and then some. They have a natural ability to adjust to different terrain and conditions and seem born to hunt. To see one locate game, creep forward, and take a pointing stance is to see instinct in action. Whether standing at point or crouched low to the ground, almost frozen in his stance, the Irish Red and White Setter is a perfect example of a dog doing what he's born to do.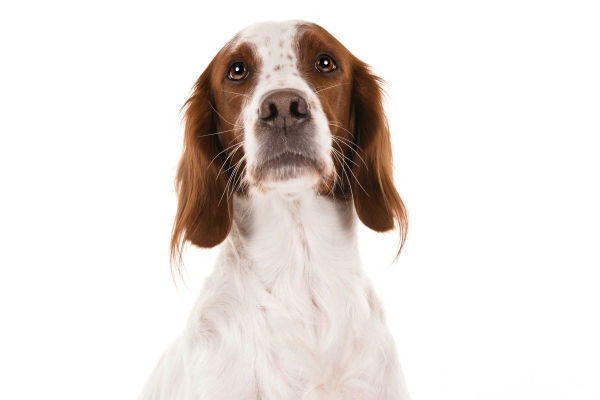 2. We mentioned stamina and intensity. Combined with his power and athleticism, the Irish Red and White Setter is a high-energy dog, and, in the home could even be considered a handful. None of the traits that make him such a prized hunting companion stop at the front door. Although easily trained and responsive to positive reinforcement, he's a true sporting dog, filled with determination, energy, and high spirits. If you hunt or are an active, sporty, and outdoorsy type, you're a good match for the IR&WS.
3. He's known as a "gentleman's hunting dog." Unlike some breeds, the IR&WS hunts for you, not for himself, so he takes well to field training. However, he prefers gentle persuasion; he doesn't care much for being made to do something. Short, positive training sessions are the way to go with this breed.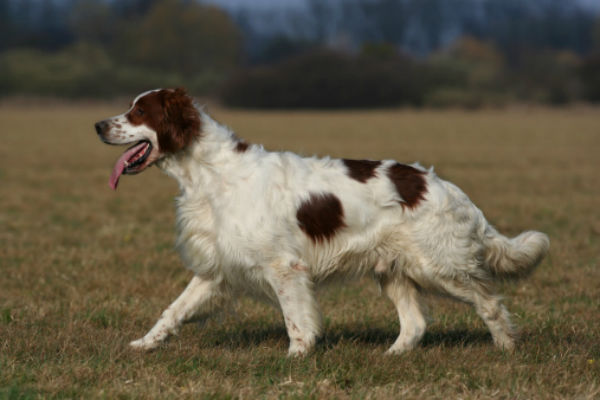 4. Along with all of his natural talent, the Irish Red and White Setter is charming, with a good measure of humor. Kind and friendly, he makes an excellent companion for hiking, biking, and other outdoor pleasures.
5. Looks aren't everything, but we should mention that this is one beautiful dog. His silky, feathered coat has vivid floating "islands" of red on white. The coloring makes the IR&WS easy to track in the field and is a standout anywhere.
 
If you plan to bring an Irish Red and White Setter into your life, make sure you know what you're getting into. This is a high-energy, spirited, and natural-born hunter that enriches the lives of those who treasure his unique qualities.
https://www.akc.org/wp-admin/admin-ajax.php
Get Your Free AKC eBook
Selecting a Puppy
How do you know what breed is right for your family? How do you find a reputable breeder? What questions should you ask a breeder? Download this e-book for guidance on these questions and other important factors to consider when looking for a puppy.