AKC is a participant in affiliate advertising programs designed to provide a means for sites to earn advertising fees by advertising and linking to akc.org. If you purchase a product through this article, we may receive a portion of the sale.
So, you have the dog, have chosen a vet, selected a dog food, and are settling in. Not unlike with a new baby, there's a lot of equipment and supplies that come with the canine member of the household. Here are some dog accessories every dog owner and dog might need.
Food and Water Bowls
Let's start with the obvious. These will become a constant presence in your kitchen, or wherever you feed your dog, so choose wisely. Dog bowls come in many materials, designs, and sizes: some austerely functional, some highly decorative.
Iconic Pet Heavy Stainless Steel Bowls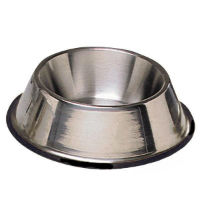 Stainless steel bowls are a good practical choice. They don't absorb odors or bacteria, they're sturdy, and this one has a rubber, non-skid base to keep it from sliding all over the floor.
Pet Zone Designer Diner Adjustable Raised Dog Feeder
Some dogs prefer a raised feeder that makes it easier for them to reach their bowls. An adjustable height allows you to arrange this set at just the right comfort level, and the stainless steel bowls are easy to remove and dishwasher safe.
Environmentally conscious dog owners like these rice hull dog bowls, which are free of toxic materials, as light as plastic bowls, and resistant to mold and fungi.
Outward Hound Fun Feeder Slow Feeder
Do you have a dog that wolfs down his food, which can contribute to bloat and other digestive issues? Slow him down with this slow-feed interactive dog bowl. The maze design slows him down, while also making mealtime fun. Made of non-toxic plastic that's also dishwasher safe.
Personalized Dog Bowl – Cheerful Chevron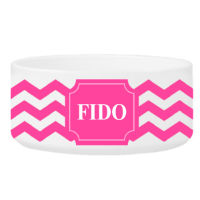 You'll be looking at your dog's feeding bowls for a long time, so why not add some decorative flair to these everyday items? The cheerful chevron personalized dog bowl comes in nine different colors—something for any decor.
Dog Crate Pads
Chances are you already have a crate for your dog, but does that plastic or metal base look very comfortable to you? It doesn't to your dog, either. Make his crate homier with a crate mat.
Add a little luxury to your dog's crate with this tufted, cushioned crate pad. It's made with eco-friendly materials and, as a bonus, has a cooling gel layer for a perfect nap or night's sleep.
One side of this cushiony crate pad is plush terry for comfort; the other side is a cotton-blend duck cloth for durability. It comes in several sizes, from 18" to 54", and is completely machine washable.
The Outlast crate mat is cleverly designed to manage moisture and heat by using the same high-tech materials used by National Aeronautics and Space Administration (NASA). It comes in more than a dozen sizes and five different colors. The cover zips off for easy washing.
Reversible Paw Print/Fleece Pet Dog Bed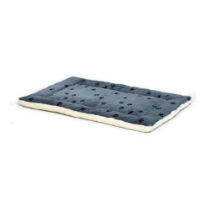 The price may be basic, but the design is not. With cute paw prints on one side and fleece on the bottom, this will make any crate look good. It's available in eight sizes and is machine washable and dryer safe.
Now that your dog has something soft to lie on, consider adding a crate fan. The two-speed fan keeps your canine pal cool, with a refreshing airflow. It's ideal for travel or just hot summer days.
Dog ID Tags
You've got the collar, the leash, and everything you think you need for outdoor adventures. But perhaps the most important accessory is an ID tag for your dog. A tag with your contact information makes it easier for someone to return your dog to you should he go astray.
Stainless Steel Pet Id Tags, Personalized
A stainless steel tag is durable and long lasting. This tag has two-sided engraving: up to four lines on each side, so there's plenty of room for your dog's name and your contact information. It's offered in nine different shapes, including star, bone, rectangular, and round, and comes in two sizes.
Want something a little different? This ID tag looks like a mini license plate and is available for all 50 states, Guam, Puerto Rico, and Canadian provinces. It has room for all your contact info and even a picture of your dog.
Tired of dangling tags that jangle whenever your dog walks in? This dog ID tag is different: the stainless steel tag slides onto single-thickness nylon collars that have metal buckles. Granted, it's not right for every collar, but with no noise and a bit of style, it may be worth changing collars.
These anodized aluminum tags come in so many shapes and colors, you may have a hard time deciding which one suits your dog. There's room for four lines of text, and the tag comes with a split ring for attaching the tag to your dog's collar. The price is right, too!
AKC Reunite
Of course, the best thing you can do to be quickly reunited with your lost dog is to have him microchipped. Your vet can do a quick and easy implantation, then you enroll the microchip ID number. A shelter or vet's office can scan the chip to bring you and your canine pal back together.
Dog Clothes
Whether you've got a big bruiser or a dainty toy dog, there comes a time when he may need more than his own fur coat. A dog jacket will protect him from extreme cold or keep his newly groomed coat dry on a wet day.
If your dog spends time scrambling through brush or hiking the trail with you, you'll want this abrasion-resistant, insulated dog jacket. It's not only durable and warm, but made of recycled fabrics.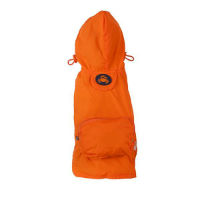 Be ready for a sudden downpour with this packable dog raincoat. This lightweight rain gear has an adjustable hood and comes with its own pouch.
Fleece Cold Weather Vest for Small Dogs
Sometimes it's hard to get the right fit in dog clothing for very small breeds. This fleece vest is made just for them, even if your pup is a modest 4 pounds. It comes in 16 colors, and even has an O-ring attached to the back.
Don't let extreme winter weather keep you and your dog from doing what you love. This dog jacket is ready for anything! Thermal insulation and reflective foil keep your dog warm from top to bottom.
The list of dog accessories includes much more, but these handy items should get you started.
https://www.akc.org/wp-admin/admin-ajax.php
Get Your Free AKC eBook
The All Purpose Grooming Tool kit