Whether you have one dog or your own pack of dogs, a personalized dog collar is more than a decorative accessory; it can also be a safety measure. It allows people to greet your pet by name, and should he get loose, a collar customized with your phone number could help your dog find his way home. Suit your style and your dog's with collars that range from colorful nylon to classic leather. Go as fancy or as basic as you like!
Although there are several different collar styles that may be suitable for your dog, the most common is a standard flat collar. These are usually offered in nylon mesh, nylon webbing, or leather. You can choose a collar with the text embroidered or printed right onto the collar or one with a plate, usually metal, attached to the collar. Along with the dog's name, it's a good idea to add your cell phone number to the text, because if your dog is lost, you're likely to be out looking for him and not available to answer your home phone.
Regardless of style, the single most important consideration is size. The collar should be sized so that it sits high on your dog's neck and fits snugly. You should be able to fit two fingers between the collar and your dog's neck. Manufacturers list sizes differently: some are sized by the length and width of the collar. Other manufacturers want you to specify your dog's neck size. Keep in mind that most sizing information also includes collar width. The collar should not be so loose that your dog can slip right out of it.
A word of warning, though: even the best flat collar may not be enough for escape artists like Greyhounds, Salukis, and Whippets, which have long necks and small heads. If your dog is that kind of escape artist, you'll be better off with a martingale collar, also known as a limited-slip collar. These collars have a loop for the dog's head and a smaller loop attached to the leash. If your dog pulls, the larger loop tightens enough to keep him from slipping his head out.
Top 12 Dog Collars
GoTags Personalized Dog Collar
With up to 25 embroidered characters, 14 thread colors, and a sturdy D-ring and clasp, this collar has it all. It comes in four adjustable sizes.
Dog Collar With Engraved Metal Buckle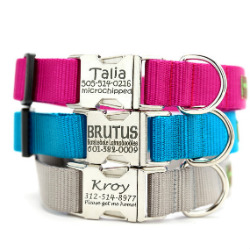 Choose from 22 bright colors for the nylon webbing and several metal or plastic buckles. You can be pretty sure no other dog in the neighborhood will have anything quite like this handmade dog collar.
The reflective safety band on this durable collar can be printed with up to 25 characters. Plus, it's adjustable and offered in three sizes.
If leather is more your style, your dog will look handsome in this soft leather dog collar engraved with his name and your choice of text. Choose text style, art, and size to get just the right one for your dog.
Leather Collar with Engraved Metal Tag
For another choice in leather collars, this top-quality leather dog collar has a polished metal plate tag that can be engraved with your dog's name and other pertinent information. It comes in five sizes.
This limited-slip nylon mesh collar comes in several colors and sizes and is ideal for dogs with narrow heads. Choose your font size and text, which is embroidered onto the collar.
Chevron Stripe Martingale Collar
These lively collars offers a chevron design that comes in nine bright colors. The stainless steel collar tag can be customized with up to three lines of text.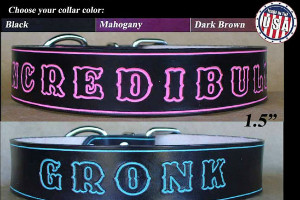 This cowhide collar isn't something you'll see everyday. Choose from 10 colors that outline the letters of your text on a black, mahogany, or dark brown collar. For optimum fit, order by your dog's neck size.
If you prefer a quick-close plastic clasp, you'll get plenty of choice with this nylon collar. Choose from several colors for collar and text — you can mix and match to your heart's content.
Laser Engraved Leather Dog Collar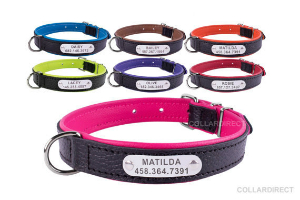 These handmade soft leather collars have colorful inside padding for a bright touch. The personalized nameplate is attached with stainless steel rivets that won't rust.
Braided Personalized Dog Collar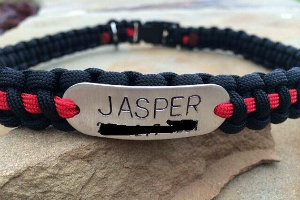 Made of sturdy braided paracord; you can choose two or even three different colors to customize this dog collar. You could even choose your favorite college's colors! The metal plate is hand-stamped with your dog's name and other information.
Be kind to the environment with this bamboo dog collar. With nine collar colors and eleven thread colors, you may not be able to choose just one.
AKC is a participant in affiliate advertising programs designed to provide a means for sites to earn advertising fees by advertising and linking to akc.org. If you purchase a product through this article, we may receive a portion of the sale.
https://www.akc.org/wp-admin/admin-ajax.php
Get Your Free AKC eBook
What to do if your pet goes missing?
If the unthinkable were to happen, are you prepared? Download this e-books to learn what steps to take if your dog goes missing.