Over the last several years the proliferation of natural disasters made one thing very clear to me: My family needed a disaster plan in place for our dogs.
In September 2017, my spouse spent Hurricane Irma in the Caribbean with one of our dogs. When Irma went from a Category 3 to a Category 5 overnight, she was unable to evacuate, as the last flights were canceled. Expecting the worst, she packed up all the supplies she and the dog would need in case the island suffered catastrophic damage. The pair went to a hurricane shelter and prepared to hunker down. Irma largely spared the island she was on, unlike nearby Barbuda and Anguilla, but it was a very close call.
From fires and floods to hurricanes and earthquakes, the worst can and does happen to dog owners all over the country. Just like you should have a plan in place for the humans in your family, you also need a disaster plan for your dog.
In Partnership with

Assess Severe Weather Risks
It is impossible to be prepared for everything, but knowing which natural disasters are most likely to affect your area can help you plan for as many of them as possible, whether it's wildfires, tornadoes, hurricanes, — you name it. Once you understand the types of situations that can happen, it's easier to know what supplies to keep on hand.
The official website of the Department of Homeland Security, Ready.gov, shares a few tips for staying in the know. Consider keeping an NOAA Weather Radio set to your local emergency station. You can also receive severe weather alerts from the National Weather Service via an app created by the Federal Emergency Management Agency (FEMA).
Prepare a Dog First Aid Kit
Most emergencies require a first aid kit. This kit should include medical supplies, food, and water, and anything else you may need to care for an injured dog. The AKC provides a useful canine first aid kit guide to help you build your own.
Pet Evacuation Checklist
Evacuations are stressful. You may have to leave behind valued possessions, and you will often have very little time to decide what to take. The last thing you want to worry about is what your dog will need.
Put together an evacuation checklist for pets ahead of time that covers the essentials. Make sure you and anyone who regularly watches your pet know where to find your dog's food, medications, medical records, leash, and crate.
If for any reason you need to board your dogs, you will need proof of vaccinations, and in the rare case that your dog becomes lost, you will want all of their medical information on-hand. Technology now makes it possible to store this information on your cellphone. The free app, TailTrax, allows you to record your dog's medical and health information and connect with your pup's littermates so you can have an entire database of health at your fingertips.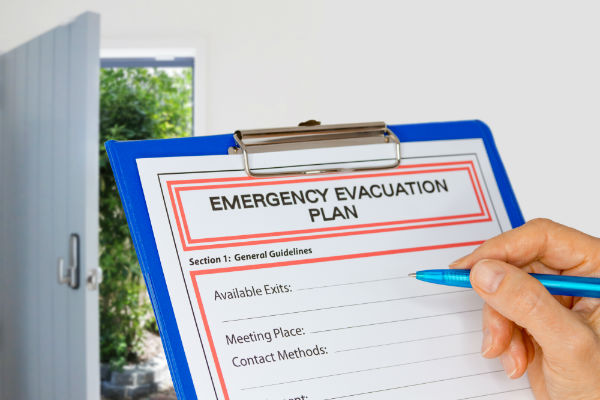 Pet Evacuation Plan
If you have to leave your home, dogs complicate things. Not all hotels accept pets, and it may be harder to find friends and relatives who are willing to open their home to both you and your companion animal. But here is the good news. Because of the Pet Evacuation and Transportation Standards Act, many communities in more than 30 states, have shelters that accommodate people with pets. Find out what's available in your area before disaster hits. This map shows which states have a pet emergency plan.
It is also a good idea to research pet-friendly hotel chains as a part of your emergency preparation plan. Just as important, consider crate training your dog. Crate-trained dogs can be accommodated more easily because they're comfortable with spending time in their crates.
Stay Up-to-Date on Dog Vaccines & Microchip Information
Nothing shuts doors faster than failure to provide proof of vaccination records, especially for dangerous diseases. Keeping your pet up-to-date on vaccines offers protection from conditions such as rabies, distemper, or leptospirosis while increasing the chance of being allowed into disaster relief shelters and kennels. Also, if you and your pet become separated, dogs with microchips are much more likely to be returned with their owner.
Getting your dog microchipped is just the first step. You also need to register the microchip with a current phone number so that shelters and veterinary hospitals can reach you if your dog is found. You can even look into a collar with GPS technology for added peace of mind.
Prepare Your Car for Unexpected Emergencies
If you are traveling with a dog, you may be faced with a disaster you're not prepared for, as vacationers to Florida and the Caribbean discovered when Hurricanes Irma and Maria hit in 2017 within weeks of each other. That is why it is essential to have a disaster plan that moves with you. For dog owners, that means keeping a pet go bag in the car that includes a canine first aid kit, veterinary paperwork, pet food and water, contact information for your veterinarian, and a travel crate.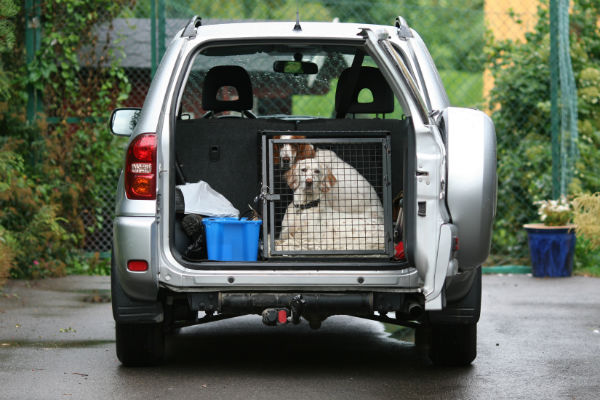 Additional Steps
After doing all of the above, make sure the rest of your family knows the details. Evacuation plans can vary significantly between different types of owners. For instance, if you own a breeding or sporting kennel, evacuating your dogs will prove to be a bigger operation. You will have to arrange for transportation of multiple dogs and make sure you have enough food for all of them, as well as any additional supplies needed for litters or females in estrus.
Your dog's personality also plays a role. Not all dogs get along well with others. If you know that your dog will have trouble in a crowded environment, make sure you pack a crate and perhaps even a soft basket muzzle for your pet's protection. If it is cool in your location, you may also place a blanket or towel over the crate to give your pet some privacy.
Medications can also pose complications. You'll need a cooler and ice on hand for meds that need to be refrigerated in case you lose power. Talk with your veterinarian about steps you can take to preserve the integrity of your dog's medication, and what to do if it loses potency.
Once you've established a plan, you should practice as much of it as possible. If you have a tornado shelter in your yard, get your dog used to climbing in and out of it. If you think your dog may need to be muzzled during an emergency, you can test putting the muzzle on with positive reinforcement so that the action does not add stress to an already stressful situation. Most importantly, basic obedience will help ensure that your dog stays safe, while also allowing you to focus on keeping your family together.
Need help putting together a disaster plan for you and your dog? AKC Reunite is here to help with this emergency planning guide.
Designed with the help of professional vets, TailTrax is the world's first and only resource with litter-link technology™ that connects the real-time health of your pet's entire litter and family. Tailtrax is completely free, without hidden costs or in-app purchases and is available on IOS, Android, and web-based devices. With TailTrax, you will eventually have a database of health at your fingertips, searchable for research by region, breed, dog origin, disease, and more.