One of the most dangerous rooms of the house with regard to accidental poisonings is the bedroom, on account of the nightstand next to the bed. Many adult dogs and teething puppies sleep in the bed with their owners, and thus have easy access to the drugs on that nightstand. Medications left on counters in kitchens and bathrooms find their way into the stomachs of bored dogs, too.
If your dog ever does happen to ingest human medication, bring the original container to the veterinarian. The original bottle or package can tell you which drug is involved, what strength, how many pills or tablets were in the container, and possibly the manufacturer's recommendations concerning poisoning.
Dangerous Drugs For Dogs
The most common human medications to cause poisoning in dogs include: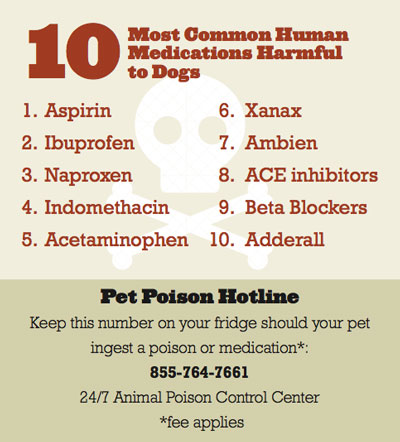 NSAIDS
Nonsteroidal anti-inflammatory drugs (NSAIDs) are widely used and readily available — many of these can be purchased over the counter. These drugs are used to treat pain, inflammation, and fever in people. Examples of NSAIDs include aspirin, ibuprofen, naproxen, and indomethacin.
In dogs, orally ingested NSAIDs are rapidly absorbed. Most achieve peak concentrations in the blood within three hours. The most commonly seen side effects of these medications are gastrointestinal irritation and damage to the GI tract.
At recommended dosages, NSAIDs have little effect on the kidneys, but in cases of overdose (and also with chronic usage) renal damage has occurred. The simultaneous use of two NSAIDs can lead to kidney dysfunction. Additionally, NSAID overdose has caused clotting problems and liver disease. These drugs can also react with other drugs.
Acetaminophen/Tylenol
Another readily available human medication often used to treat pain and inflammation in dogs is acetaminophen. This drug, sold as Tylenol and other brand names, can be obtained both over the counter and in some prescription preparations. Exposure to dogs usually occurs through the administration of acetaminophen by uninformed but well-meaning owners intending to treat fever, pain, or inflammation in their pet. Poisoning can occur from a single exposure to a large dose or from chronic exposure to a low dose.
Acetaminophen poisoning in dogs causes injury to the liver and, in high enough dosages, even liver failure. Clinical signs can include lethargy, loss of appetite, belly pain, and jaundice. Swelling of the face and paws is also commonly seen. Cats are even more sensitive than dogs to acetaminophen — clinical signs can result from ingesting a single tablet.
ADHD Medications
Medications used for attention-deficit disorder and hyperactivity often contain amphetamine, a potent stimulant. Ingestion of these medications by dogs can lead to life-threatening tremors, seizures, elevated body temperature, and even cardiac and respiratory arrest.
Blood Pressure Medications
Blood pressure medications, like ACE inhibitors and beta blockers, can cause weakness, stumbling, and dangerously low blood pressure when ingested by dogs.
Sleep Medications
Medications designed to aid humans with sleep, like Xanax, Ambien, and Valium, can cause dogs to become lethargic, seem intoxicated and, in some cases, have dangerously slowed breathing rates. Some dogs can also become severely agitated after ingesting these drugs.
Treatment For Accidental Medication Intoxication
The vast majority of these accidental intoxications can be successfully managed with early treatment. For poisonings, the best outcomes involve seeking immediate advice from your veterinarian followed by aggressive, proactive treatment, if necessary.
Your vet may suggest making the animal vomit if ingestion just occurred, but your pet may also need intravenous fluid support or treatment with specific medications and antidotes to combat the toxin. Always check with your veterinarian before starting any treatments to neutralize the poison.
It's important to note that time is of the essence for many of these poisonings, and most treatments are best done at a veterinary hospital.
Related article: Marijuana Poisoning in Dogs
https://www.akc.org/wp-admin/admin-ajax.php
Subscribe to Family Dog
AKC FAMILY DOG MAGAZINE
This article was originally published in AKC Family Dog magazine. Subscribe today ($12.95 for 6 issues, including digital edition) to get expert tips on training, behavior, health, nutrition, and grooming, and read incredible stories of dogs and their people.