With a joyful bark and bound, Philo, a 5-year-old Samoyed, pressed his shoulders against his padded harness. Behind him, a cart loaded with gray concrete cinder blocks slowly moved forward, as his handler called out, "Work, work, work."
On that day, Philo pulled a load of more than 1,800 pounds—winning the event at Doggie U K-9 Academy in Bayshore, New York, but that's not the heaviest load he's ever hauled. In the past, he's pulled as much as 3,500.
Philo is a a national champion in weight pull, a new sport born out of one of the traditional jobs that dogs have performed for centuries—hauling sleds and carts. Dogs are judged by how far they can pull increasingly heavy loads over a specified distance.
Certain AKC breed clubs, such as the Alaskan Malamute Club of America, have long included weight pull in their working-dog programs.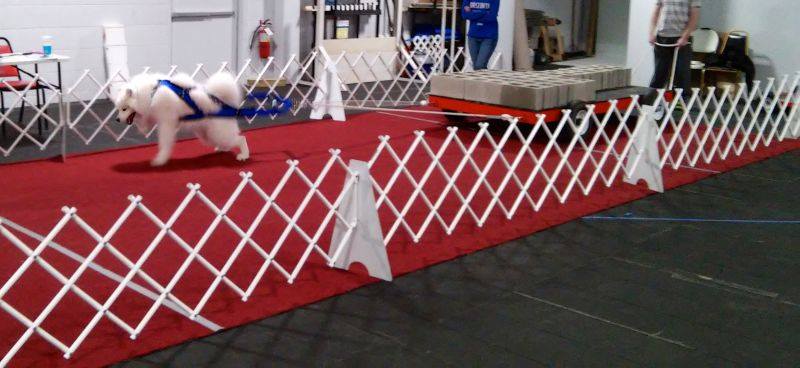 Rolissa Nash, trainer and Doggie U's co-owner, says that as a formal sport, weight pull is only about 30 years old and had its start among sled dog owners.
Today, several organizations are devoted to the activity and canines of all kinds can participate, even toy Poodles, Italian Greyhounds, and Chihuahuas.
"We have all kinds—a huge French Mastiff, bully breeds, Samoyeds and other sled dogs. But we also have some little dogs, small terriers, a Bichon Frise, and others that you would generally see lounging on a lap. Small dogs—and we have some competitors who weigh only about 20 pounds—will pull much lighter loads than the bigger working breeds. Every breed and size can benefit from this exercise, which builds muscles and stamina in much the same way as pumping iron does for humans." Another advantage: It's tiring, so it will help calm even hyper dogs.
Nash, who is a long-time AKC conformation, obedience, and agility competitor and trainer, became interested in weight pull because she wanted to improve core fitness in her Bullmastiff, Shadow.
Seeing what the exercise did for Shadow, who competes in agility, she decided to introduce some weight-pull instruction and competition to her facility in 2014. On the weekend of November 6, Doggie U will host National Working Dog Association's national weight pull championship.
Nash stresses that fun and fitness are the main goals of the sport. She offers the following tips:
Build muscles slowly, getting the dogs accustomed to the idea of dragging something light. Nash starts by having the dog drag a leash. She then progress to an empty cart, and then, as fitness grows, she adds pounds, in the same way as strength is built in humans.
Choose the right harness. There are special padded harnesses for weight pull, and it's important to make sure that the harness fits your dog correctly.
Make sure your dog has a foundation in basic obedience, so he's under control and can stay calm in a highly stimulating environment.
Never coerce or force the dog to pull. Treats, for example, are never used in competition, only praise and encouragement, to prevent the dog from pulling beyond his mental and physical limits.
Nash says that teaching Shadow to pull has helped her agility performance tremendously, especially in the ease with which she soars over jumps. She believes it can help most dogs.
"I used weight pull as a training mechanism," she says. "I developed a stronger dog."
Photos Courtesy Doggie U K-9 Academy
Related:
https://www.akc.org/wp-admin/admin-ajax.php
Get Your Free AKC eBook
Tips for Responsible Dog Owners
This e-book is a great resource for anyone who's considering dog ownership or already owns a dog. Download for tips on how to be the best dog owner you can be.