Along with holidays, beautiful snowfalls, and outdoor fun like skiing, sledding, and building snowmen, winter brings snow and ice-covered sidewalks and streets. No sooner has the first flake fallen than crews and homeowners are out salting and deicing surfaces. And surfaces that aren't cleared can be slippery and dangerous. Either way, winter can be harmful to your dog's paws. Sharp crusts of snow and jagged ice can damage his feet and paw pads. Icy streets and yards can become slippery slopes, making it hard to walk and play. And the most commonly used deicers, like calcium chloride and sodium chloride, can hurt his paws, and some are toxic if licked. (And what dog doesn't lick his paws?)
How to Protect Your Dog's Feet in Winter
So, you want to take your canine pal outside, but how do you protect his feet? Dog boots are a popular option, but it can be difficult to get your dog on board with the somewhat time consuming task of putting on the booties. Winter will last a while, and despite the weather, your dog needs to go out—whether it be a quick bathroom break, a short walk down the front path, or across the patio to the backyard. Or maybe, it won't be a quick stop, because winter is a wonderland for your dog! He loves to play, but when bad weather hits, you don't want to let him slip and slide in booties, or worse, burn his paws on unsafe chemicals. You want him to feel liberated to play and explore!
So what do you do? A quick, easy, and safe solution is a deicing product that is gentle on your dog's paws, without toxic chemicals, like Morton® Safe-T-Pet®.
Be a Good Neighbor
It's not only your own dog you should be concerned about. Say you live in a neighborhood where you're responsible for clearing the sidewalk along your property. Naturally you want to make sure it's free of ice and snow, and an ice-melting product is a good safety measure. But again, since many ice melts are harmful to our four-legged friends, even your neighbors' pets are at risk with a chloride or salt product. So what can you use that's both effective and safe?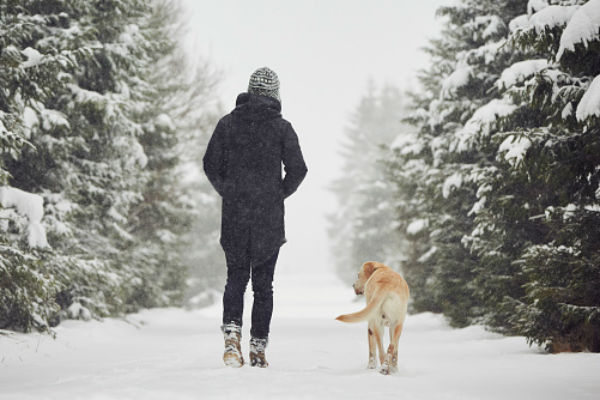 Morton® Safe-T-Pet® Ice Melt®—"An Ice Melt for Happy Paws"
You can be a good dog owner and responsible neighbor by using a product that melts snow and ice and is also safe for pets. Now Morton, known both for its table salts and its commercial and industrial products, has developed an ice melt that is effective on ice and snow without harming your dog. Veterinarians helped develop Morton Safe-T-Pet® to be a pet-safe way to melt snow and ice. It's 100 percent chloride-free and salt-free and melts ice and snow in temperatures down to 10 degrees Fahrenheit.
Use it on your steps, front walk, patio, deck, and sidewalk to provide a safe area for your dog to walk, without exposing him to harmful ingredients. And forget about slipping and sliding in those dog booties. "Boot the boot" with this ice melter. Your dog will thank you (and his paws will be happy too)!
Disclaimer that this product contains Urea, which is non-toxic, but can cause drooling and/or vomiting in dogs. If your dog ingests any foreign material that causes them to be sick, please consult your veterinarian.
Sponsored by Morton® Safe-T-Pet® Ice Melt®.
https://www.akc.org/wp-admin/admin-ajax.php
Get Your Free AKC eBook
Tips for Responsible Dog Owners
This e-book is a great resource for anyone who's considering dog ownership or already owns a dog. Download for tips on how to be the best dog owner you can be.