It's a pitiful sight. Your dog's tail is squeezed between his legs, he's straining against his leash like he's being pulled over a cliff, his eyes are pleading up at you: "Pleeease don't make me go to the vet's office!"
Dogs who dread going to the veterinarian have an uncanny way of sensing when it's about to happen. As their anxiety mounts so does yours, and by the time you're back home again everyone's drained. What's worse, the experience may reinforce for your dog that his stress was justified, so the next visit will be equally difficult. Thanks to our evolving sensitivity to a dog's mental as well as physical needs, there are new ways to augment the traditional visit to a vet's office.
 
The Doctor is In (Your Home)
Making house calls used to be a routine part of a medical doctor's job. When a child was sick, the pediatrician would stop by the home for an exam. Those days have gone the way of the mercury thermometer. So it's ironic that our pets can now enjoy all the benefits of an in-home vet visit while we have to bundle up and drag our sneezing and wheezing selves across town when we get sick.
Veterinarians Taylor Truitt and Eva Radke are the founders of The Vet Set, one of a growing number of veterinary practices providing on-demand veterinary medicine in a pet owner's home, office, or hotel, 24/7. We asked the New York City-based team why dog owners choose in-home vet services.
"Going to a veterinary hospital can be very stressful because of the smells, noises, other animals, and the transportation to and from the hospital," Truitt says. Home visits are particularly handy in urban settings, where owning a car is impractical, mass transit isn't always pet-friendly, and the sky-high rents for an office space is passed on to the client.
"In a home environment the pet feels safe, and isn't exposed to anything outside of their normal routine. For the owners, it's also a timesaver," Truitt adds. Most home visits are wellness check-ups—annual exams with vaccines, preventive blood work, acupuncture, or chronic management for older pets.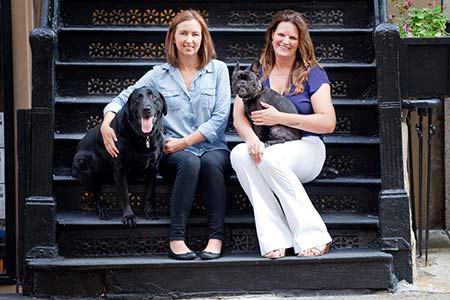 Probably the greatest advantage of a home visit is on that most difficult of days: when it's time to say goodbye to your family's beloved dog. Says Dr. Truitt, "it's the saddest and most heart-wrenching day of a pet owner's life, and it never gets any easier for us as veterinarians. Deciding with the owners that it's time to compassionately euthanize a dog or cat is a final act of kindness and love. In the comfort of their own home, surrounded by family, it's the gentlest way to complete their life. I've been involved in ceremonies, and even had monks or a pastor present. I believe our pets often get better end-of-life care than some of our human counterparts.
Veterinarian Jeffrey Lavine, of VetCierge, told DNAinfo that the personalized care and calmer environment benefitted not only his patients and their owners, but also him and his staff. He will chat with the family before getting started. "By the time it comes to the exam, it feels like a play date to the dog," he said.
 
Calming Clinics
There will always be times when a trip to a vet's clinic is unavoidable, or preferable. So now efforts are being made to ensure that they, too, are less nerve-wracking for companion animals. ABC News reports that there is a trend toward "fear-free" veterinary offices, designed to reduce anxiety by creating a soothing environment and modifying traditional practices. Instead of a technician hoisting a dog up onto a cold, slippery metal table, a pet stands on a yoga mat. Harsh, fluorescent illumination is replaced with softer lighting.
Dog owners also have dozens of veterinary- and health apps that provide basic guidance. Apps like Kuddly allow owners to create a profile for their pet, and then access licensed veterinarians. They can chat, text, or email with a vet 24/7, to describe symptoms, ask about medications, or get a second opinion.
It's important to remember that no app can replace your regular vet, and many medical issues can only be addressed in person. Likewise, in-home vet visits can meet numerous routine needs, but there are obviously procedures and services that require a clinical setting. Consult with your regular veterinarian for her opinion.
 

https://www.akc.org/wp-admin/admin-ajax.php
Get Your Free AKC eBook
Emergency First Aid for Dogs
Even the most responsible pet owner can't always protect their pet from a sudden accident or illness. Getting your pet immediate medical attention can be the difference between life and death. Download this e-book to learn more about what to do in an emergency situation.