When we go on vacation, we want to escape from the mad pace of our daily lives. Rest, relaxation, time to meditate, and spend time in nature. But can we feel truly rested when we've left our best friend back home? Why not take your dog along with you?
Luckily, there are a few wellness retreats that are not only dog-friendly, but they'll cater to the wants and needs of you and your pooch. Before you dive in, just be aware that some of the resorts charge an extra fee if you bring your dog along.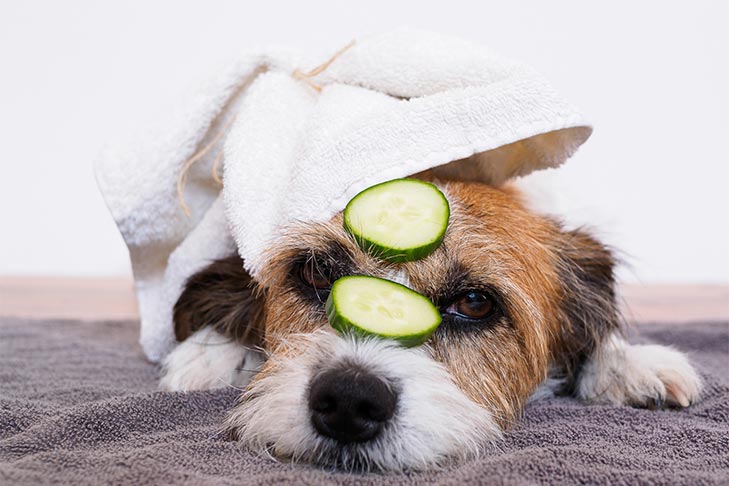 Blackberry Farm
Walland, Tennessee
In the foothills of the Great Smoky Mountains, you can visit Blackberry Farm's Wellhouse "to revive body, mind, and soul," take yoga, mountain bike, fish, or ride horses. You can hike on Blackberry Farm trails and swim or canoe in the ponds with your dog. While you eat in the James Beard Award-winning restaurant, your dog will receive house-made dog biscuits, food and water bowls, special towels, and balls to play with. As an added treat, the on-site dog trainer can show you and your dog how the resident Lagotti Romagnoli hunts for truffles.
Learn more: Blackberry Farm
Rancho Valencia 
San Diego, California
When you and your dog arrive at Rancho Valencia, you'll receive a resort pet guide and your pet will enjoy a custom-made bed, food and water bowls, and a special treat. The serene, dog-friendly environment with rolling hills, citrus groves, and lush gardens offers plenty of spots for your pooch to enjoy a little rest and relaxation while you luxuriate in the spa, yoga pavilion, Pilates studio, and a variety of fitness sessions. There's even an in-room dining menu with dishes crafted especially for dogs.
Learn more: Rancho Valencia
Inn by the Sea
Portland, Maine
If you want to take your dog to a place that's surrounded by natural beauty while offering pampering treatments for you both, Inn by the Sea may be just what the doctor ordered. The resort provides complimentary water bowls, beach towels, cozy blankets, signature treats at turndown for your dog, and a gourmet dog menu—plus, there's no extra fee to bring your pet along. You'll receive a list of nearby walking trails, pet-friendly beaches, and free-range parks to explore while the two of you enjoy the invigorating serenity of the Maine coast. Inn by the Sea also houses foster dogs from the Animal Refuge League of Greater Portland, and guests and staff have adopted 160 of these dogs.
Learn more: Inn by the Sea
The Resort at Paws Up
Greenough, Montana
The Resort at Paws Up, on a 37,000-acre working cattle ranch in western Montana, is committed to luxury and service for human and canine guests. Western ranch and wilderness adventures, gourmet cuisine, spa treatments, and meadow and mountain yoga are all options for two-legged folks. Dog walks, hikes, and the Pet Package with rates at an additional $50 per night per pet that includes Paws Up collar, dog bed, tennis ball, and a bag of locally made treats await your dog. The dog-friendly resort says: "We not only welcome your best friend, we cater to him (or her)."
Learn more: The Resort at Paws Up
Barkwells
Mills River, North Carolina
Barkwells, near Asheville, North Carolina in the beautiful Blue Ridge Mountains, is a small, peaceful community of vacation guest homes, designed as a destination for dog lovers. There are acres of securely fenced meadows and a pond where you and your best friend can hike, swim, boat, or relax on your covered porch, by the fireplace, or in your private hot tub (not that hot tubs are for humans only). Nearby, you can walk your dog in the spectacular woods of the Pisgah National Forest and Dupont State Forest.
Learn more: Barkwells
Buttermilk Falls Inn and Spa
Milton, New York
Enjoy relaxing walks with your dog on the 75-acre Hudson River estate at Buttermilk Falls. You can take advantage of a world-class spa, a farm-to-table restaurant, and an organic kitchen garden and orchard. Plus, there's a variety of trails and an animal rescue sanctuary with Angora goats, llamas, and a herd of rescued alpacas. Your dog will appreciate a breakfast special with a cookie and puppuccino, a comfy dog bed, toys, and a variety of beautiful lodging choices that accommodate both humans and dogs.
Learn more: Buttermilk Falls Inn and Spa
Preparing for a Dog-Friendly Wellness Retreat
There are steps you can take to prepare your dog for a relaxing trip. The first step is to take your dog out locally—to different walking trails, outside shopping centers, to dog supply stores—and get your pet used to going places with you and being socialized to new environments and new people.
Since your resort destination is dog-friendly, you will be around other dogs and their owners. So, you want to make sure your dog is well-behaved and under your control—even when strange dogs are nearby. Before you go, train your dog to pay attention to you when other dogs are in the vicinity. It's a good idea to have your dog take the Canine Good Citizen (CGC) test as proof that they have good manners out in public.
Practicing obedience commands can also help ensure that your vacation is relaxing. If your dog is going to be in a secure, off-leash environment, you want a strong recall command. You may also be in close quarters with other people, so "sit" and "stay" will come in handy. Teaching a command that will stop barking, such as "enough" or "quiet" will also be lifesaving to not bother any guests. If you're going to be using a crate, get your dog accustomed to it while you're at home.
Depending on the resort you've chosen, you may be entering a building with electronic doors or riding in an elevator to reach your quarters. You can practice taking your dog to retail or office environments where dogs are allowed to go in and ride the elevator. Of course, any dog you take should be housetrained not to relieve themselves inside.
As a precaution, be sure your dog's rabies and other vaccinations are up to date, and bring a copy of the record provided by your veterinarian. Additionally, stay current on flea, tick, and heartworm prevention depending on the season.
Research has proven that dogs contribute to our well-being and help us relax. Heading off to a wellness retreat with our furry friend can help dog owners unwind and de-stress while enjoying the company of our devoted pets.
Related article: How Does Daylight Saving Time Affect Dogs?
https://www.akc.org/wp-admin/admin-ajax.php
Get Your Free AKC eBook
Moving with your pet
Download this e-book for tips to help you prepare for a move with your pets.