Did you know that keeping your dog's teeth clean is a vital part of his care? The American Veterinary Dental College estimates that a majority of dogs show signs of periodontal disease by the time they're three years old. This can lead to even more serious consequences, such as systemic infection, abscesses, and even heart disease. So, if you've been reluctant to brush your dog's teeth, now is the time to get into the habit. By brushing his teeth often, you'll protect his health, as well as save money on expensive in-office procedures. Start by choosing toothpaste that gets the job done, and may even be tasty for your canine pal.
A word of warning: Do NOT use human toothpaste on your dog. Many of them contain xylitol, which is toxic to dogs. Even if you're pretty sure your toothpaste doesn't contain xylitol, don't take a chance. Instead, choose from these made-for-dogs products.
Virbac C.E.T. Enzymatic Toothpaste
Enzymes deep clean your dog's teeth and provide natural antibacterial action. This toothpaste inhibits plaque formation and helps eliminate doggy breath, too. It's safe for dogs to swallow, which they may want to do, given the enticing flavors it comes in.
All-Natural Tooth Salts for Dogs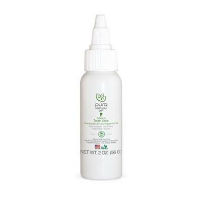 Completely free of chemicals, this product contains only sea salt, peppermint oil, and sodium bicarbonate. Use a finger applicator or dog toothbrush to get your dog's teeth and gums clean and healthy.
Nylabone Advanced Oral Care Dog Toothpaste
The ingredients in this toothpaste reduce tartar buildup and plaque, which can harbor bacteria. As an added bonus, the natural peanut flavor may have your dog eagerly awaiting teeth-brushing time.
Qumy Toothpaste for Dogs and Dental Care Kit
This toothpaste cleans and deodorizes your dog's mouth, and it comes with everything you need: toothpaste, finger toothbrushes, and a dual-sided brush. It has tea tree oil for gum health, and the non-foaming formulation requires no rinsing.
Sentry Petrodex Enzymatic Dog Toothpaste
This non-foaming formula comes in one of dogs' favorite flavors — poultry — so your dog may look forward to getting his teeth brushed. It controls plaque and tartar buildup and leaves your dog's teeth healthy and his breath fresh. Even the vet may be surprised at his pearly whites. Made in the U.S.
Tropiclean Fresh Breath Plaque Remover Teeth Gel
And now for something completely different — no toothbrush required! This all-natural gel removes plaque, freshens breath, and soothes irritated gums without a toothbrush. Just apply a few drops of the gel with your fingers, and you'll see (and smell) the difference.
While most dogs love the taste of meat or poultry-flavored toothpastes, they can leave his breath smelling less than pleasant. This toothpaste is flavored with vanilla, for fresh breath. The natural ingredients fight tartar and plaque buildup for good oral health.
Arm & Hammer Advanced Care Enzymatic Toothpaste for Dogs
From a brand we all can trust, this enzymatic toothpaste removes and prevents plaque buildup. Baking soda deodorizes and cleans, while enzymatic action fights tartar and whitens teeth.
Vet's Best Dental Gel Toothpaste
Made with neem oil, grapefruit seed, and aloe, this gel has antifungal and antibacterial qualities that keep your dog's teeth strong and healthy.
Naturel Promise Fresh Dental Clean Gel
Reduce plaque and tartar with all-natural ingredients. This gel kills the germs that cause gingivitis, plaque, and bad breath and can even be used without a toothbrush. It's great on tartar and promotes fresh breath.
And there's even more you can do to promote your dog's oral health; here are some handy tips for keeping your dog's teeth clean and his breath fresh.
https://www.akc.org/wp-admin/admin-ajax.php
Get Your Free AKC eBook
The All Purpose Grooming Tool kit