AKC is a participant in affiliate advertising programs designed to provide a means for sites to earn advertising fees by advertising and linking to akc.org. If you purchase a product through this article, we may receive a portion of the sale.
If there's one piece of equipment that's an absolute necessity for your dog, it's a pet identification (ID) tag. We each fervently hope that our dog will never make a break for it at the front door or slip his leash, but if that happens, an ID dog tag is one of the surest ways to get him home safely. Choose from several different styles, each with its own advantages:
Hanging ID Tag: Made of metal, plastic, or resin, this is the most common form of pet ID for dogs. They can, however, be noisy, jangling while your dog moseys around the house. And if your dog spends any time in brush or thickets, a hanging tag could get caught on a branch. But they're the easiest to attach, and work on any type of collar.
Slide-On Dog Tag: Rather than hanging off of a ring on the dog's collar, these tags have slits through which the collar slides to keep the tags flat along the collar. Because they don't hang, they don't jangle or get caught on anything. For the most part, though, they can only be used on certain types of collars. They also don't allow for additional information to be engraved on the back.
Rivet-On ID Tag: Secured with rivets directly to the collar, these ID tags for pets are the least likely to come off accidentally. You will need to affix the plate to the collar, and, like slide-on tags, they are only engraved on the front.
Most dog tags for pets have room for four lines of text, and some have room on the back, as well. So, what should be included in the best dog tags? For starters, your dog's name. Most important is a phone number where you can be reached. Keep in mind that you may be out searching for your lost pup, so a cell phone number probably makes the most sense. Some dog owners also include their own name and a street address. If there's room, you can include additional information, such as whether your dog is microchipped or any urgent medical information.
Keeping all this in mind, there are probably thousands of dog tags to choose from. Here are some suggestions to get you started.
In Partnership with

Stainless Steel Dog Tag for Pets

Choose from nine different shapes, two sides for engraving, and up to eight lines of text with this sturdy stainless steel ID tag.
With so many shapes and colors to choose from, you may have a hard time deciding which of these tags you want. And, at the price, you can select several.
If your dog has a single-thickness collar with metal buckles, a slide-on tag is a great option. It won't get caught on anything, and it's noiseless, an advantage over hanging tags. This ID tag for your dog is made of stainless steel and will fit four lines of text.
Slide-On Tag for Adjustable Collars
You can still take advantage of the benefits of a slide-on tag with this stainless steel ID tag, even if your dog wears an adjustable nylon collar. Quiet and durable, it fits up to five lines of text.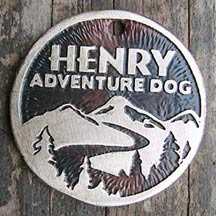 If you're looking for something artisanal, you can't go wrong with these etched-brass ID tags. Each is handmade, and you can choose the font and the text. You can even add a color patina for an extra charge.
Glow-in-the-Dark Aluminum Tag With Silencer


This aluminum hanging ID tag is mounted within a plastic edge that helps cut down on the jingle-jangle of hanging tags. Even better, the plastic edge glows in the dark. It allows for two sides of engraving and four lines of text on each side.
Brass ID Tag With Rivets for Dogs
One way to ensure your dog's tag won't get lost is to attach it with rivets to his collar. This handsome brass tag comes with three sets of rivets . . . just in case. It holds up to four lines of text.
Want something a little different? These adorable dog tags, designed to look like license plates, look just like the real thing. One side displays your state's license plate with your dog's name. The other side has room for your dog's photo and important contact information.
Alternatively, if your dog doesn't like being weighed down by additional "bling," a personalized collar is always a great option. With the clear, personalized text and durable hardware, your dog will not only look stylish but you'll feel great knowing that your pup is safe.
https://www.akc.org/wp-admin/admin-ajax.php
Get Your Free AKC download
Puppy Vaccination Schedule
Download and print this vaccination schedule to help keep your puppy on track for its first year of life!