AKC is a participant in affiliate advertising programs designed to provide a means for sites to earn advertising fees by advertising and linking to akc.org. If you purchase a product through this article, we may receive a portion of the sale.
"Sticks and stones may break my bones," goes the schoolyard rhyme. But can dogs chew on sticks safely? Some pets also love to gnaw on rocks. But can dogs chew on stones? As it turns out, chewing on sticks or stones can cause your dog a lot of potential harm.
Can Dogs Chew on Sticks?
Karen Staudt-Cartabona of Swartswood, New Jersey, the American Kennel Club's 2005 Hound Breeder of the Year, knows firsthand how dangerous sticks can be for dogs. Recently, one of her Borzoi chomped on a stick. The stick lodged across the roof of the dog's mouth, sticking between the teeth on either side of her jaw.
"Usually, dogs will paw at their mouths a lot when there's something stuck," Staudt-Cartabona says, but she noticed nothing out of the ordinary. "Borzoi are so stoic they don't let you know when they are in pain," she explains. When she eventually glimpsed the pinky-wide chunk of wood inside her Borzoi's mouth, it had already caused an ulcer in the dog's upper jaw.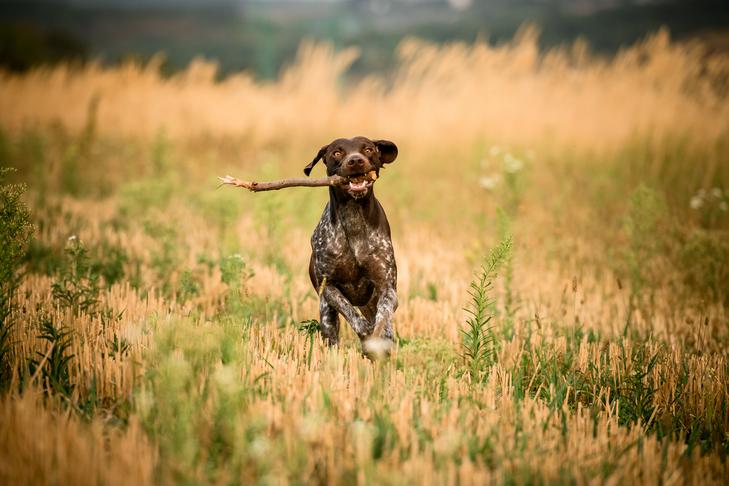 Such pieces of wood "can be very dangerous," Staudt-Cartabona warns. Some of her Borzoi have gotten smaller sticks wedged between their teeth. In one dog, this stick rotted the tooth at the base of the gum, eventually requiring it to be extracted.
When Sharp Objects Create Dog Emergencies
Dr. Jerry Klein, Chief Veterinary Officer for the AKC, has decades of experience as an emergency veterinarian. "Many times people would bring their dogs into the emergency clinic because they were at the park and a stick literally impaled the dog at the back of its mouth," Dr. Klein remembers. While the stick was long gone, a huge laceration remained.
As they gallop and leap through the woods, dogs are also at risk of spearing themselves on dead tree branches that have fallen to the ground. Owners might not immediately notice the injury because it happened so quickly and the stick was immediately dislodged. (Sticks aren't the only objects dogs manage to skewer themselves on, by the way. Dr. Klein remembers arriving at his clinic one day to find a canine patient waiting with a pitchfork in tow. Amazingly, the dog survived.)
Can Dogs Eat Rocks?
Dogs can develop a habit of eating rocks, a medical condition called pica, which means the ingestion of inedible items. "Pica can sometimes be a sign of metabolic disturbance or illness," Dr. Klein notes. The condition is usually not a symptom of nutritional deficiency, but a visit to the veterinarian is a must to rule out any underlying issues.
Boredom may be another cause of pica. But dogs don't just chew stones if they're bored. "Dogs love socks and lingerie," he says, presumably because they carry their owner's scent. "And it can be especially embarrassing when a vet has them vomit it up – and it's not the owner's panties." We'll leave you to imagine that car ride home.
Dr. Klein adds that certain breeds can be prone to pica, and others seemingly never give it a thought. A breeder and judge of Afghan Hounds, he points out that his dogs "never once ate anything that was inedible." He noted that breeds, including some members of the Sporting Group, seem more predisposed to developing pica.
How to Deal With Pica in Dogs
If there are no underlying medical issues and the pica appears to have a behavioral cause, increasing exercise and engaging mental activities may help resolve it. Supervision is important to ensure that your dog doesn't continue to eat rocks.
Some owners who have difficulty resolving pica teach their dogs to wear plastic "basket muzzles," which allow free breathing and even drinking but stop them from grabbing rocks. (It's worth noting that basket muzzles are very different from nylon muzzles used at vet offices, which cannot be worn for extended periods. Talk to your vet about if — and when — a basket muzzle might be a good fit for your dog.) Also new on the market are soft muzzles that can also provide an effective barrier for pica dogs.
Be Smart About Risks
While there is a risk to merely living life, no matter where your dog is, Dr. Klein advocates using common sense. "While the reality is that the majority of the time nothing will happen, accidents do happen, and there is potential danger in nature," Dr. Klein says. "People shouldn't raise their dogs like hothouse flowers, but they have to be aware of what's happening around them."
So, let your dog enjoy the great outdoors, but don't take safety for granted. Check your dog carefully after a romp in the woods or a game of fetch. In addition to finding cuts or injuries that you might not otherwise notice immediately, you might also avert some potentially chronic problems, like Lyme disease, which is transmitted by an infected tick.
Alternative Stick Toys for Dogs
Stick-shaped dog toys are great alternatives to real-life wooden sticks. Try a "stick" chew toy that combines non-toxic material with real wood, or go for a bacon-flavored chew toy shaped like a stick. If your dog likes to play fetch with sticks, try a dog-safe fetch toy that is made of durable plastic. These dog toys have all the fun of real sticks without splinters and mess.
Related article: Vomiting in Dogs vs. Regurgitation: Everything You Need to Know
https://www.akc.org/wp-admin/admin-ajax.php
Get Your Free AKC eBook
Emergency First Aid for Dogs
Even the most responsible pet owner can't always protect their pet from a sudden accident or illness. Getting your pet immediate medical attention can be the difference between life and death. Download this e-book to learn more about what to do in an emergency situation.