Responsible breeders do everything they can to keep their puppies safe and healthy from before they were born until the day they leave their kennel.
Around 8 to 12 weeks old, the puppies depart from their breeder, and their new lives begin in their meticulously, hand-picked homes. By discerningly choosing the right family for each puppy, breeders can eliminate a lot of the concern for a safe, worry-free transition into their puppies' new homes.
However, no matter how hard you work to pick the perfect home, there is still a chance of unexpected mishaps. Rambunctious puppies get hurt, curious puppies get tummy issues, and some unlucky puppies are just attracted to the veterinarian!
AKC Pet Insurance recently ran a report for the top claims on puppies aged 8 weeks to 6 months. The conditions ranged in seriousness, but all required visits to the vet, which meant unexpected bills for new puppy owners.
Top Five Puppy Claims of 2016
Gastroenteritis was the number one condition claimed on puppies in 2016. Gastroenteritis can encompass a variety of illnesses. The term refers to inflammation of the gastrointestinal tract, typically the stomach and intestines. It typically presents with abdominal pain, diarrhea and/or vomiting. Causes can be anything from catching a virus from a house mate or play date, to eating new or inappropriate food, to reactions to medications.
The second most common puppy claim was Otitis Externa or ear infection. Ear infections can occur at any age. But frequent baths, floppy ears and lack of ability to sit still to have their ears cleaned could all be causes of the common ear infection in puppies. Otitis externa refers to chronic inflammation of the external ear canal of a dog. Otitis media is inflammation of the middle of the dog's ear. Otitis externa is more common than otitis media.
Coming in third was Urinary Tract Infection, or UTI. Sometimes puppies can contract a UTI due to holding in urine or not drinking enough water. Some puppies refuse to "potty" in certain areas or are left alone for too long, which can cause an infection to fester. Though not a severe threat, UTIs still need to be taken seriously. A trip to the vet and some urine testing is recommended.
Bone Fracture was the fourth most common puppy claim. Though no one wants to think their puppy can break a bone, the reality is that he can—even with the closest watchful eye. Bouncy and brave, puppies can move quickly and, before you know it, they've jumped off the couch or taken a tumble with a housemate. Some breeds are more prone to bone fractures due to their size and frame type. Small breed dogs and petite breeds are more likely to experience a fracture. Fortunately, puppies' bones heal very well if treated quickly, and they typically make a full recovery.
Rounding out the top five most common puppy claims of 2016 is Soft Tissue Injury. Soft tissue injury is a broad term referring to injuries to the muscle, tendons or ligaments. Injuries can be anything from a muscle strain, to a pulled ligament, to a bruise. Signs of a soft tissue injury could be swelling, limping or tenderness in the area, and these injuries often require a visit to the vet.
Added Protection on Puppy Insurance
No new puppy owner plans on taking a trip to the vet (other than for wellness) in their first weeks or months home with their new little one, but mishaps do happen. With the increase in popularity of pet insurance, more breeders are recommending it to their puppy buyers.
It's best to get started with pet insurance when the puppy is young. The costs are lower and, with no pre-existing conditions, the likelihood of exclusions is minimized. In addition, some coverage is only available to dogs under a certain age.
AKC Pet Insurance starts insuring puppies at 8 weeks old. The national average of newly insured pets is 2.58 years old*. AKC Pet Insurance's average age of newly insured pets is just under 1 year. This variation from the national average is primarily due to AKC Pet Insurance's association with the AKC and the 30-Day Certificate of Pet Insurance that is offered with AKC registration.
Pet Insurance To-Go
AKC Pet Insurance offers its 30-Day Certificate** to newly registered puppies, giving new puppy owners a jump start on pet health insurance. This benefit provides 30 days of accident and illness insurance coverage included with their registration. It gives puppies a little extra protection as they transition into their new home. Pet owners often choose to continue the coverage after the 30 days and enroll in a full-term policy.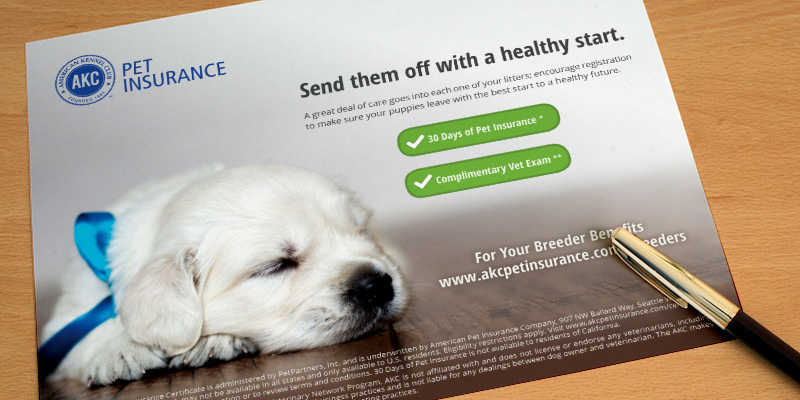 Why Puppy Insurance in Worth it
In short, puppies are puppies, and even the most conscientious of owners find themselves at the vet unexpectedly. Unfortunately, sometimes it takes that unplanned vet bill for pet owners to realize the importance of pet insurance. As an AKC breeder, you have the advantage of giving your puppies the added benefit of pet insurance from day one with their new family.
Erin Tursam is the Breeder Support Specialist at AKC Pet Insurance. Contact <etursam@petpartners.com> Erin for more information on the 30-Day Certificate or general questions about pet insurance. You can also visit www.akcpetinsurance.com/breeders for more information.
*The 2016 NAPHIA Industry Report
**The AKC Pet Insurance Certificate is administered by PetPartners, Inc. and is underwritten by American Pet Insurance Company, 6100 4th Ave S., Seattle WA 98108. Activation is required, may not be available in all states and only available to U.S. residents. Eligibility restrictions apply. Visitwww.akcpetinsurance.com/certificate or call 1-866-725-2747
for more information or to review terms and conditions