Chesapeake Bay Retriever Sienna Bay Watermark Dirk DM DS TKN TKI CGC, shows off one of his tricks that helped earn him the new AKC Intermediate Trick Dog title.
Eleven-year-old Kya has had an impressive career that includes a conformation championship and rally titles. Being a veteran has limited some of her activities, but that has not stopped her from learning new things.
Kya started trick training one year ago and recently earned two of the new AKC Trick Dog titles. Her owner and breeder, Stephanie Roberson-Thomas, is an AKC Breeder of Merit who has produced multi-titled Chesapeake Bay Retrievers for 28 years. Her dogs have excelled in the breed ring, as well as in agility, obedience, dock diving, and field competition.
About one year ago, she discovered trick training. Learning the new skills has been entertaining for her and the dogs, and has helped in all of their competitive sports.
"Trick training is a fun way for them to make yet another kind of connection with their handlers. It gets them 'up,' and I use some of the tricks in their other disciplines. Everything is related," said Roberson-Thomas of Sanford, N.C. "I use spin and touch while practicing heeling. Hold and retrieve are valuable in hunt test and obedience training. The list goes on and on."
The AKC Trick Dog program launched on May 1. AKC-approved Canine Good Citizen (CGC) evaluators can award trick titles. The AKC will also recognize trick titles earned through the Do More With Your Dog! (DMWYD) organization through the end of 2017. The titles are recorded on the dogs' AKC records and displayed on pedigrees.
"It is easy to see why trick training is becoming so popular," said Dr. Mary Burch, AKC Canine Good Citizen and Trick Dog director. "The primary characteristic of trick dog training is having fun. Tricks can be both entertaining and practical, such as teaching a dog 'paws up' for a therapy setting. Trick dog training makes a team out of the handler and dog. We hope this exciting new program will encourage more dogs and owners to become involved in training."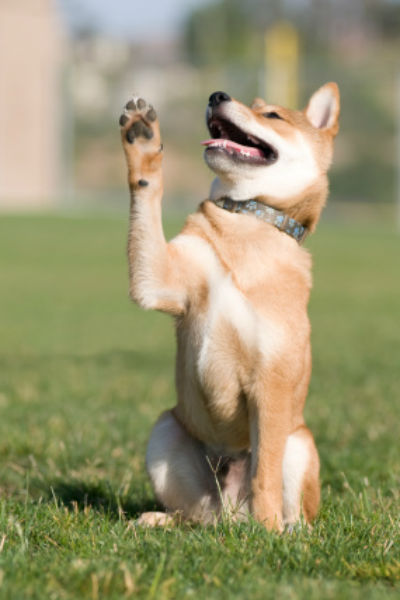 The AKC program offers four levels of titles: Novice Trick Dog (TKN), Intermediate Trick Dog (TKI), Advanced Trick Dog (TKA), and Trick Dog Performer (TKP).
To earn the Novice Trick Dog title, a dog successfully performs 10 tricks from the novice tricks list. But dogs that have already passed the CGC must demonstrate only five of the novice-level tricks, which include "speak," "High 5," and "kiss."
At the novice level, handlers may use food as lures to help the dogs perform the tricks, as well as rewards after the dogs finishes each trick. In the more advanced levels than novice, handlers cannot use lures but can reward their dogs with food after they perform each trick.
Roberson-Thomas took six of her Chessies to a trick dog test sponsored by the Raleigh-Durham Labrador Retriever Club and all of her dogs took home Novice and Intermediate level titles.
The Lab club has always offered CGC testing at its annual specialty, but this year added the tricks testing and opened it to all breeds. The event was extremely popular, and many dogs passed the CGC and tricks tests, said club member Barbara Ohmann, who conducted the testing with fellow club member Christine Weisse.
"Over and over, we heard 'This is the most fun I have ever had getting a title.' Everyone encouraged others to try it," Ohmann said. "Laughter and cheers became an even bigger part of our Lab world, thanks to the trick testing."
"You are only limited by your own creativity when you start trick training," Roberson-Thomas said.
Her dogs impressed the testers with feats such as carrying a basket and the "combat" crawl.
"But my two favorites are teaching my dogs to open a cooler and bring me a drink, and teaching them to grab the corner of a quilt, lie down, pull the quilt over them, and take a nap," she said. "There are lots of steps to these last two, and when they put all of it together, it is rewarding for us all."
For more information on the AKC Trick Dog program, click here.
https://www.akc.org/wp-admin/admin-ajax.php
Get Your Free AKC eBook
5 Tricks You'll Want to Show Off
Are you looking for inspiration on new tricks to teach your dog? If the answer is yes, then this is the e-book for you!