I am Yogi and I am 9 and half years old. When I was born, I looked like a bear and I was smart. My Daddy said "I was smarter than the average bear." My Daddy named me Yogi.
When I was about 3 months old, Daddy took me to a group obedience training class. There were a whole lot of dogs, and I just wanted to play with all of them. The trainer thought I was a distraction, and Daddy and I were asked to leave the group. Daddy never gave up on me. Daddy took me to a park and trained me to do basic obedience. My Daddy was so very patient with me.
Twice a day Daddy took me to the park where we trained, walked and played. I was really catching on to the training. Daddy took me back to group training for a skills competition. I couldn't wait until I showed off what Daddy taught me. During the skills competition, I saw Daddy smiling. I knew I was performing well. The trainer was amazed at my transformation. Guess who won the competition? My Daddy was so very proud of me.
Since I love people, Daddy thought it would be a great idea for me to become a certified therapy dog. I agreed.  I was evaluated and selected for therapy training.  I was so excited.  There were four classes; two training classes were held at a nursing home. When I went to the nursing home, I was so happy.  Not only did residents and staff play with me, I performed tricks.  Everyone was getting a kick out of me.  At the end of the session, the trainer said "This was the Yogi show."
I passed the therapy training class.  My Daddy was so very proud of me.  Daddy had to prepare me for the AKC Canine Good Citizen and certified therapy testing.  Back to the park we went, twice a day for training. I was getting so good at this that people were actually watching me train.  I have to admit I was "hamming" it up a bit. The day of the tests came.  My Daddy was so nervous. I could tell my Daddy's heart was beating a million beats a minute.  As the tests were progressing, I was smiling.  My Daddy kept smiling also.  My Daddy kept saying "You are doing well, Yogi." I knew I was making my Daddy very proud of me.  At the conclusion of the tests, the evaluators said "Congratulations Yogi you are a Canine good Citizen and congratulations Yogi you are a certified therapy dog."  My Daddy picked me up and gave me a very big kiss   I was so happy that I was kissing the evaluators.  When we came home, my Daddy gave me doggy ice cream as reward.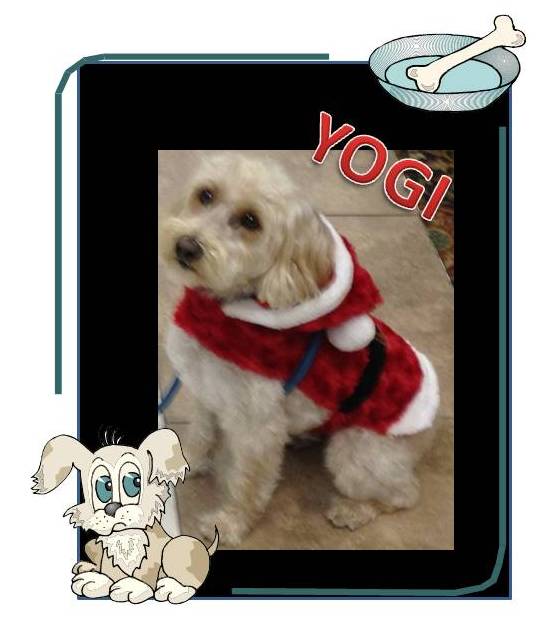 A few weeks after passing the exams, Daddy and I began volunteering at a nursing home.  I still remember our first day at the nursing home.   Daddy was nervous, and I was ready to show off.  There must have been about 40 residents waiting for Daddy and me when we came into the community room.  Daddy had me performing tricks to start things off.  The residents were laughing and smiling.  People seemed to enjoy what I was doing.   Daddy brought me to each resident, and they played with me.  I really enjoyed this. Oh yes, the one trick everyone really loved was when I performed math; I can add, subtract and do square roots.  I was asked to visit more than once a week. I wound up visiting the nursing home four days a week.  I just love making people feel good!