Photos by Erin Cyr of 4PawsPic.com
Kinzee Doodle is a 7 year old Border Collie/Queensland Heeler mix, who is a true working dog.
She serves as a herding and ranch dog at Back of the Moon Ranch in Jamestown, CA. Besides driving the horses out to pasture every morning, Kinzee's other duties involve helping her disabled owner, Rick.
"When Kinzee was a pup, she spent so much time jumping up on bales of hay that were stacked three high and climbing  fences  that I thought she might make a great agility dog," Rick said. "So we decided to have her begin training with Karen Kaua in Murphys, CA."
Karen suggested that she should start competing at local trials in 2011. Kinzee was enrolled in the AKC Canine Partners program for all dogs, including mixed-breeds, and started entering AKC Agility Trials. She did so well that in 2013, Karen advised that Kinzee should expand her knowledge and attend classes with Kathie Kikuyama in Granite Bay, CA, and enter trials in larger cities.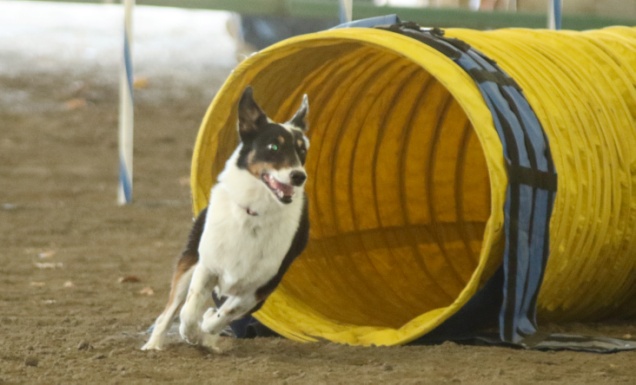 Kinzee quickly worked her way up through the classes and earned the highest honor in AKC Agility – the Master Agility Championship (MACH) on May 22, 2015, after placing fourth in the standard class of the Two Rivers Agility Club of Sacramento.  She also has qualified for the 2016 AKC National Agility Championship. "Not bad for a novice team," Rick said.
In addition to agility, Kinzee's favorite pastimes are: "to dive into a horse trough on a hot day, to hunt squirrels and foxes, and to watch large trucks and tractors."