Jesse Belle and Cindy Stewart-Mackes of  Pedricktown, NJ, placed third in the large dog agility competition. Tack and Rhonda Koeske  of The Villages, FL, placed third in the small dog agility competition.
The event took place July 11-12 in Boston, MA, and is a preliminary event for the Purina Incredible Dog Challenge finals that are held in late September at Purina Farms in Missouri. The Challenge includes competition in Agility, Dock Diving, Disc Dog and Terrier Racing.
The agility trials are by invitation-only.
JesseBelle AX AXJ XF is a 5-year-old Australian Cattle Dog-Border Collie mix (pictured above). "They call her the All American," Cindy said.
Cindy adopted JesseBelle when she was a young puppy from Aunt Mary's Dog House Rescue in Monclair, N.J.
"I started out with some obedience training and then introduced JesseBelle to agility, where she found her calling," Cindy said. "She puts her heart and soul into the sport and just loves it. Once she is on course, she is focused and is all about the game."
MACH Spike's Lil Sister, Tack (known as just Tack) is an accidentally bred Chinese Crested – Cocker Spaniel mix who Rhonda adopted in 2003 as a puppy. The now 12-year-old dog is still running strong and a major contender at national events.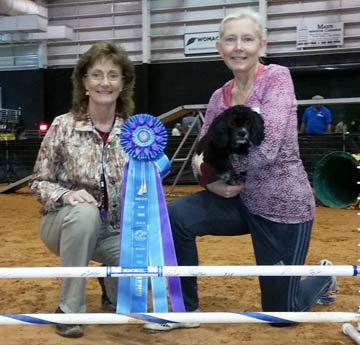 "She has done agility her whole life and is a favorite to watch with her long wagging tail and enthusiasm for the sport," Rhonda said. Tack also does therapy dog work.