The Wankles rescued Buddy from a shelter eight years ago, and the Golden Retriever-Lab mix has more than repaid the favor by being a wonderful companion to them and helping thousands of children in need.
Since joining the Wankle household, the now 11-year-old Buddy has been a very active member of the Valley Humane Society Canine Comfort Team. Buddy has accumulated more than 1,200 hours of therapy dog service and has earned the AKC Therapy Dog Distinguished (THDD) title for making more than 400 visits.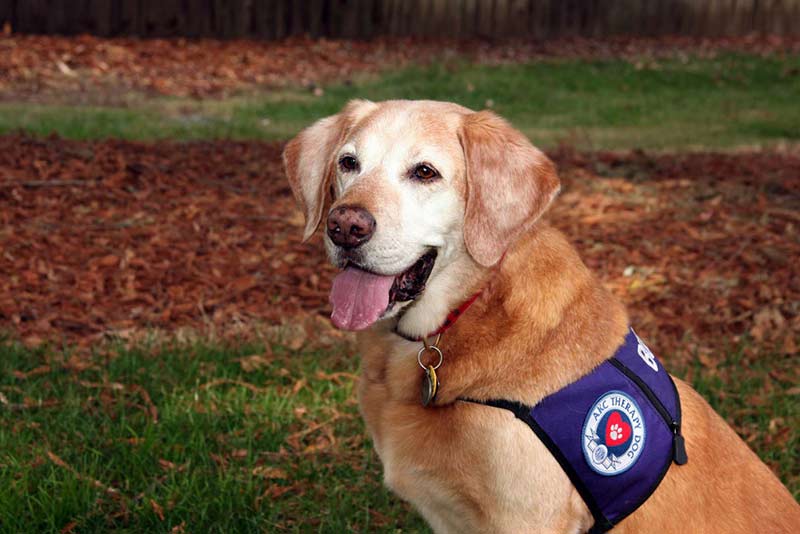 Buddy's specialty is children and he has helped them in numerous ways, including meetings at a psychiatric unit; visits to the children's oncology ward; children's reading programs with Paws to Read; and activities involving special needs children.
Buddy helps grief-stricken children at a bereavement camp for kids dealing with the loss of a loved one, organized each year by Paul in conjunction with the Kara organization of northern California.
One of Buddy's biggest honors was receiving the distinguished You Make a Difference Award from the Tri-Valley Special Education Plan Area. California Assembly Member Joan Buchanan honored Buddy with the award in May 2014 for his dedication to the Special Developments Class (SDC).
When not working as a therapy dog, Buddy is quite well known in the town of Pleasanton and can often be found in his other "job" as V.P. of Human Relations at Classic Cars Ltd., a business owned by Paul for more than 20 years.
"Perhaps most important, Buddy has become a very special part of the entire Wankle family and is adored by his elder relatives as their favorite 'Grand Dog,' " Paul said. "It is a fair statement that Buddy has never met a stranger."
Buddy is a member of the AKC Canine Partners program for all dogs, including mixed-breeds and rescues.