But luckily, there are numerous dog sports and activities to keep every age of dog happy and active.
When Keller's Toccoa Millie CAX CGC aged out of her favorite sport of AKC Coursing Ability, her owners Bob & Paulette Keller looked for other options that would keep the 9-year-old canine athlete engaged and focused.
The sport of Barn Hunt fit that bill, allowing Millie an outlet for her energy and prey drive. The mixed-breed dog, who is a member of AKC Canine Partners, achieved the Rat Instinct, Rat Novice and Rat Open Titles in just two weekends. She is now competing at the Senior Level. The AKC recognizes the titles of the Barn Hunt Association (BHA) for AKC-registered dogs.
Concurrently, Millie also attended rally classes and recently obtained her AKC Rally Novice title in three trials, placing each time. Millie is also registered with Therapy Dogs International and regularly visits veterans and elementary school students in reading programs. She isn't ready to slow down yet, Bob said.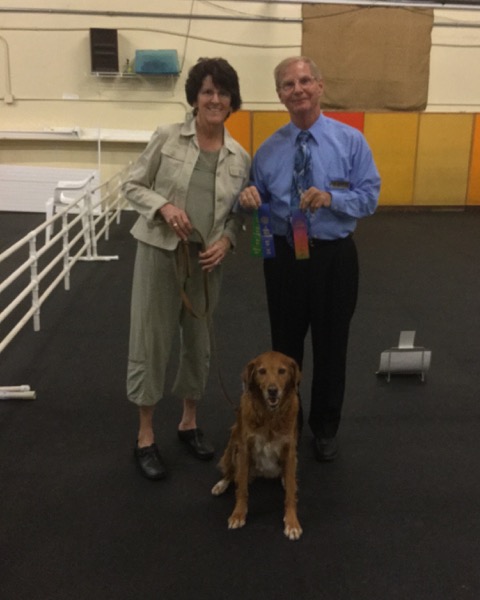 Millie is a rescue dog whose early background is unknown to the Kellers, who adopted her when she was 2 years old. Millie became the third All-American Dog to earn the AKC Coursing Ability Excellent title for 25 passes. She also earned her AKC Canine Good Citizen title and enjoyed scent work and freestyle.
The Kellers, residents of Clearwater, FL, have shared their lives with dogs for more than 35 years and say they are amazed at the variety of canine activities now offered compared with past years.
"We are especially appreciative for the opportunities through AKC Canine Partners for All-American dogs like Millie to participate in performance and companion events. One of our first trainers ended every class with  'And remember, Have Fun With Your Dog!' And that is what it is all about, in the end."