Thirteen-year-old Halli was only 2 years old when the cute terrier mix joined her family, but the partnership that was meant to be almost did not happen, Halli's mother Cathie Tyler recalls.
Shelter staff felt that the scruffy little dog was too much dog for a mother with a young child and did not even want the Tylers to meet him. Even though Cathie's husband, Lowell, is a veterinarian, and the Tylers are experienced dog owners, the shelter would not relent.
"I was surfing the shelter websites looking for new member to add to our family. When I saw the picture of Mozart, I was hooked. But the Animal Shelter of Missoula was hesitant to allow me to even visit Mozart since he was a rambunctious terrier mix and me being the mother of a small child," Cathie said.
After several phone calls, Cathie convinced them that she was a responsible dog owner and might be a good home for the 7-month-old high-energy puppy. Halli and Cathie made the 1 ½ hour trip to Missoula, MT, from their home in Polson, a small northwestern town in Montana.
"We arrived with toys and treats in hand. The staff seemed comfortable with my dog experience and allowed Halli and me to take Mozart out for a walk. So with Halli holding the leash, off we went and a couple of days later he was a permanent member of our family."
Part of what convinced the shelter to release Mozart to the Tylers was the great manner that Halli has with animals, even at a very young age. Halli has assisted her father with his veterinary practice since she was a toddler.
"Halli has helped care and nurture all the animals that have passed through our doors.  Many a late nights and early mornings she would help her father and I bottle feed orphaned puppies and kittens," Cathie said.
Back home with the Tylers, Mozart proved true to his terrier heritage. "He is a tenacious but a loving dog that is very strong willed," Cathie said. "Years ago I had taken Mozart to some obedience classes.  He did OK but we never seemed to quite find what seemed to motivate him.  He always seemed to be more interested in the other dogs than food or toys."
That all changed two years ago when Halli took over Mozart's training program through the local 4-H dog project.  "Even though Mozart's training process had its ups and downs, Halli stuck with it and together they built a relationship," Cathie said.
Before long, Cathie also got interested in dog training and began working her Doberman Pinscher. By the end of Halli's first session in 4-H, both mother and daughter had entered an AKC Obedience and Rally trial.
"Not only did Halli out-perform me in the ring with composure and handling skills, but she and Mozart titled in Rally Novice A, got two qualifying scores for Beginner Novice A, and won high scoring Junior Handler!  We haven't stopped since."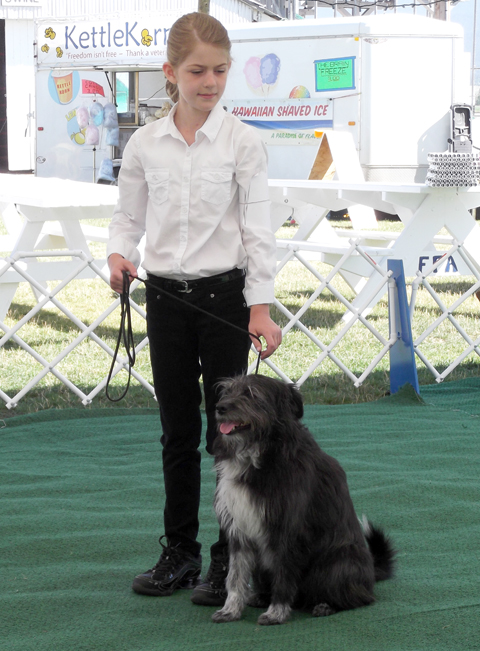 Mozart (formally known as Mozart the Mutt of Ashley Ln CD BN RA) holds the AKC Obedience titles of Companion Dog and Beginner Novice and has earned through the AKC Rally Advanced (RA) title.
Halli's 4-H leaders were so impressed with her handling of Mozart that they wanted to take her to the 2012 AKC National Juniors Obedience Competition in Orlando, FL. It took fund-raising and extra practice, but the goal was accomplished and Halli and Mozart competed in the Novice Junior division at the event that takes place in conjunction with the AKC National Obedience Invitational. Halli and Mozart took second place overall in their class, with a combined score of 382.5.
Since meeting the goal of making it to the national juniors' competition, the now 11-year-old Mozart has gone into semi-retirement.  "With eyes that are no longer as bright and clear as they used to be, hearing a little dull and knees that are starting to act up, we decided he should retire," Cathie said, with the exception of coming out for an occasional rally class.
Halli, a rising eighth grader and an A student, is continuing her goal of training and showing dogs with her Miniature American Shepherd, Macy. But first place in her heart will always belong to the dog that introduced her to the fun world of dog sports.
"One of my favorite things about Mozart is his sneezing. When Mozie is really excited and happy, he will look at you with those big brown eyes and sneeze," Halli said. "And if he is really happy, will prance his front feet in a dance and sneeze again."
Mozart competed in AKC sports through the AKC Canine Partners program for all dogs, including mixed-breeds and rescues.