My husband, Donald, became permanently disabled a year prior to us purchasing Klaus.  On May 1, 2012, as he was driving home from work, he smashed his car into another car while going 50 miles an hour and then hit a wall.
At first we thought he fell asleep at the wheel but after months of numerous tests, it was determined that his heart had stopped and it was the airbag going off that brought him back.  He was admitted to St. Francis Heart Hospital where, after going into cardiac arrest five times, they implanted a defibrillator. In the accident, he ruptured his left rotator cuff, herniated four discs in his back and three in his neck, but couldn't be operated on because of his heart condition.  On top of everything else, he also has recurrent multiple sclerosis (MS).
At first, I wanted a dog to keep him company.  When we met Klaus as a puppy, he immediately went over to my husband and fell asleep in his lap.  My husband and I were hooked.  Klaus was a real handful at first, and we didn't know what we were getting into with a 9-week-old German Shepherd puppy so we hired an obedience trainer.  We did the individual puppy classes, then the group puppy classes, and then morphed into advanced obedience classes.  Klaus embraced the training and was always ready for more.
Klaus was now more than a year old and becoming bigger and stronger. Around the same time, I started thinking of having Klaus become Don's service dog as my husband's health had taken a turn for the worse. Don had fallen down stairs, spraining his ankles a few times, and with the MS, some mornings he had blurred and double vision and would fall down the stairs or bump into walls.
I found trainer Ben Andujar of East Coast Working Dogs. Ben worked with Klaus on some basic obedience and I explained to Ben what I was hoping Klaus would be able to do for Don since their bond was so special and strong.  Ben explained that we needed to wait until Klaus turned 2 years old to see if he passed a physical and could be screened for hip and elbow dysplasia. When Klaus turned two this spring, he received his official hip and elbow clearances from the Orthopedic Foundation for Animals (OFA).
Klaus entered training in June. Ben collaborated with Stephen Phillips of Phillips Command Dogs in Olean, NY.  Klaus is living with Stephen and his family and begins training every day by doing a 3-mile walk with Stephen's son, Ryan, followed by six hours of training.  I get twice weekly progress reports and pictures from Ben, Steve and Ryan.  I can tell you that my dog has embraced this new role with intensity and focus.
Specifically, Klaus is being trained in public manners, the brace command to help regain stability (he can currently brace for 200 pounds), to assist up and down inclines/stairs, to help my husband up if he falls down, and retrieval of articles such as the phone.  In addition, we had a "panic" button installed in my house. If my husband's defibrillator should go off and it renders him helpless and unable to communicate, Klaus will hit the panic button with his nose to alert the police or EMS to immediately come to my home and give my husband the medical help he needs.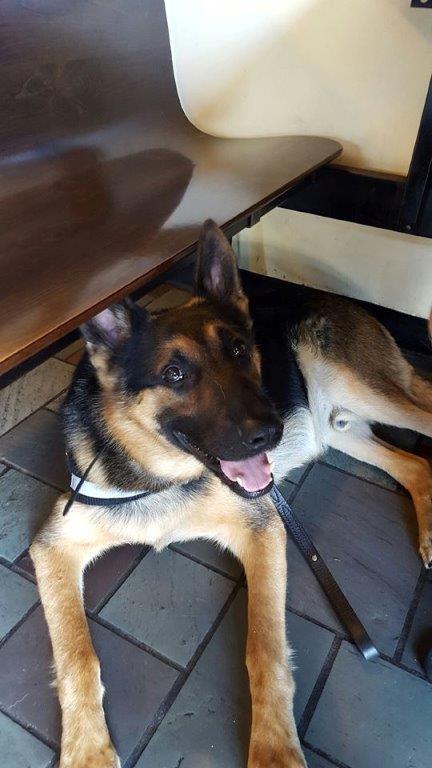 Ben goes up one week out of every month and trains Klaus for Don's specific needs while Steve and Ryan train Klaus on the basic working dog commands and protocol.  While Klaus has been in school, my husband suffered another MS exacerbation that has weakened his entire left side so when Klaus comes back, we will have to train him to assist my husband with the latest medical set back he's had.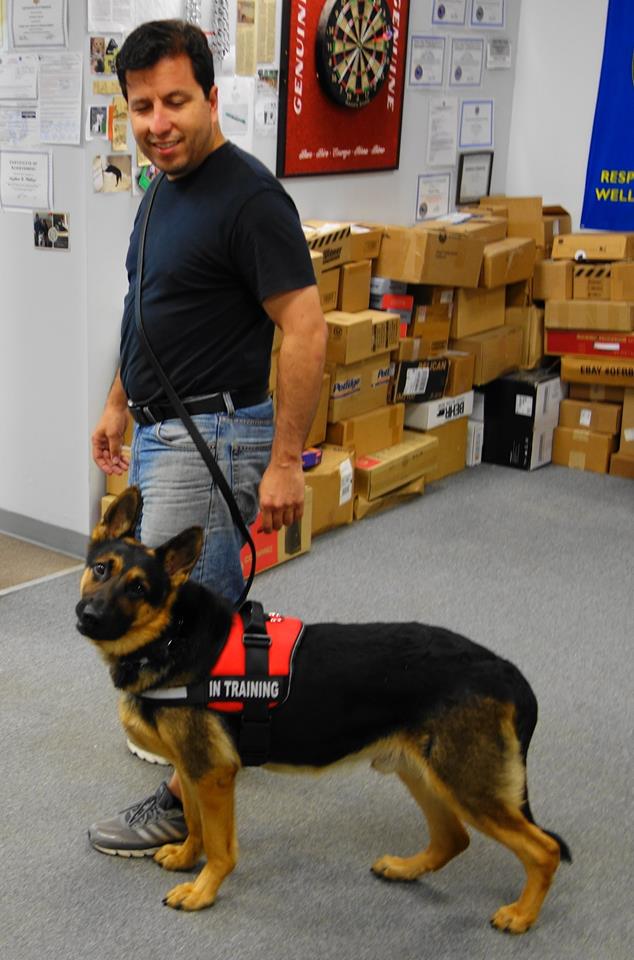 Klaus will be finished with Phillips Command Dogs school on Sept. 28, 2015.  After that, he will live with Ben for a month and Don will train with Ben and Klaus so that everyone is on the same page.  At the end of October, Klaus moves back in with us.
There will be two additional months of training while Klaus helps Don with day-to-day things such as going up and down stairs, going to doctor appointments, the pharmacy, supermarket, and restaurants, and staying with Don 24/7.  Klaus will be a true working dog in every sense of the word.