Stella was found as a puppy in a warehouse, and I adopted her at 4 months of age from a rescue group that advertised her as a Border Collie-terrier mix.  Stella didn't act like a terrier and kept growing, and growing.
A DNA test indicated that she is 25% Great Pyrenees, 25% Old English Sheepdog, 25% English Bulldog, and 17% German Shepherd.  Mystery solved!  She definitely has that Great Pyrenees brain and is an independent thinker.
Stella has always enjoyed agility obstacles and learning to run the agility course has helped build her confidence.  Stella's favorite aspect of agility is the support she gets from other participants and spectators.  When she first started doing agility trials, she realized that antics like rolling around on her back got a laugh from the crowd, and she loved it!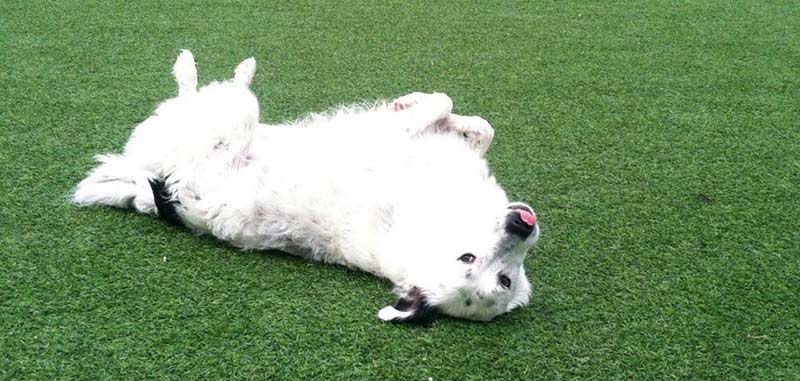 Stella has learned to keep the antics to a minimum and earn cheers from the crowd rather than laughs.  Her biggest challenge with agility is meeting the course time requirement.  It's not that she can't run fast, but it is hard for her to get out of 'Pyr mode.'  It is always a win for Stella when she's happy and having a good time running agility.
Stella is a Canine Good Citizen, and has earned her Novice Rally Obedience title.  Stella was also an extra in the movie Max (2015)."