Dozens of dogs' tails wag faster when they see Dori "Bubba" Wilson.
The North Carolina resident has been foster "mom" to more than 400 dogs since 2002, giving them love and care until their forever homes are found.
But there is something Wilson admits that she did not provide: training.
"I had never even trained a dog to sit before," she said. "I have always just showered dogs with as much love as I had to offer."
Then, a special dog changed all that, turning Wilson not only into a trainer but a competitor.
BG, now 7 years old, came into Wilson's life when she was a young puppy after being rescued from a shelter.
"She was supposed to be a foster puppy, one that I would eventually find a permanent home for, but I couldn't let her go," she said. "The first time she crawled into my lap, I knew she had just picked me to be her forever mom."
BG proved to be a smart and active puppy. Her energy exploded in "some gi-normously destructive puppy moments" resulting in her name that stood for Bad Girl. Wilson enrolled BG in puppy manners class, and she did so well that she advanced to Puppy Agility class.
Agility is a sport that dogs, owners and spectators love. Dogs run an obstacle course comprised of jumps, tunnels, and climbing obstacles.
"BG took to the agility equipment like a fish to water so we were immediately hooked. I had absolutely no idea what I was doing, but all I knew was I had never had so much fun with a dog in my entire life," she said.
Wilson began to think of entering BG in a competition, and, as it happened, her instructors were excitedly chatting about the American Kennel Club opening its events to mixed-breeds through a program called AKC Canine Partners. Through this program, mixed-breed dogs compete in Agility, Obedience, Rally, Tracking and Coursing Ability.
"I honestly didn't really understand what all the hype was about because I was so new to the agility world, but all I knew for absolute sure was that I was not about to miss one moment of this exciting new program."
AKC Canine Partners launched on Oct. 1, 2009, and Wilson registered BG, making her one of the first "All-American Dogs" to enter AKC records. A year later, BG entered her first AKC agility trial. "We ran clean, got a Q (qualifying score), and placed first!"
BG quickly earned her Novice-level titles. Unfortunately her agility career ended early due to an injury that resulted in a torn ACL. But BG still loves hiking, swimming and travelingwith Wilson to every agility trial that she does with her other dogs.
BG will always hold a special place as the canine that introduced her to dog sports. "Now BG stands for Best Girl," she said.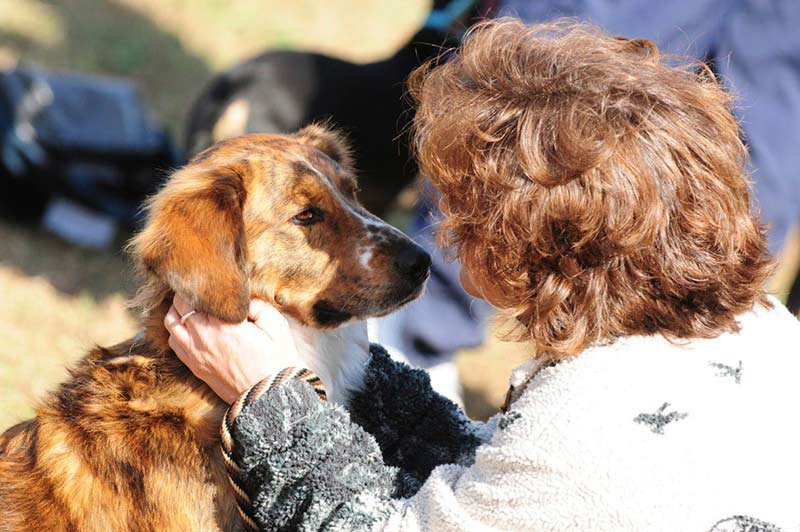 For more information on AKC Canine Partners, look here.