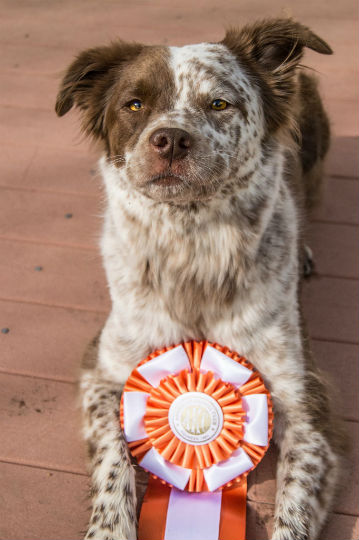 Adriana adopted Finnick from the San Francisco SPCA in August 2014.
"I was volunteering there at the time and was waiting for the right herding mix to show up, then there he was!," Adriana said. "I wasn't interested in dog sports at first, but we took a rally class, which then led me to take an agility class and now we do it all."
Finnick has titles in AKC Rally and Agility, plus barn hunt, dock diving, and, his favorite, lure coursing. He has excelled at the AKC Coursing Ability Tests and earned the highest title in that sport – the Coursing Ability Excellent (CAX) – on Jan. 24, 2016, at the Monterey Bay Coursing Association test in Hollister, CA.
Outside of dog sports, he loves to chase birds and play fetch in the water.