Name: Brittaney Allen
Age: 16
Hometown: Cambridge, OH
Grade: High School Junior
Parents: Jay & Brenda Allen
How did Ollie come into your family's life? How old is Ollie and do you know what breed/mix he is?
Ollie is a Border Collie mix who was adopted from our county's animal shelter in 2012. He is 3 years old.
What got you started in training Ollie and involved in 4H? Is your family involved in dog training/showing?
A family friend got me started in her dog 4-H club as a Cloverbud with my first dog, Princess. From there, I began showing Ollie through 4-H expanding into AKC.
What do you like best about working with Ollie? In addition to Obedience and Rally, what other sports do you compete in with Ollie?
I've always had a passion of working with animals. Ollie is a very smart dog so he is able to learn things quickly. In addition to obedience and rally, we are training to compete in agility.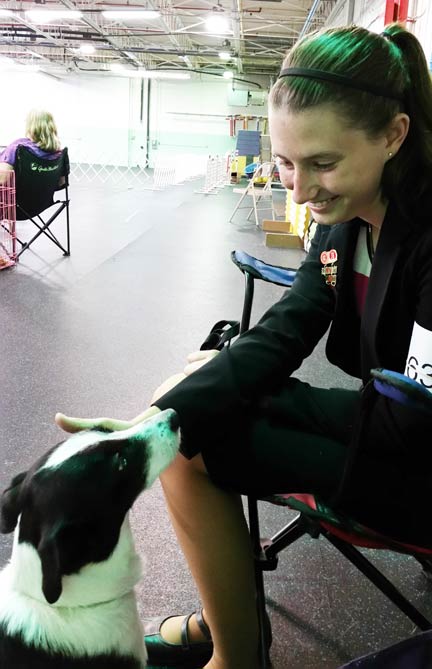 What titles/honors have you earned with Ollie?
Through 4-H Ollie has received several high scoring obedience awards as well as high scoring exhibitor. Ollie has received his CGC, BN, RN, and CD titles through AKC. We are now working on his Graduate Novice title.
How did you decide to enter the national AKC Juniors Obedience/Rally competition? Was this your first year at the competition? You did so well at the competition – what contributed to your success at the event and also which awards did you win at the event?
A group of friends from 4-H told me that I should start competing in AKC then go to Junior Nationals with them to compete. This was our first year competing, however we plan on coming back to hold our title. Ollie and I placed first in Beginner Novice. The support from family and friends helped me stay calm in the show ring allowing Ollie to perform his best.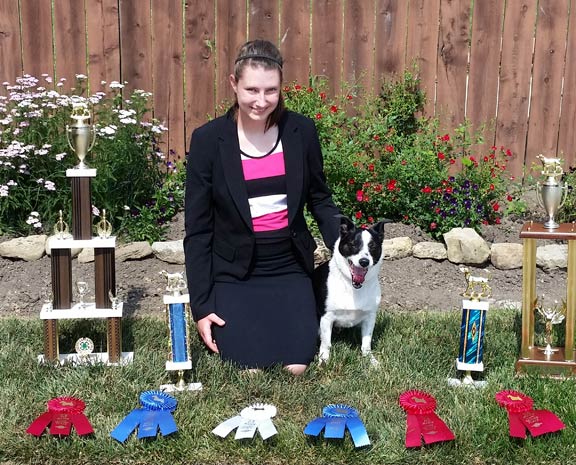 Do you own any other dogs or pets? Any others that you compete with and in what sports?
Princess is my retired show dog. She is a sheltie mix, which we also adopted from an animal shelter. I also show sheep at my county fair.
What are your future goals in the sport of dogs?
I plan on competing as a junior handler until going off to college then possibly furthering my showing career after that
Do you plan do to something animal-related as a career?
I am currently considering an animal related field however I am undecided on a major. Zoology, agriculture, and biology are all possibilities.