Finding Tank was the most unexpected event. My husband, Pete, and I recently lost our beloved German Shepherd Dog, Wolf, to old age.  He was the dog that brought us together as a search team and then a married couple.  His passing left a huge hole in our lives and our pack.
I hadn't even thought of getting another dog…..it was too soon….but one day there was Tank's picture on Facebook…..a handsome boy looking for a home.  His "being" (for lack of a better word!)  just captured my attention – in spite of this being an animal control picture. The self-confidence and "old soul" just spoke to me.  Truth be known, I could almost hear Wolf telling me that THIS was the next dog for me…..he needed me, I needed him.
After speaking with animal control and learning Tank's story, I sent his picture to my husband and asked if he'd be interested in meeting Tank.  It seems that Tank was the village vagabond in Florida's Panhandle for about five years!  He was owned by some folks who just didn't understand his need for companionship and a job. So nearly every day when they went to work, Tank went looking for fun!  When animal control would pick him up, he'd jump into the passenger seat all smiles and ready to go.  They finally simply took him into the shelter.
Fast forward two days and there we were on a four-hour trip to meet this character and hoping all the way that we liked each other.  Tank was literally coming out of anesthesia from his neutering when we walked into the shelter, and it was love at first sight!  That great big boy, skinny at 112 pounds, with the lopsided grin from still seeing pink elephants, wagging his tail and making tracks to the outside where our truck awaited his trip HOME!  We did the paperwork as fast as possible, somehow got him into the truck, (ever try to pick up a huge drunk dog and get him into a pickup?? Yikes!) and spent the next four hours gazing with wonder at this beautiful boy.
With his size and confidence, Tank's acclimation into our pack was almost immediate.  He seemed to know instinctively that he was finally home.  He had brothers and sisters, chickens needing to be guarded, and best of all he went everywhere with me.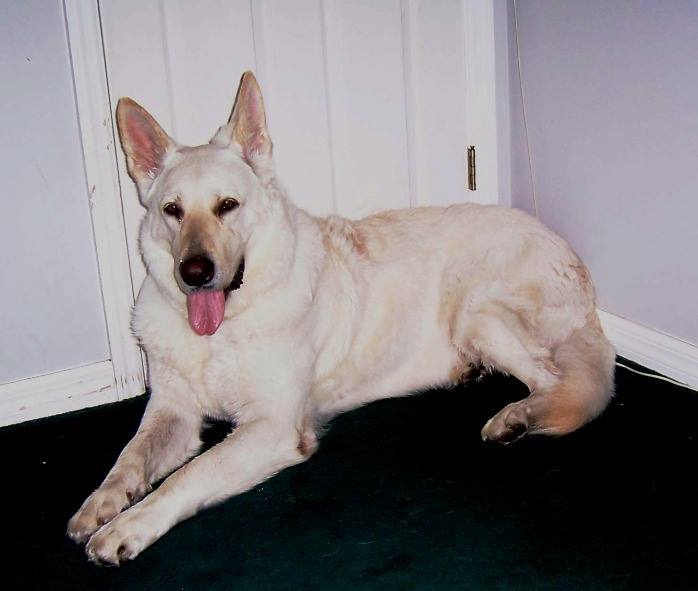 Obedience was sometimes tricky with Tank.  After all those years of doing what he pleased and going where he pleased, being told where to go and what to do could make a boy cranky.  Tank's innate intelligence and good nature allowed him to see what his purpose was, and he earned his AKC Canine Good Citizen (CGC) and AKC Canine Good Citizen-Advanced (CGCA) titles in record time.  And then his job began….
We spent many hours at our local children's advocacy center with kids who've been traumatized in one form or another.  They all fell in love with Tank, and he with them.  Tank went to therapy with these youngsters, accompanied them to their depositions, and when it was necessary, went to court with them, allowing them the comfort and confidence of his presence to disclose the horrors that had happened.  Judges, lawyers, and child protective teams all loved Tank and could see how effective he was in his work.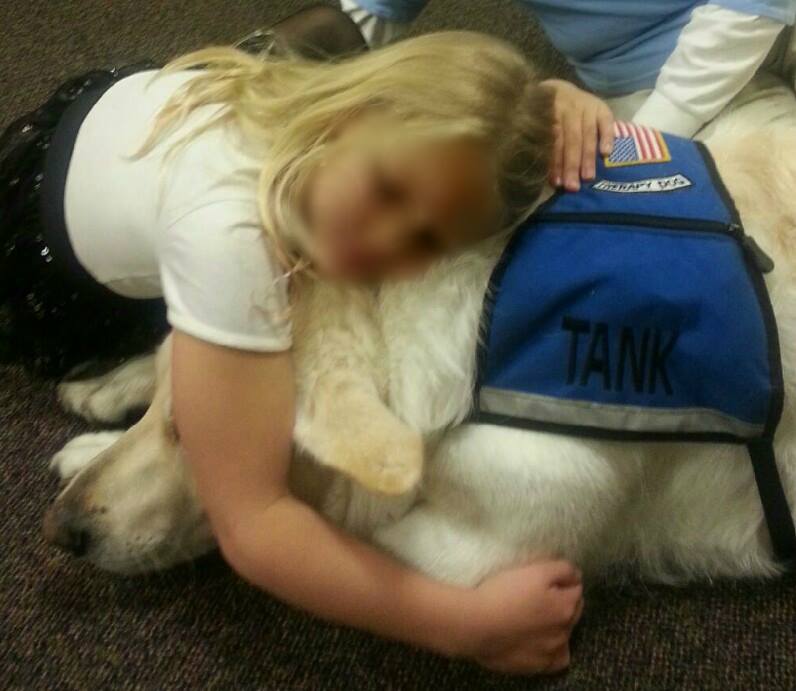 Tank was a hit wherever he went.  He won the Giant Dog Contest at our local K9 Karnival. He was fawned over by the children at local day care centers, the kids at our Boys and Girls Clubs, patients and staff at local nursing homes, and his favorite place, a school for children with special needs.  He loved being with those children, lying quietly by their sides or taking them to class when no one else could get them to go. One young man even tried walking without his walker just to walk side by side with Tank.  He made me proud every minute of every day.
And then it happened.  Tank had just finished dinner when he came over to me, choking. I Heimliched him, pulled handfuls of kibble from his giant mouth….gave him canine CPR – none of it worked.  He died in my arms in what seemed like hours, but in reality it was minutes. Needless to say, I was devastated as was my husband.  One second he was with us, the next he was gone.
To put this event into a little perspective, Tank had been diagnosed as heart worm positive.  We'd been treating this, but my vet said she feels that his heart simply gave out with the stress of the choking.  It doesn't make the hurt go away.
Tank is still with us.  We are able to laugh now at the memory of his antics.  His mission was to make sure there were no squirrels in our yard.  Every morning he would go out to clear them…..same routine, every day.
He loved to sit on the couch with us. Well, we had a wee bit of room at the end, and he took up the rest!  And nothing made him happier than to lie on the front seat of the truck with his head on your lap, enjoying the closeness and joy of the ride.  The best part of that was the look on people's faces when he raised his head up to look out the window!
I miss that boy, can you tell?  He left some awesome paw prints to fill…..