Rosemary Strasser of Omaha, NE, was not looking for a new dog, but a friend with Midwest Rescue Network kept telling her she had just the dog for her.
"For two weeks she kept saying, 'You have to come meet him; he's just your type of dog,' ", Rosemary said.
"We fostered him, and I took him to local agility trials, trying to find a performance home, but it didn't take long before we knew we'd be a 'foster failure' and keep him," she said.
Soon, Rosemary was taking Roo to training classes at Go Dogs in Omaha.
"One of our very favorite classes was called 'Recallers,' which worked not only on solid, fast recalls but also beginning flyball. We were hooked! We joined the Omaha Speed Racers flyball team. Roo ran in his first flyball race about a year after we adopted him and finished his Flyball Master (FM) title about a year later."
Roo currently has his Flyball Master Excellent title (FMX, 10,000 points) and is working toward ONYX which is 20,000 points in the North American Flyball Association.
Roo also competes in agility and in March competed in his first AKC Agility National Championship in Tulsa, OK, just before he turned 4 years old. He made it to the finals round in the 12 inch jump height division. ​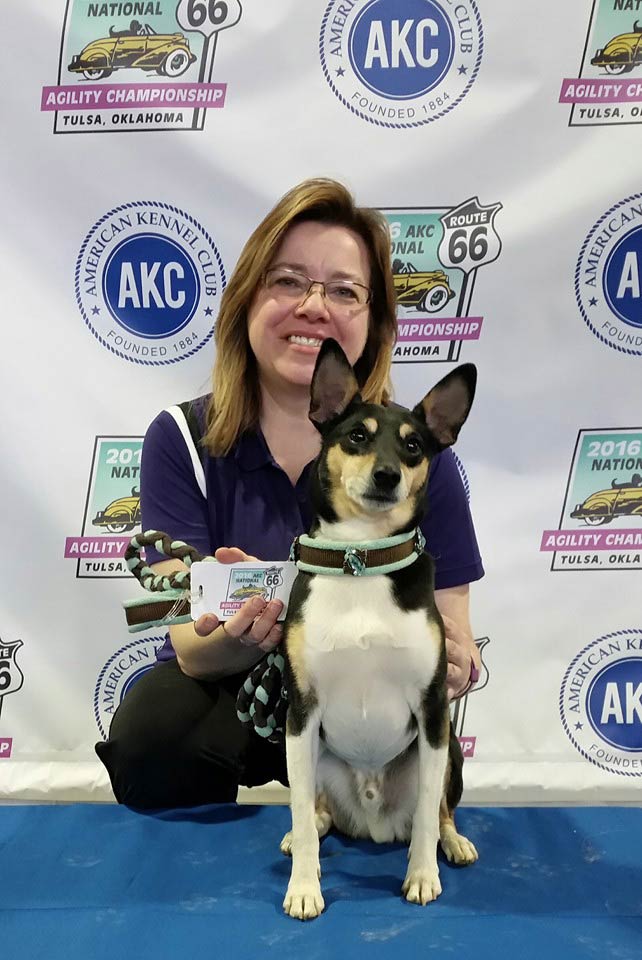 "I was so excited we made it to the finals! Roo had a slip on the teeter in the final round but he still finished ninth overall. For our first nationals, I'll take it! What a thrill!"
"Roo is not only a great little performance dog, he is the sweetest dog I've ever owned. Sometimes the right dog comes along whether you are ready or not."
Roo is a member of the AKC Canine Partners program for all dogs, including mixed-breeds and rescues.