Mori was selected to play the role of Sandy in a local theater production of Annie. Patrice tells the story of his theater debut.
In July, I received a call from a friend who had been approached by a mutual acquaintance looking for a "light-colored, fluffy" dog to play the role of Sandy in a musical revue of Annie.  I called the number to find out more.
That phone call introduced me to Enrapt, a small theater in Pickens, SC, that was founded in 2014 by Breann Griffin-Nicholson.  When founding Enrapt, Breann's dream was to share the arts with her small town and create a passion in the hearts of people who may not have opportunities to experience the arts.  Breann's vision for Enrapt is to provide community members with opportunities to experience theatre first hand with acting, directing, and more.  Auditions for a musical revue of the classic, Annie, were held in mid-July.
I had limited time to meet Breann to find out what would be involved with working on the play.  Logistics and time commitment were my greatest concerns.  Breanne brought her niece, Nevaeh Ranes, who would be playing the role of Annie to see how she and Mori would interact. They came to an obedience trial where Mori was competing.
Breann along with Annie and her family approached me right as I was going into the Utility ring.  It was an abrupt first meeting.  When I came out of the ring, they marveled at Mori's performance (which happened to be an NQ). We introduced ourselves and found a quiet corner in the noisy venue to make formal introductions.  As we talked, Mori leaned up against Nevaeh, laid at her feet, and the bond was formed.  We played with some simple recalls to see if Mori would respond.  It was clear to everyone that Breann had found her Sandy.
My final dilemma was logistics.  Considering the travel time between work and home, then to the theatre, it would be impossible to make rehearsals on time.  Breann agreed to fold our scenes in when we got there.  Nevaeh and her mom, Bethany Ranes, agreed to let Mori stay at their house on the days we would need to be at the theatre earlier for dress rehearsals and performances.  When I was able to make arrangements for my other dog during those critical dates, I called Breann and told her that Enrapt had found their Sandy.
"The joys of working in theatre became 10 times more exciting when we received news that we would be able to have a real live dog for our musical revue of Annie.  We wanted to be able to have a live dog so that our musical numbers really came to life for the audience," Breanne said. "We were giddy when Patrice decided that she and Mori were on board and ready to commit a lot of time to the production of this musical revue."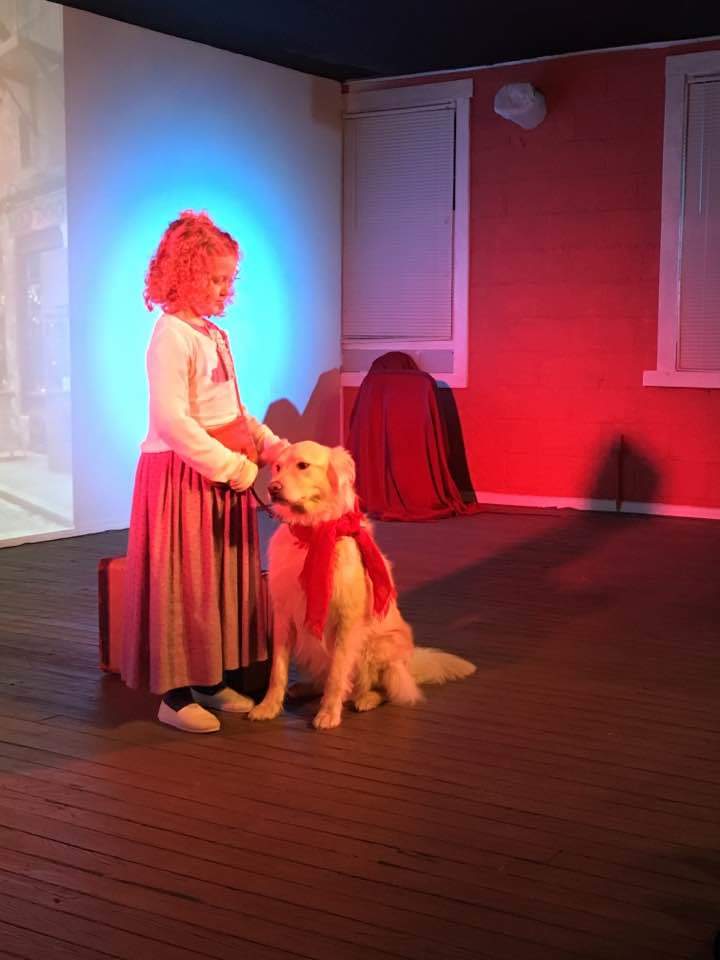 When we started rehearsals, neither of us knew what to expect.  It was thrilling, but, also, terrifying.  We started Mori in slowly and let him adapt to the new environment, lights, music, and to the noises of little girl giggles.  Before long, Mori was put on the stage in the small, quaint black box theater and work began.
"We were thrilled to see Sandy join Annie's side with such discipline and excitement.  Over the weeks of rehearsals and runs, Patrice worked with Mori and with the actors in his musical numbers.  The hard work paid off because his performance was impeccable," Breann said. "Mori got into the swing of things quickly and before long, his ears were perking up to his musical numbers and he was heading for the stage door seconds before his entrances.  He truly had become a theatre dog before closing night."
I, personally, learned so much from being involved in this project.  After four years of obedience competition, Mori had the skills to execute his musical numbers, but I really had no idea how I would translate those skills from the obedience ring into a theatre environment.  I knew how my dog learned.  I knew his challenges.
As we rehearsed and numbers didn't go as planned, I would analyze the situation on the long drive home and come up with several possible solutions to work through the issue the next time.  Breann and her student director were receptive to my ideas and together we helped Mori, and the actors who shared his scenes, succeed.  I cannot find the words to describe the experience.
At the end of August I showed up with a light, fluffy dog to be a prop on stage; by the final performance in November, I was helping with costume changes, organizing props, and babysitting "orphans" back stage.    Not to mention the friendships I made, all because I took another chance with my not so perfect pup to see where a new road would take us.