The 7-year-old dog passed the Variable Surface Tracking (VST) test held Oct. 4 by the Great Salt Lake Dog Training Club. The club held the test on the campus of the University of Utah in Salt Lake City.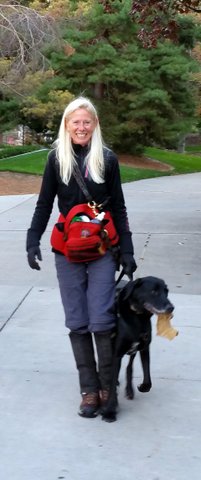 To obtain the CT status in the AKC Tracking program, dogs must earn three titles – Tracking Dog (TD), Tracking Dog Excellent (TDX), and Variable Surface Tracking (VST). Griffin had already earned the TD and TDX.
Griffin is a mix of German Shepherd and German Short-haired Pointer and has an excellent nose and work ethic, says his owner Maureen Fielding of N. Vancouver, British Columbia, Canada.
In addition to competition tracking, Griffin puts his incredible nose to good use by helping find lost pets. "Griffin has successfully tracked two lost dogs and has attained local media coverage for his tracking and search and rescue abilities," Maureen said. "He is sociable, very athletic, agile, muscularly fit, and strong so he also enjoys hiking, swimming and a fast game of Frisbee."
Griffin competes in AKC Tracking tests through the AKC Canine Partners program for all dogs, including mixed-breeds and rescues.