Pari's owner Mary Ann Igoe of Blackfoot, ID, tells us the story of how the now 5-year-old Pari came into her life and became a successful competitor.
Pari and I were introduced in fall 2011 when I volunteered to walk a humane society dog in need of a home at a local Mutt Strut.
When I arrived to pick up this cute little dog, I was handed an absorbent pad to protect my car seat and told she gets nervous riding. She was also fearful of big dogs, and I had my own 50 pound dog in the car.
We arrived at the Mutt Strut without any issue. The dogs had a great day, yet Pari was not adopted that day. I could not stop thinking about the shy little dog and several days later, I signed her adoption papers.
To help Pari with confidence issues and channel her high energy, I enrolled us in a beginner obedience class; at the end of eight weeks, she earned her AKC Canine Good Citizen. The class was fun for us both, and the exposure to other dogs was very positive for Pari, so I joined the Upper Snake River Valley Dog Training Club with a goal to try all the areas of training the club has to offer.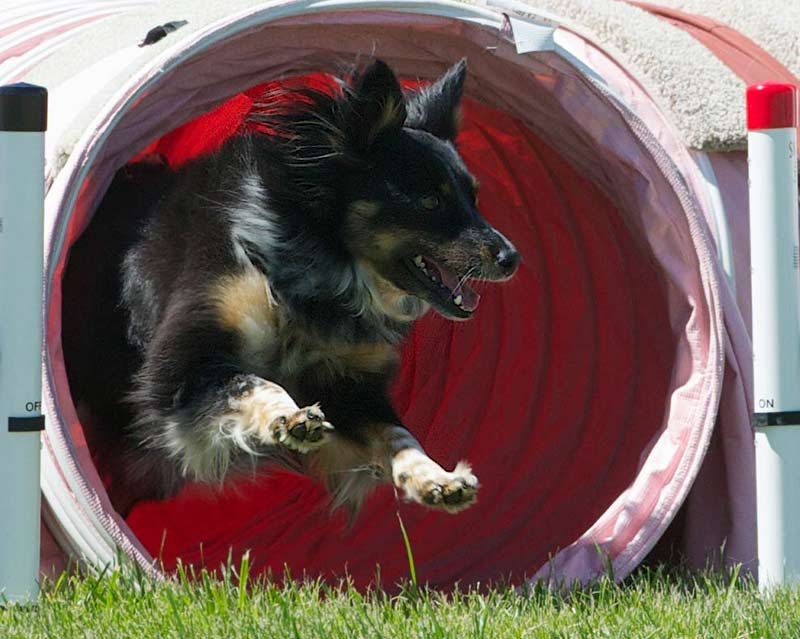 The journey to build Pari's confidence and the ability to be involved with AKC Canine Partners has opened a new world of fun for both of us as I have always had mixed-breed dogs and never trained to the level to participate in AKC events.
The required training and the ring experience to earn AKC titles has been a challenging but rewarding learning curve for me; thankfully, Pari is very forgiving of my handling errors and is eager to learn. As long as she continues to wag her tail and flash that toothy grin, we will continue on this path where ever this journey takes us.
Pari's AKC Title Track:
2012: Canine Good Citizen
2013: Novice Agility Jumpers, Novice Agility Standard
2014: Open Agility Jumpers, Open Agility Standard, CGC-Advanced, Tracking Dog
2015: Versatile Companion Dog 1, Companion Dog, Beginner Novice, Rally Advanced, Rally Novice, Excellent Agility Jumpers