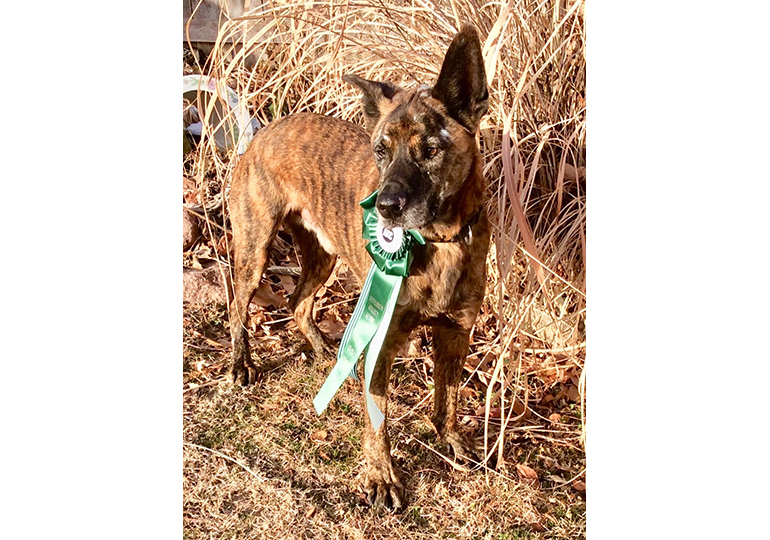 Coach Crazy Horse CD RAE AX AXJ OF CGCA TKN owned by Lynn Wesselmann of St. Louis, MO
It was love at first sight when Coach and Lynn met at the Humane Society of Missouri. He had been there over a month and from the way he was jumping and barking in his kennel, Lynn could see why he was still there. He was large, strong and intimidating. He was also scared, very nervous and had the most beautiful tiger stripes she had ever seen. When they met one-on-one it was apparent that he was very intelligent and was watching her as much as she was watching him. "He listened to every word I said and when he curled up next to me, he was mine. He went home with me that day," said Lynn.
Controlling Coach became a challenge. "During our first week together, he escaped his wire kennel daily and met me at the front door when I got home from work. I stopped kenneling him and he was a perfect gentleman in the house," said Lynn. Outside, he demonstrated his athletic skills by jumping a six-foot fence and dragging Lynn behind by his leash at anything that moved. They got emergency basic obedience training, where the trainers suggested Lynn find a job for Coach. Agility and more advanced obedience classes were recommended. Coach was a special dog that needed special training.
Lynn had very little experience with dog competitions and had never seen Rally until she went to an AKC obedience trial. It looked like so much fun that she and Coach began Rally training with Justin Sims and Patricia Schneiderjohn at Dog Sports at Kim's (DSK) in Caseyville, Illinois. With much patience and perseverance, Coach's boundless energy began to be controllable. "I needed training as well and we both gained much-needed confidence and trust. I registered him with the AKC Canine Partners program and because of his prancing skills, added 'Crazy Horse' to his AKC name," she said.
Coach entered his first Novice Rally competition on June 24, 2016. He enjoyed performing and wanted to do his best in the ring. On August 12, 2017, he earned RAE title at the Jefferson County Kennel Club of Missouri. "My special dog had qualified in every show."