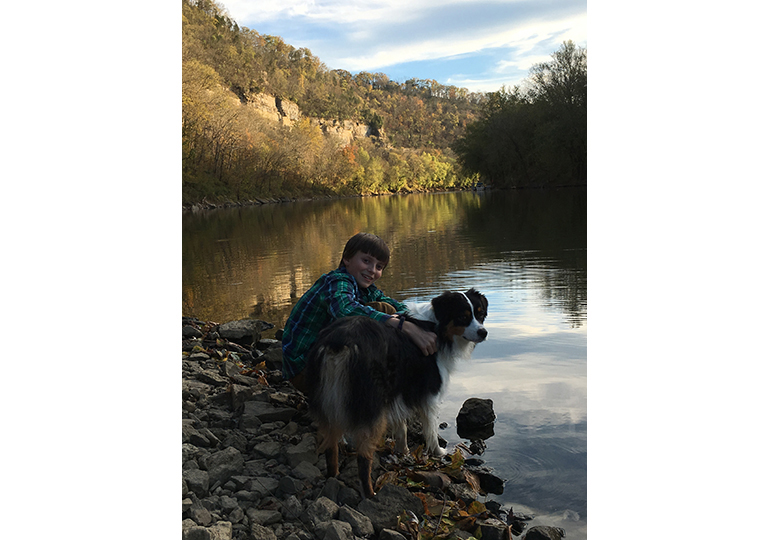 The AKC Junior Classic will be held Dec. 15 as part of the AKC Obedience Classic in Orlando, FL. Young people get the opportunity to compete with their dogs in obedience and rally in a national setting. We will be spotlighting youth who are competing with All-American Dogs in the AKC Canine Partners program in weeks leading up the big events.
Name: Na'vi
Call Name: Na'vi
Classes: Beginner Novice & Rally Novice
Age: 2 ½ years
Gender: Male
Owner: James Wood
Hometown: Wilmore, KY
Na'vi is an Australian Shepherd who was never registered by his previous owners. He lived on a horse farm with the Jack Russell Terriers that they bred.  While he had a good life with his original owners, he did not have one special person to bond with.  One of his owners trained a horse for James' mom, knew that their family loved Aussies, and that James participated in the Kentucky 4-H dog program with their Border Collie mix, Stella. With the number of their breeding dogs increasing, they were interested in making room by finding a new home for Na'vi.
From the moment James and Na'vi met, they had a connection. Once he had Stella's approval, Na'vi joined the family. That was a little over a year ago, and since then James has trained and shown Na'vi in 4H, competing in obedience, rally and on-lead agility. In preparation for the upcoming Junior Classic show, they have also started showing at AKC events in beginner novice A obedience and novice rally.
Na'vi has an extremely sweet, soft disposition and is easy to train because he loves working with James and responds well to positive training methods.