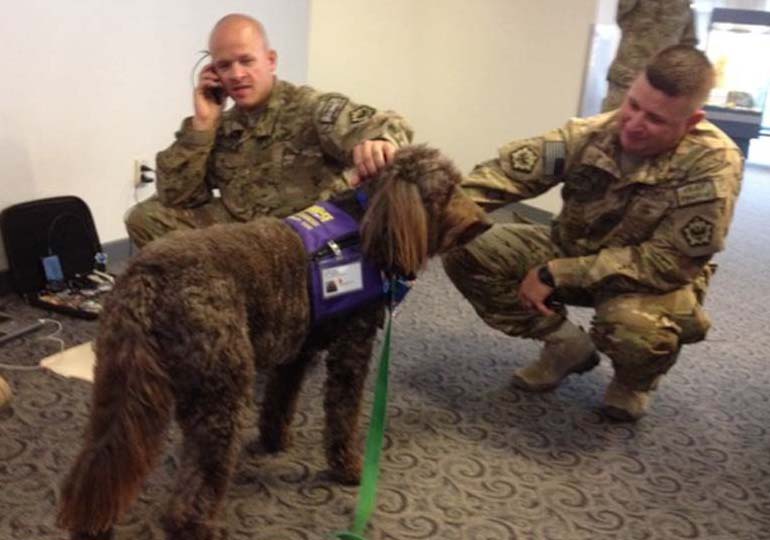 Since 2003 when the war on terror began, the nationally known and locally beloved Maine Troop Greeters have welcomed more than 1.5 million troops, about 7,500 flights, and over 400 military dogs through the portals of Bangor International Airport, a gateway for America's military.
During that entire time, only one certified working therapy dog from outside the state of Maine has participated as a troop greeter.
On Friday, Nov. 10 (Veterans Day observed) Koko Herz, a Lab mix owned and handled by Steven Herz of Scotch Plains, NJ, received more posthumous recognition at the opening of the Maine Troop Greeters Museum at the airport. The museum, three years in the making, celebrates the history of the Troop Greeters through visual and print displays of many thousands of items left behind as thanks from the troops. These include thousands of commemorative challenge coins, signed flags and banners of various units, letters, medals, and photos. Touchpad screens let visitors hear oral accounts of the experience from the perspective of both troop greeters and troops. Through other touchpads, visitors can identify and learn about the colorful challenge coins.
Koko and Steven, a founding member of Creature Comfort Pet Therapy (CCPT), New Jersey's leading and rapidly growing pet therapy organization, became aware of the Troop Greeters in 2010 while picking up a friend at the airport. Steven and his dogs spend part of their summers in Corea, Maine, a picturesque coastal village 65 miles east of Bangor.
"While I was waiting for my friend to arrive, I noticed many soldiers outside the terminal and asked a troop greeter walking by what was going on. We always carried Koko's gear in her backpack everywhere we went, so I asked if we could jump in, and that's how it started."
Over the next several summers, Koko and Steven would welcome or send off hundreds of military men and women as official Maine Troop Greeters. When Koko passed away in February 2015 at age 12, Steven got a surprise from the Troop Greeters. Each Memorial Day weekend, the organization honors any human or canine greeter who died the previous year. Koko was memorialized in 2015 with two separate honors: a brick at the top of the walkway leading to the Troop Greeters pavilion across from the airport entrance and an inscription on the Canine Troop Greeters plaque inside the Troop Greeters Room. Steven flew up for the emotional ceremony and that's when he learned about the museum project.
He returned on Nov. 10 for the museum's opening. Among the speakers were Bangor Mayor Joe Baldacci, U.S. Rep. Bruce Poliquin (R-Me.), and U.S. Sen. Angus King (I-Me.). In his remarks, King described the ramp and corridor through which the troops enter the terminal as "sacred ground. This is where our troops first set foot in America coming back from the searing experience of battle," King said, "and for over a million veterans in America, this is a sacred place right here — this corridor right here."
Steven agrees. "To realize that you and your therapy dog are likely the first American faces these troops see upon returning from a year's deployment to a hellish place, and to see their expressions of amazement as they first appear over the rise and come down the ramp toward the cheering reception line truly stirs the soul," he said.
Being present at the museum opening on Veterans Day also keeps alive Stephen's memory of the "one-in-a-million" dog who brought joy to so many during her working career. In addition to her work as a troop greeter and posthumous Maine honors, Koko's therapy dog resume includes:
712 career visits at 42 different facilities in five New Jersey counties.
2016: posthumous Certificate of Merit from the New Jersey Veterinary Medical Association as a runner-up for the New Jersey Animal Hall of Fame.
2015: the first recipient, along with Steven, of a CCPT Lifetime Achievement Award.
2014: among the first group of therapy dogs nationally to earn the American Kennel Club's newly created THDD (Therapy Dog Distinguished) title, the highest distinction.
2011: the first mixed breed certified working therapy dog in the United States to receive the AKC's original therapy dog title, THD, and one of the AKC's six "First Titlists," the other five being purebred dogs.