Bruiser loves nothing better to run down a dock and fling himself off the edge into the water. His dock diving prowess has earned him numerous awards in the sport.
"Bruiser is full of personality and is always ready to take on new challenges," said his owner Pete Majerle of Peoria, AZ.
Bruiser's career in dock diving started last summer with swimming classes at his training facility, Hunter Canine, in Cave Creek, AZ.
"He took immediately to the water, quickly learning to jump into the water from the exit ramp. Swimming in the pool brought so much joy to Bruiser, and he gained more and more confidence with each class," Pete said.
"We worked slowly with Bruiser, building off his success jumping off the exit ramp into the pool. That lead to his confident ability to jump from the side of our pool at home and proceeded to jumping off a small box, then a chair, then a box on a chair. Each time, he would confidently jump off, into the pool, retrieving his favorite toy, and quickly be ready to do it all over again," he said. "Before we knew it, he was ready to jump off of the regulation dock. In his first competition last summer, he was jumping off on his own and scored a 4 foot 3 inch jump."
Bruiser resumed his dock diving career this summer and is getting better every day. Last month, he performed at an exhibition indoor dock diving event, scoring a 5 foot 7 inch jump, and recently he completed a 7 foot jump during a practice session.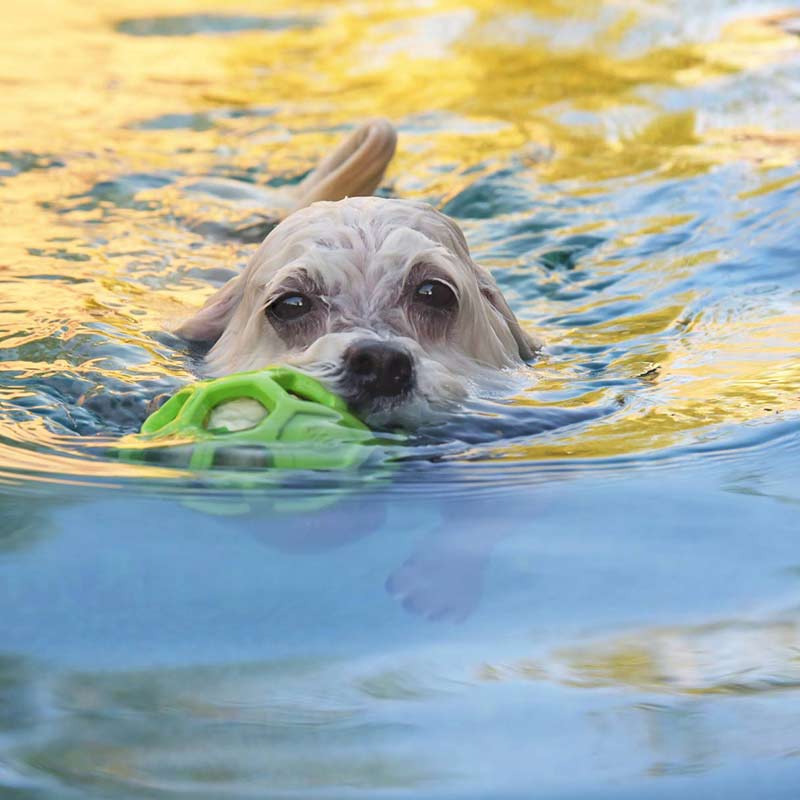 "Not only does everyone enjoy seeing Bruiser, the little white dog, flying through the air, but he absolutely loves it. He wants to jump over and over and over. We have to take his toy and hide it to get him to stop and rest."
Bruiser also has completed several obedience classes and holds the AKC Canine Good Citizen title. He is a member of the AKC Canine Partners program for all dogs, including mixed-breeds.
For more information on Bruiser and his friends, check out https://www.instagram.com/pbj_pack/