Lifetime Achievement Award Recipients
The American Kennel Club (AKC®) honored recipients of the AKC Lifetime Achievement Awards at the annual Delegates Meeting Luncheon, in conjunction with the AKC/Eukanuba National Championship. The winners received an engraved silver bowl. A larger Tiffany and Co. bowl, engraved with the names of all recipients past and present, will remain on permanent display at the AKC Headquarters in New York City.
The AKC Lifetime Achievement Awards were created to honor those individuals who have made outstanding contributions to the sport of purebred dogs on a national level. The recipients were selected by votes cast by AKC member clubs for nominees in each of the following categories: Conformation, Companion Events and Performance.
2016 Recipients
Conformation: Patti L. Strand of Portland, Oregon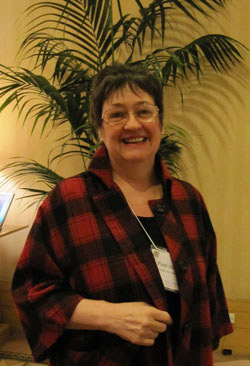 Patti started in the dog world with a pet Dalmatian. Attendance at a fun match while in college caused Patti and husband Rod to jump wholeheartedly into the sport of purebred dogs more than 46 years ago. To this day they remain captivated.
Rod and Patti developed the influential Dalmatian bloodline, Merry-Go-Round Dalmatians, known for good health and temperament and for producing some of the top-winning Dalmatians in history. They were the recipients of the 2014 Non-Sporting Group Breeder of the Year Award. The Strand's co-authored An Owner's Guide to a Happy Healthy Dalmatian. Patti was twice honored to judge the DCA National.
As anti-breeder legislation and anti-purebred sentiment mushroomed in the late 1980's, Patti found herself lobbying, writing articles and forming alliances advocating purebred dogs. In 1991 she co-founded the National Animal Interest Alliance (NAIA), an advocacy organization dedicated to preserving the human-animal bond, raising animal welfare standards, countering negative propaganda and protecting the rights of responsible animal owners. Today, NAIA is nationally prominent, and is routinely cited in mainstream media. In 1992 Patti and Rod co-authored the first US book on animal rights extremism, The Hijacking of the Humane Movement: Animal Extremism. Patti was named the 1993 Dogdom's "Woman of the Year" and received the Fido Award for her advocacy of purebred dogs and responsible dog ownership.
In 1995, Patti was elected to the AKC Board of Directors, serving four consecutive terms. She devotes her local volunteer time to Rose City Classic to help produce the best shows possible. Patti is motivated by her high regard and affection for the skilled and dedicated breeders, owners and trainers who make up the purebred dog community.
Companion Events: John Cox of Shoreline, Washington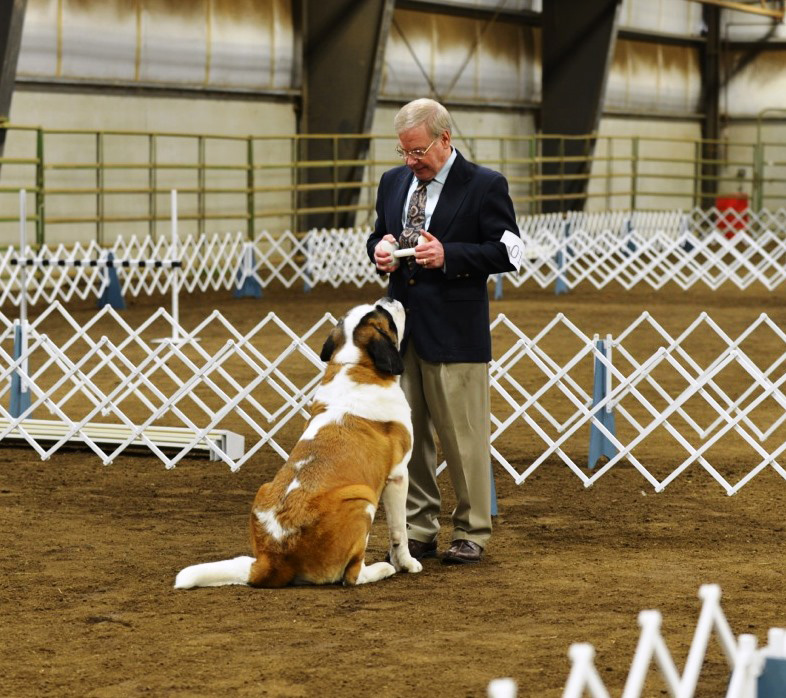 John received his first Saint Bernard, Nicklus, in 1969. This puppy went on to become the breed's most-titled (at the time) American and Canadian Champion, as well as American and Canadian Utility Dog. Since Nicklus, John has lived with eight other Saints earning additional championships and UDTs, and a Pembroke Welsh Corgi earning a Tracking title.
He started all over again in 1998, with a Saint puppy Kris, imported from Belgium. Kris surpassed John's other Saint's record as the most-titled Saint Bernard Champion with 39 titles to his name (nine Master titles in Agility, UDT, TD, RAE2, DD, plus a VCD2.) His current Saint, Ms. May, completed her Bronze Grand Championship along with a BN, PCD, GN, PCDX, CDX, CGCA. She now holds the breed's record as the most-titled Grand Champion at the different levels. All John's dogs are owner-handled to all titles.
John started judging AKC obedience in 1978, making 2015 his 37th year of judging. Over the years he has been writing the "Dog Talk" and "Random Little Tidbits" articles for Front & Finish. It is his hope that the articles will point out to handlers where points can come off and maybe the team's scores will go up with a better understanding of the Obedience Regulations. It is not always the dog that errors!
After 40 years of research, John has built a Saint Bernard National Archives with data on the Saint Bernard reaching back to 1879. The Archives has the names of every Saint Bernard who earned AKC titles, plus conformation/performance records, firsts of the breed, and records of the breed.
Performance: John Russell of Gainesville, Texas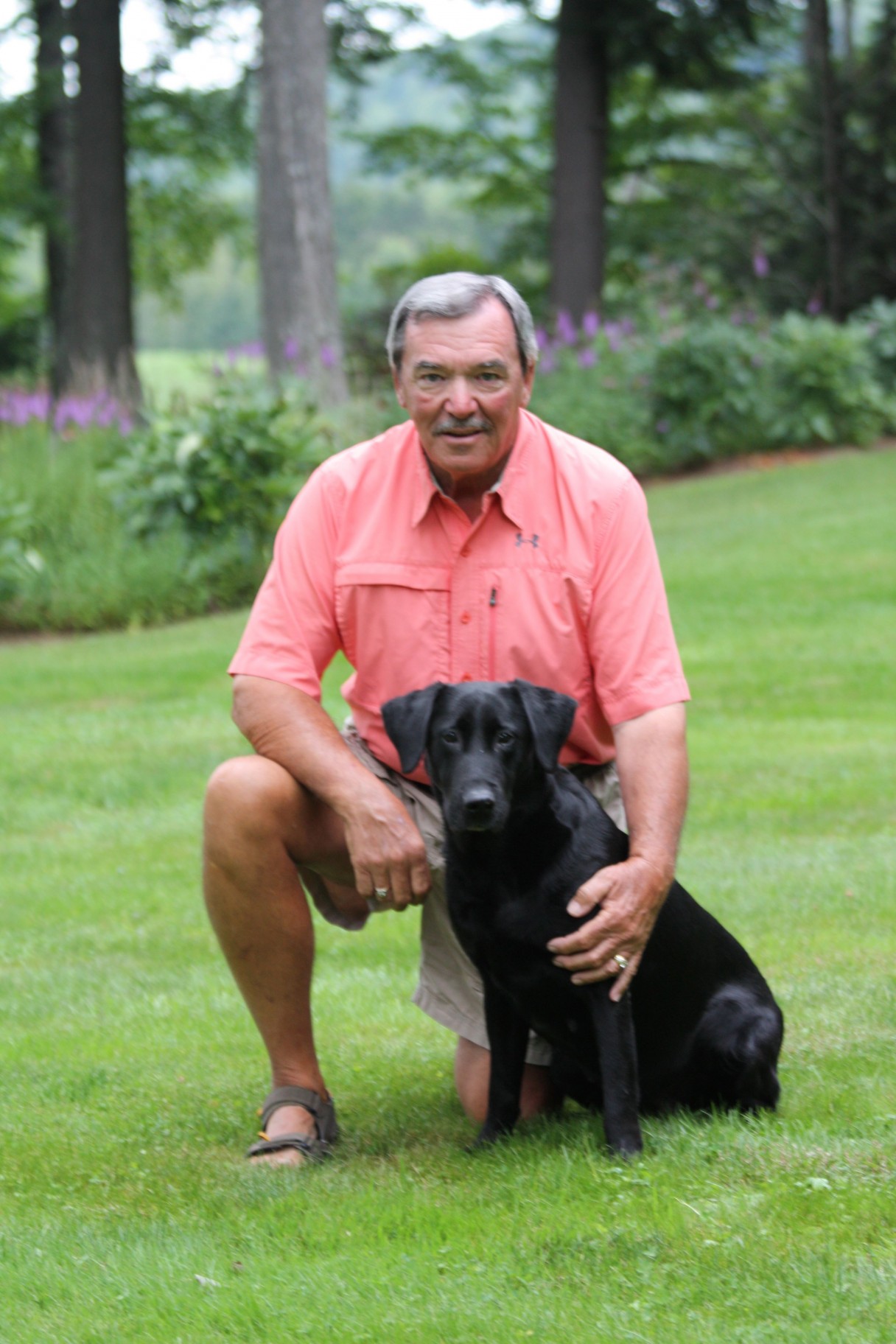 John began in retriever field trials in 1970 at age 20. He became a member of the Colonial Retriever Club, holding several positions, starting as game steward and moving on to field trial chairman. He judged his first licensed field trial in 1975 and has been an active judge ever since.
John made his first amateur field champion in 1981, and his first field champion in 1984. Since then, he and his wife Martha have had 14 additional field champions. John has had two National Amateur Field Champions, and was the co-breeder of 2013 National Field Champion Trumarc's Dot Come.
In 2003, his NAFC-FC Adam's Acres Cherokee Rose earned 268 all-age points qualifying for sixteen consecutive national championships (2nd most all time), and completed 8 (also 2nd all time). In 2014 NAFC-FC Texas Troubadour won the national championship. Their 2014 NAFC was the first pure amateur-trained national winner in more than 30 years. Martha and John do all of their own training.
John has had six double-headers with four different dogs. In retriever field trials a double header is when the same handler wins the open and amateur at the same trial with the same dog.
He served as National Amateur Retriever Club Vice President (1996-1999), President (2000), and Secretary/Treasurer (2000-2007). He has served on the National Championship Gun Committee since 1993.
John is an AKC Delegate and was elected to the Delegates Field Trial and Hunting Test Events Committee. He serves on the Retriever Advisory Board and was appointed Chairman in June. He currently serves on the Performance Events Trial Board.
2015 Recipients
Conformation: Pat Hastings of Aloha, Oregon
Pat Hastings has been involved in the dog world since 1959. She began her career as an owner-handler, moved into breeding, and then teamed up with her late husband, E.R. "Bob" Hastings, in professional handling.
Nearly 30 years ago, Pat and Bob began researching canine structure in order to help breeders more accurately evaluate litters to determine the best lifestyle choice for each puppy. Pat has evaluated over 25,000 puppies, always taking time to discuss her findings and teach about canine structure. Her expertise is respected by show and performance people alike.
She began judging for AKC in 1991. Besides judging at countless all-breed shows, she has been honored to judge many Nationals, both here and abroad, including the Doberman Pinscher Club of America's National three times, a club that honored Pat and Bob with its Lifetime Achievement Award.
Along the way, Pat has chaired local shows, National Specialties, and a major benefit for "Take the Lead."
As a highly respected educator in the dog world, Pat has always endeavored to teach by example, to approach all aspects of the Sport with respect, common sense, and personal integrity.
Pat has presented seminars for 25 years around the world to all aspects of the sport and has authored three best-selling books, produced a popular DVD and has written numerous articles for a variety of publications.
She is a great believer in the value of mentoring and has worked with novices and new judges providing information, moral support, and encouragement.
Companion Events: Lynn Eggers of Grapevine, Texas
Lynn Eggers began her career in dogs in 1961 with a miniature Poodle who became her first obedience Utility dog. She subsequently owned and trained her first Doberman Pinscher, who became 1967's top-winning Doberman in the country.
Thus began her long passion for the sport of dogs. Lynn began judging obedience in 1968 and has continued her love of the sport for 45 years. A judge of all levels of obedience and rally who has judged in virtually every state in the United States, Lynn loves to judge. She believes that today's obedience dogs are far superior to those of the past, due to better training methods and positive reinforcement.
Lynn has bred Doberman Pinschers for 43 years under the kennel name "Foxhall." She is very proud to have bred and owned the first AKC-champion Doberman bitch with a Schutzhund 3 title.
A member of the board of the Doberman Pinscher Club of Dallas, and a longtime member Doberman Pinscher Club of America, Lynn stays very involved in the sport. Lynn is very proud of her role as board member of Take the Lead.
Lynn has always felt a calling to encourage each exhibitor and to praise their efforts in training their dogs. She says it is important in our society to encourage everyone to do basic training with their dogs. Lynn has been known to say to exhibitors, "Dogs do not wind up in rescue when they have someone who takes the time to train them, so I congratulate each of you here today for your accomplishment."
Performance: Dr. Ray Calkins of Wilsonville, Oregon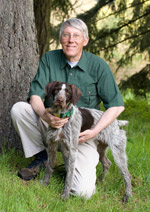 Dr. Ray Calkins received his degree in veterinary medicine from Iowa State University and purchased Wilsonville Veterinary Clinic in 1976.
Ray handled his first German Wirehaired Pointer to a red ribbon in a puppy stake in 1975. Since then, 10 "Cascade" GWPs, all owner-trained and –handled, have earned field championships; three are dual champions, eight are master hunters, and two hold NAVHDA Utility ratings. Four Cascade dogs hold nine National Field Championships. Cascade sires are the number-one and -two producers of GWP field champions, and others carry Cascade dogs in their pedigrees.
Ray has been a member of the GWPCA since 1974 and served on the board of directors for 10 years. He was Field Futurity chairman for 12 years, a member of the GWP Field Trial Advisory Board from 1985–2000, represented the German Wirehaired Pointer Club of America at the AKC Field Trial Advisory Board from 1986 until 1999, and is currently the GWPCA president.
2014 Recipients
Conformation: Patricia Craige Trotter
Pat registered her first litter of Vin-Melca Norwegian Elkhounds in 1951 and her most recent litter this year. Her program has produced the Top Sire and Dam as well as the top winners in the breed's history. Vin-Melca Elkhounds have won 10 Hound Group firsts at Westminster, all owner-handled.
When Ch. Vin-Melca's Vagabond became Top Dog All Breeds in 1970, he was the first amateur-handled dog to achieve that honor. Pat has had Top 10 All-Breed status on 10 occasions while working as a full-time teacher. Pat has served as show chairman for the Tidewater Kennel Club, past-president and show chairman of the Del Monte Kennel Club and contributing member of the Norwegian Elkhound Association of America and the Nashville Kennel Club.
In 1952 Pat won the Gaines Girl Show Dog Fancier of the Year. She won numerous Winkie Awards including Breeder and Owner-Handler of the Year (repeatedly) and AKC Hound Group Breeder of the Year in 2004. Other honors include the Quaker Oats (now ProPlan) Hall of Fame and two Fido awards as Dog Woman of the Year and Dog Writer of the Year. As an AKC Gazette Better Breeding columnist, she won a 1997 Maxwell Award from the Dog Writers Association of America.
Pat judged the 2009 Westminster Hound Group and will judge the 2012 Best Bred-by-Exhibitor in Show at the AKC/Eukanuba National Championship. Two Vin-Melca Elkhounds won BBE AKC/Eukanuba Hound Groups (2008, 2010) and a third BBE AKC/Eukanuba Group winner was Vin-Melca sired.
Companion Events: Sharon Redmer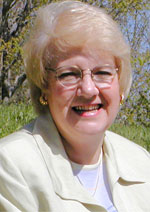 Sharon began training her first dog, an All-American shelter rescue, with the Ann Arbor Dog Training Club in 1970. Her first Belgian Tervuren, acquired in 1972, became a multi-High-in-Trial UDT. For over 30 years, Sharon has pursued two passions: being the very best AKC judge she can be and breeding beautiful Belgian Tervuren with the character to compete in every venue.
Over 150 of her "StarBright" bred Tervuren have earned CHs, GCHs, OTCHs, MACHs, HTCHs, and CTs plus many obedience, agility, herding and tracking titles, Group and Specialty wins, High-in-Trials and perfect 200 scores.
Even judging 50 AKC shows a year, Sharon finds time to mentor new and hopeful obedience judges. Exhibitors in her ring find a judge with a welcoming smile and encouragement. Sharon's philosophy is simple: "Kindness is never wasted."
A judge of the Herding Group, Poodles, Dobermans, Rally and Juniors, Sharon has officiated at past AKC National Obedience Invitationals including the inaugural Juniors' competition in 2011. She has judged Nationals for her Belgian breeds (multiple times) and specialties on four continents.
An Honorary Life member of the Ann Arbor Dog Training Club and the Ann Arbor Kennel Club, Sharon has served the American Belgian Tervuren Club as President and AKC Delegate, and is a popular seminar presenter on judging the Tervuren. Sharon recently retired as the director for community outreach services at the University of Michigan Health System.
Performance: Jean Dieden, DVM
Dr. Dieden has been involved in AKC Performance events with her Hathor Farm Wirehaired Dachshunds since 1992. They have earned 12 Field Championships (11 of them Dual) and over 50 "Absolute Winner" awards, including three national specialty trial wins. She has been competing at dog shows, obedience trials and tracking tests for forty years.
She has had three dogs ranked in the DCA annual "Top 20" awards and one (TC M'I Spy of Hathor Farm SW VCD1 RN OA AXJ NAP OJP OF JE) with over 1000 points is among the top 10 lifetime point earners.
Dr. Dieden has served on the DCA's Trial Advisory Committee/Performance Events Committee for ten years, the last seven serving as chairman. This committee has been responsible for several successful AKC rule and procedural change proposals also adopted by the other hound events.
Dr. Dieden started in AKC Earthdog at its inception. Her dogs have earned over 300 qualifying scores, including 160 Master tests. She has held over eighty tests at her home, Hathor Farm on Whidbey Island. A founding officer of the Puget Sound Earthdog Club and longtime president of the Cascade Dachshund Club she is credited for gaining CDC's licensing status for Dachshund Field Trials and Earthdog Tests.
Dr. Dieden has enjoyed being a field trial judge for 12 years and an Earthdog judge for 16 years, enjoying judging throughout the country, including eleven classes at DCA national events.