In its endless pursuit to recognize outstanding members of the fancy, The American Kennel Club Lifetime Achievement Awards were created and first awarded in 1999 to honor our best. The purpose of the awards is to celebrate those individuals whose many years of dedication have led to significant contributions to our sport on a national level.
As in the past, this year's nominees were selected by AKC member clubs that cast their votes for one nominee in each of three categories: Conformation, Companion Events, and Performance. The three nominees receiving the most votes in each category were selected as finalists. Member clubs are now being asked to cast their vote for one nominee in each of the three categories. This final round of balloting will close on Wednesday, November 1, 2018. A special awards presentation will be held in conjunction with the AKC National Championship in Orlando, Florida in December 2018.
The AKC is honored to present photos and bios of the nine finalists who were selected by our member clubs in recognition of their exemplary participation in the Fancy.
Nominees in Conformation
Thomas H. Bradley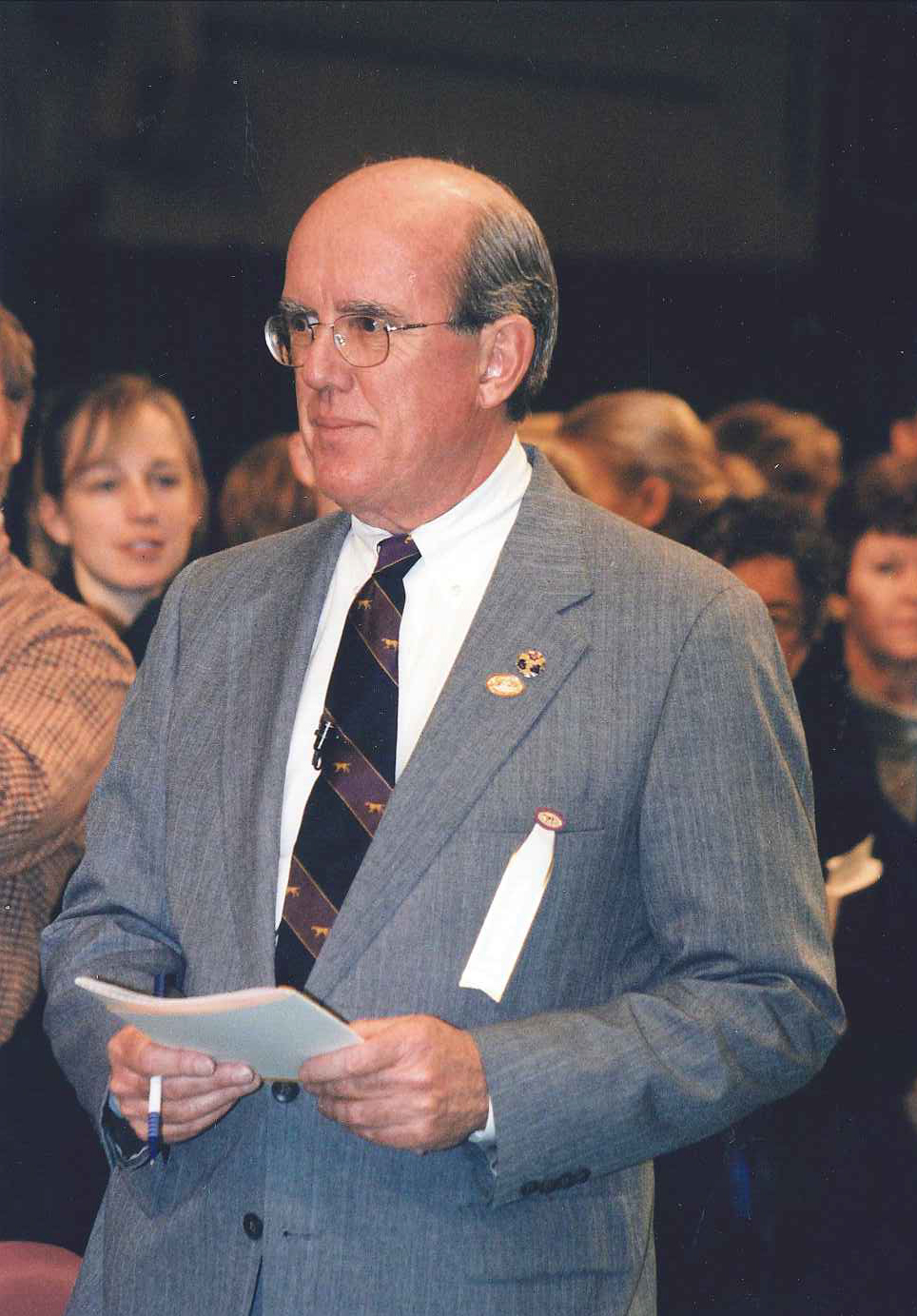 Thomas H. Bradley, 3d, of Watertown, New York, began in dogs in 1954 with German Shorthaired Pointers, exhibiting at his first point shows in 1955 at Adirondack Kennel Club in Lake Placid, New York.
Under his Luftnase prefix, Tom bred a number of sporting breeds, including Pointers, German Shorthairs, English Cocker Spaniels, and Labrador Retrievers. His last breeding produced a litter of four Border Terriers, all AKC champions. Breeding highlights include "Finishing five champions in our second litter of Labradors in the mid 1980's" and being co-breeder of Pointer Ch. Luftnase Albelarm Bee's Knees, the top dog, all breeds, 1981.
Tom was approved to judge German Shorthaired Pointers, German Wirehaired Pointers, and Weimaraners in 1965. He now judges all sporting breeds and Best in Show. "My first BIS assignment was Santa Barbara, 1975, before I ever judged a Sporting Group. The entry, I believe, was over 4,000 dogs. I can still tell you the six group winners!" Among his most memorable judging assignments are judging the Irish Setter Club of America National Specialty four times.
One of Tom's greatest pleasures is mentoring aspiring Sporting Dog judges and admiring their successes. His article, – How I Judge Pointers- written years ago, is still used in the APC Judges Education Program.
Tom has been show-committee chairman for the Westminster Kennel Club show since 2002, retiring from that position in May of 2016. In 2017, he was invited to judge BIS at Westminster which is the highlight of his judging career. He feels that being a co-founder of Take the Lead, plus twenty-five years as volunteer executive director, represents his most satisfying contribution to our sport. Tom enjoys everything associated with dogs, friends, traveling, cooking, local charity work and family time.
Dr. Thomas Davies
Dr. Thomas Davies, of Brimfield, Massachusetts, is vice chairman of the AKC Board of Directors. He was introduced to the world of purebred dogs after his college graduation in 1967. Dr. Davies became president of the Bearded Collie Club of America and oversaw its entrance into the AKC Stud Book. He is an honorary lifetime member of that club and is the author of the Bearded Collie standard.
In the mid-1980s, Dr. Davies became deeply involved in Siberian Huskies and Belgian Sheepdogs. He and his wife, Roberta, have bred and finished many champions in all three of their breeds. Dr. Davies judges the Herding Group, many Working breeds and Best in Show.
He has served as president and show chairman of the Springfield, KC and is the club's AKC Delegate. He is the longtime show chair for Springfield and previously for the country's first Working Group club, the Connecticut River Working Group Association, for which he is vice president. Dr. Davies is retired after more than 30 years in various areas of scientific research, and product and market development.
Dottie Davis
Biographical summary from the book Show Dog by Josh Dean.
There's a good chance if you attend a dog show in the Mid-Atlantic Region of the US along the I-95 corridor you will find Dottie Davis manning the table outside whatever ring is hosting the largest dog breeds. Recognized by her warm smile, eye glasses on a chain, carefully tended grey hair, and especially by the two or three ever filled plastic tubs of candy that sit on her table for handlers to cut the liver bait taste.
Known as the Candy Lady, arguably the most sacred and beloved individual on the East Coast dog show circuit, Dottie started as a breeder of Great Danes, was briefly in the ring as a handler and found her niche in stewarding in the 1970's so she could help more people. Dottie is now one of the most experienced stewards around, in both the breed and group ring. Dottie doesn't count the number of shows she stewards in a year – it could be one weekend on, one weekend off. In the summer she packs her schedule, with 4 weekends a month.
As ring steward, Dottie's job is to call the dogs by class into the ring at the assigned time and then note what armbands are present and which have scratched. Once the judge has made his or her decision and marked the judges book, Dottie keeps a watchful eye on the book and the clock. She sets up the ring before the show starts and makes sure that the judge is consistent with his or her methods.
Dottie resides in Selinsgrove, PA. Prior to her career with dogs, she was a nurse for 10 years, an English teacher for 30 years and raised 5 children with her husband of fifty-four years.
Nominees in Companion Events
Robert (Bob) Amen
First dog trained in obedience was a Scottish Terrier, gift for wife on first wedding anniversary in October 1965.
30 years in dog sports focusing on obedience as trainer, exhibitor, writer and AKC judge.
Earned four Obedience Trial Champion titles – 3 on Australian Shepherds; one on a Golden Retriever. Two dogs inducted into the Golden Retriever Obedience HOF.
Qualified for National Obedience Championship for 10 years in a row –seven with Aussies, three with Golden Retriever.
Also competed in Rally, Dock Diving, Tracking and Lure Coursing (Afghan Hound); cross-trained in Agility, Scent Work and herding; certified two Therapy Dogs, visited nursing homes and schools.
AKC Obedience judge for 18 years; judged at 2014 NOC.
AKC Board of Directors (2011-2015); board liaison to Delegates By-Laws Committee, and Companion Events Committee (2012-2015). Member, AKC Pension Committee (2011-12) and chair of the AKC Audit Committee (2012-2015). Member 2017 AKC Board Nominating Committee.
Delegate for Port Chester Obedience T.C. (2005-2015); member, Companion Events Committee (2005-11).
Member PCOTC for 20 years; served as trainer, Obedience Training Director, Board member/Treasurer. Now delegate for the Greater St. Louis T.C., and member, delegates Companion Events Committee.
Member of Golden Retriever Club of America; and U.S. Australian Shepherd Association—served on USASA Board, and as Obedience Editor for its "Journal" magazine. Columnist for "Front & Finish" magazine.
Won Dog Writers of America "Maxwell Award" for article appearing in AKC's "Family Dog" magazine; has appeared on NBC Today Show, Martha Stewart Show and CBS Morning News with his dogs.
In response to Hurricane Harvey's devastation in Texas in September 2017, worked with AKC ReUnite and key delegates to establish a "Challenge Grant" – matching donations to certain level–for AKC ReUnite's Pet Disaster Relief Fund; project took off and eventually raised over $450,000.
Richard Strong
Rich Strong has dedicated his life to the furthering of AKC Companion sports. He has developed a unique AKC obedience training program for large classes from his education and experiences. He has also provided private instruction for dog owners of all interests. Rich has been training dogs since 1964 and teaching dog obedience classes since 1968.
Rich actively exhibits and has personally trained several different breeds to multiple obedience titles including Otch's. His Golden Retrievers have been honored with placements in the Golden Retriever Club of America's Obedience Hall of Fame. His Golden Retrievers have starred in local and national television ads and product catalogs. Rich has been approved to judge AKC Obedience trials since 1978 and is approved to judge all levels.
He is approved to judge all levels of AKC Rally and has served on the 2006 AKC Rally advisory committee. Rich judges 40 to 60 trials per year and exhibits when he is not judging. He has judged multiple competitive tournaments including the AKC National Obedience Invitational. Rich has attended dozens of AKC judging Seminars, judging clinics and discussion sessions. He has been the List Administrator for an Internet e-mail obedience discussion list, OBED-JUDGES since the early 1990's. This e-mail list is a discussion group for more than 250 obedience judges from around the world.
Rich has been active in many dog related organizations with responsibilities that have included all Board of Director positions and positions of Training Director, Match Chairman and Show/Trial Secretary. He was the Trial Secretary for the 1994 Gaines Regional Tournament and the 1999 National Dog Obedience Classic. He has written for several dog obedience publications including Front & Finish Magazine has been a resident and guest instructor/speaker at many clubs and schools. Rich and his wife have held weekend AKC Rules Seminars.
Frank Washabaugh (Posthumous)
Frank was a graduate of Cornell University with a master's degree in chemical engineering, last employed by Englehard Chemical. During the 1960's he served in the Army Chemical Corps at Edgewood Arsenal in Maryland, then continued in the reserves, retiring as a Lt. Colonel. Frank, along with his wife Nancy of 45 years, bred and exhibited German Shorthaired Pointers for over 30 years, which led Frank to a 20-year career as a highly respected AKC licensed judge of breed and obedience. Frank passed away on June 11, 2018.
Written by Mr. Washabaugh for a Club Specialty Show:
My original breed was the German Shorthaired Pointer. My wife and I have owned them for over 40 years. We acquired the Wire Fox Terrier 15 years ago from my wife's cousin's breeding from an extensive line of Champions. I have shown Shorthairs in breed, obedience, and field events. We've owned, co-owned or produced over 30 GSP CH's and (at least) 4 Wire CH's. We live in rural Hunterdon County, NJ, with still now 2 Shorthairs and 2 cats. We have a summer home on a lake in Northern Wisconsin. We are lifetime members of the Eastern German Shorthaired Pointer Club and the Princeton Dog Training Club. I served as President for both Clubs, and also as the AKC rep over so many years. I started to judge breed and obedience 20 years ago. In obedience, I've judged the AKC invitational, the Gaines Classic, the World Series of Obedience, and at many National Specialties. In conformation, I judged all Sporting, all Terriers, all Toys, and Poodles.
Nominees in Performance Events
Kevin Culver
Kevin Culver, of Fort Valley, Virginia, has been involved in the development of the Irish Setter, predominantly in the field, for the past 45 years. The Irish Setter has had a re-emergence in AKC field events, both at trials and hunting tests. Kevin is proud to be a part of it. The increase in dual champions is absolute proof of the way today's breeders are working together to protect the purpose of the breed.
Kevin has owned and trained many field champions to both their AFC and FC titles and has had several breed champions as well. At Runnymeade, they believe in dual potential. His males have been privileged to have "met" some beautiful bitches and Runnymeade is proud to be a part of their ongoing success in the conformation ring, the field and in hunting.
Kevin sat on the Board of the Irish Setter Club of America and serves on the ISCA Walking Weekend and AKC Walking Gun Dog Championship advisory committees. He has chaired this event on three occasions and is the chair of the 2018 event in Delaware. Additionally, Kevin was 2016 recipient of the AKC Outstanding Sportsmanship Award from ISCA.
There is nothing more important to Kevin than engaging newcomers to the sport. At Runnymeade he hosts fun days to introduce beginners' dogs to birds. Since retirement, Kevin has had more time to interact with people and he often gets morning phone calls asking, "Kev, are you going to train today, and can I come along?"
Kevin and his wife, Jean have two sons, Keith and Judd, both of whom have enjoyed success with their dogs in the field. Keith is an AKC field trial judge.
Kevin is thankful for the honor of the nomination.
Sharol Hathaway
I have always been fortunate to be able to have dogs in my life. From growing up with my parents Alaskan Malamutes, to my own Belgian Tervuren, I have had the enjoyment in interacting with the dogs in tracking, agility, obedience and predominately herding.
Thirty years later my program continues to grow. I have handled seven AKC Herding Champions in six generations of my breeding. I have also trained and handled HC's and advanced herding titles on Tervuren and other breeds as well. The dogs I have produced make up a large percentage of the Belgian Tervuren Herding Champions. I became an AKC herding judge in 2002 and have judged across the country.
My successful herding career has taken me to other parts of the world to judge and give clinics. I have been Chairman and committee member on countless ABTC National herding events. I have been instrumental in starting herding clubs and supporting clubs interested in giving AKC herding events. I have mentored and trained at least 4 AKC herding judges in the program now. Four of my students have established their own herding facilities.
I continue to support the AKC herding program, as I feel it has a standard of excellence that proves herding dog breeding and training. I continue to give clinics and lessons and have the honor to write a herding column for the ABTC national magazine. I look forward to carrying forward the AKC herding program by training and showing for a long time to come! Thank you for the honor of this nomination.
Ben Martin
I bought my first Springer in 1965 a Bench Bred for $40, boy did that $40 purchase change my life, he was a good Hunter anyway. I got my first Field Bred Spaniel in 1970 making her an Amateur Champion. I turned Pro in 1976, and the rest is history as they say, I've Championed 60 plus dogs both USA and Canada, with 3 Canadian National Champions and 1 USA National Champion with 6 or 8 other National Placements. Also 2 High Point Dogs and was inducted into the Bird Dog Hall of Fame in 2005 in Grand Junction Tennessee.
I have Judged all the Nationals included are National Open Championships, National Amateur Championships, National Cocker Championship, National Canadian Championship plus the National Airedale Championship, as well as Assisted AKC Mr Speck putting together Airedale Rules and guidelines. Breeding: We have whelped 3 National Champions here at our Royal Kennel National Amateur Champion Wendy, National Canadian Champion FTC Samantha's Loyal Flush in 2003, FTC Royals Big Ben National Canadian winner in 1999, We are very proud of this achievement.
On a personal note I'm born again believer in Jesus Christ since 1986, this was the greatest decision in my life. I'm married to Rita with 2 children, Rita is my best helper, we've been married for 54 years. I love to hunt upland as well as white tail deer with my son Brian. As for dog work I love to see Spaniel in tune with his handler, he works for his handler and not because of him. I love a dog that is the full package, even if he's a little weak in some area overall, he's an asset in the field.