In its endless pursuit to recognize outstanding members of the fancy, The American Kennel Club Lifetime Achievement Awards were created and first awarded in 1999 to honor our best. The purpose of the awards is to celebrate those individuals whose many years of dedication have led to significant contributions to our sport on a national level.
As in the past, this year's nominees were selected by AKC member clubs that cast their votes for one nominee in each of three categories: Conformation, Companion Events, and Performance. The three nominees receiving the most votes in each category were selected as finalists. Member clubs are now being asked to cast their vote for one nominee in each of the three categories. This final round of balloting will close on November 1, 2017. A special awards presentation will be held in conjunction with the AKC National Championship in Orlando, Florida in December 2017.
The AKC is honored to present photos and bios of the nine finalists who were selected by our member clubs in recognition of their exemplary participation in the Fancy.
Nominees in Conformation
Thomas H. Bradley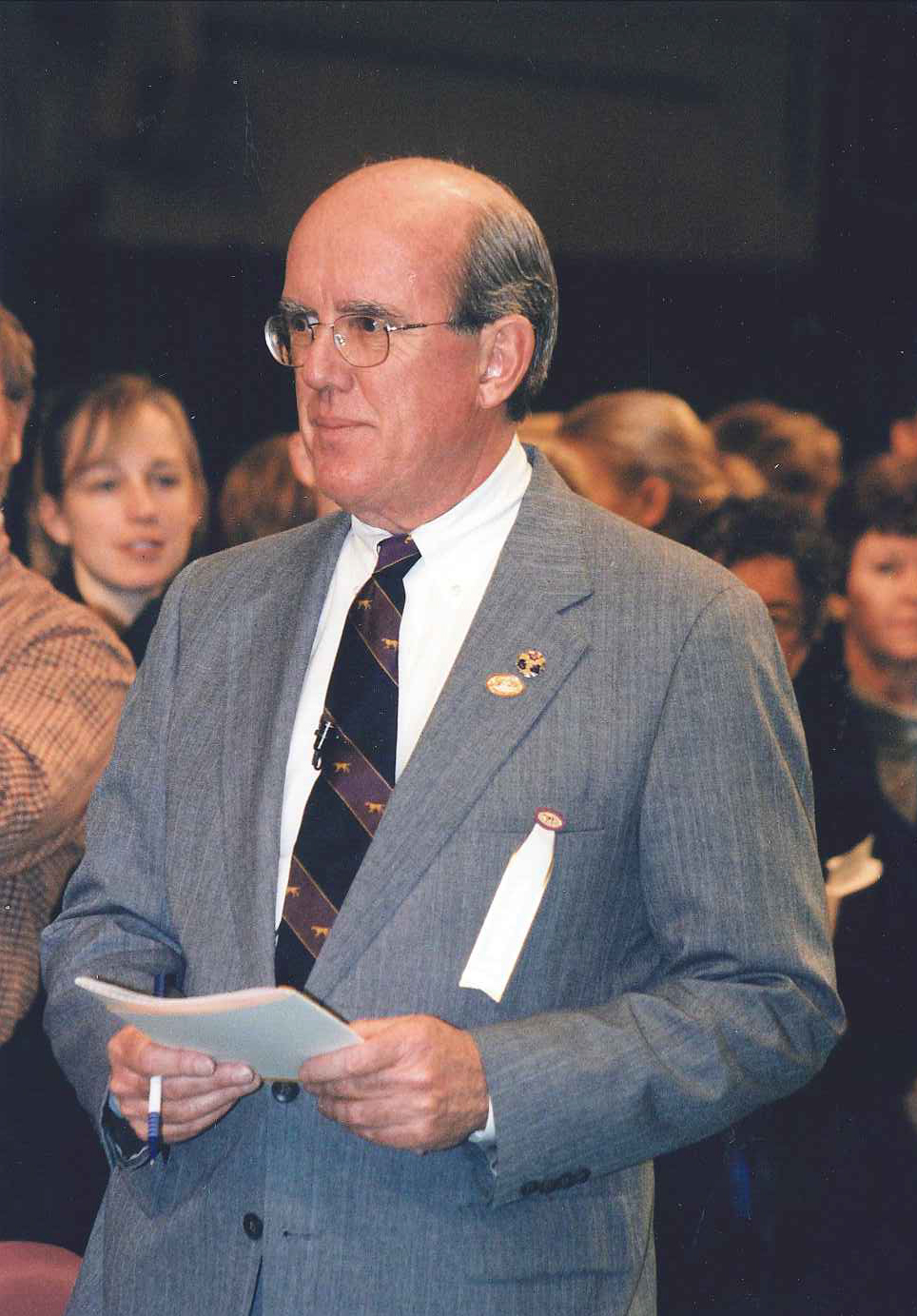 Thomas H. Bradley, 3d, of Watertown, New York, began in dogs in 1954 with German Shorthaired Pointers, exhibiting at his first point shows in 1955 at Adirondack Kennel Club in Lake Placid, New York.
Under his Luftnase prefix, Tom bred a number of sporting breeds, including Pointers, German Shorthairs, English Cocker Spaniels, and Labrador Retrievers. His last breeding produced a litter of four Border Terriers, all AKC champions. Breeding highlights include "Finishing five champions in our second litter of Labradors in the mid 1980's" and being co-breeder of Pointer Ch. Luftnase Albelarm Bee's Knees, the top dog, all breeds, 1981.
Tom was approved to judge German Shorthaired Pointers, German Wirehaired Pointers, and Weimaraners in 1965. He now judges all sporting breeds and Best in Show. "My first BIS assignment was Santa Barbara, 1975, before I ever judged a Sporting Group. The entry, I believe, was over 4,000 dogs. I can still tell you the six group winners!" Among his most memorable judging assignments are judging the Irish Setter Club of America National Specialty four times.
One of Tom's greatest pleasures is mentoring aspiring Sporting Dog judges and admiring their successes. His article, – How I Judge Pointers- written years ago, is still used in the APC Judges Education Program.
Tom has been show-committee chairman for the Westminster Kennel Club show since 2002, retiring from that position in May of 2016. In 2017, he was invited to judge BIS at Westminster which is the highlight of his judging career. He feels that being a co-founder of Take The Lead, plus twenty-four years as volunteer executive director, represents his most satisfying contribution to our sport. Tom enjoys everything associated with dogs, friends, traveling, cooking, local charity work and family time.
Dr. Claudia Orlandi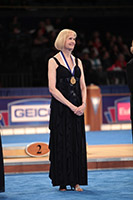 Dr. Claudia Orlandi, of Essex Junction, Vermont, has been in the fancy for over 50 years. She has successfully bred Basset Hounds for more than 25 years under the Topsfield prefix and with her late husband, Dom, has produced over 140 champions. Topsfield Bassets have won more than 100 All-Breed Bests in Show and hold numerous Breed and All-Breed show records. The top group-winning dog and the top-producing dam in the history of the breed were bred by Topsfield and the top winning dam was sired by a Topsfield dog.
Claudia's enthusiasm for breeding is matched only by her passion for teaching and working with other breeders. Her ABC's of Dog Breeding and Practical Canine Anatomy & Movement self-study courses form part of the American Kennel Club's Bred with H.E.A.R.T. education program, reflecting her belief that anyone can understand the practical rules of genetics and canine structure in their quest to breed better, healthier dogs. Knowledge, coupled with integrity and honesty about health problems, are cornerstones of her breeding and teaching philosophy.
Claudia has authored numerous articles and for many years chaired BHCA Judges' and Breeders' Education for which she developed an educational concept called Basset Hound University, whose course designs are available for parent clubs to use as templates. Claudia has spoken at over 150 dog clubs and AKC/CHF Breeder's Symposia.
She was recently honored by Dog Fancy Magazine as one of the "45 people who changed the dog world" by helping to improve dog breeding and making canine genetics easier to understand. Claudia was the recipient of the 2009 AKC Breeder of the Year award.
Joe Purkhiser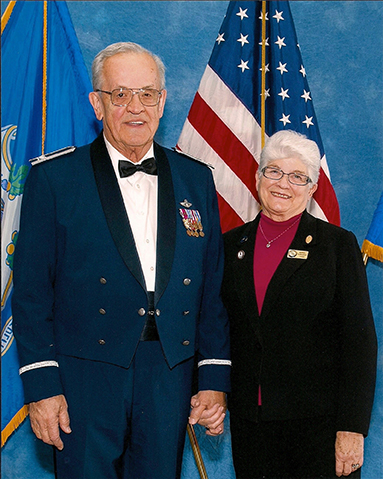 Joe Purkhiser, of San Antonio, Texas, served 30+ years in the U.S. Air Force and retired as a Colonel before he and his wife Murrel's immersion into the Dog World. He flew planes for 27 years and was the USAF Military Attaché in Belgrade, Yugoslavia, for four years before retiring.
His dad once jokingly said that Joe was born with a Smooth Fox Terrier on the bed. After marriage and the birth of their sons, the Purkhisers bred Collies and Shelties and later, Smooths, producing many champions and several Bests in Show under the Caribé banner. Joe served several All-Breed and Specialty Clubs in every office imaginable, including a total of 16 years on two National Breed Club Boards.
When Joe decided to become a Judge in 1977, he knew that being the best requires dedication, effort and study. In those days, formalized education was much harder to come by. There was the LA Judges Group and the DJAA plus a few informal groups around the country. Every year he went to the seminars, headed by Bill Bergum in Los Angeles and to New York to Wayne Gurin's group, the DJAA. He worked 37 hard years to become an All-Breed Judge, but Joe has the satisfaction of knowing he did it the right way.
In the mid 1980's he joined Pat Gellerman and Sam McDonald to create a partnership with Ft. Worth KC to present Seminars. For five years he served the DJAA as Treasurer and was then elected to the Presidency, in which capacity he still serves. There is now a very successful cooperative venture with the AKC/DJAA Institute in Orlando. Just being nominated for the AKC Lifetime Achievement Award is among the most humbling experiences of his life.
Nominees in Companion Events
Chris Cornell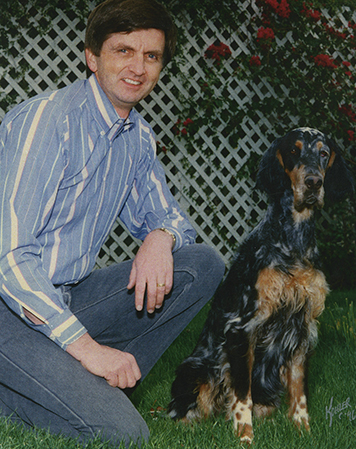 Chris Cornell, of Sequim, Washington, started in the world of dog obedience in 1976. No dog then, but his young son was visiting grandparents and a litter of English setter puppies. Queen joined the family. A wild and energetic puppy, she was enrolled in beginner obedience classes. She had a superb work ethic and Chris became very interested in obedience. She was a joy and, in 1980, became the first English setter to earn the OTCH title.
Chris has stayed with sporting dogs, training and showing English and Irish setters and Flat-coated and Labrador retrievers. Currently, he is showing Flat-coat Bree, who has earned a CDX, RE, MACH and breed championship. She is also a therapy dog. Chris has been an evaluator for Therapy Dogs International since 2003 and has taken seven dogs on many therapy visits. He is leader of a therapy dog group which currently visits 18 facilities. He supports Guide Dogs for the Blind and has taken two Lab puppies through their first year of training.
Chris started judging AKC obedience in 1984 and rally in 2005. It has developed into a fantastic hobby, meeting terrific people and going to wonderful places. He has had the honor to judge at a Gaines regional and three AKC invitationals. He never tires of officiating at trials and enjoying the thrill of handlers and their dogs reaching their goals.
He is currently Vice President and Obedience/Rally chairman for the Hurricane Ridge Kennel Club and is a member of the English Setter Association of America, English Setter Club of Phoenix, Flat-Coated Retriever Society of America, Northwest Flat-Coated Retriever Club, Kachina Kennel Club and Phoenix Field and Obedience Club.
Chris is a retired civil engineer and lives with wife, Claire, and their four dogs.
Patricia R. Krause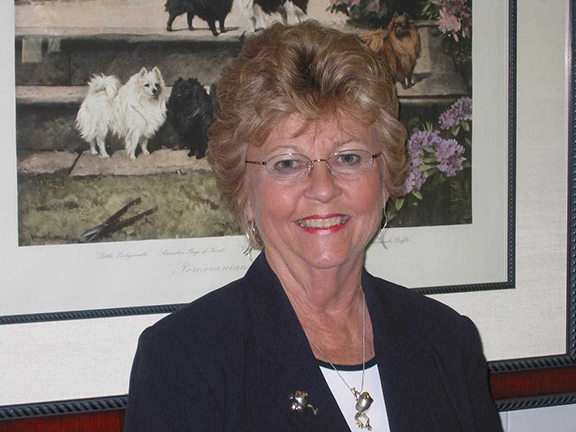 Patricia R. Krause, had been in the sport for more than 50 years before her death in May. She showed Irish Setters in obedience, conformation and field events. She also earned numerous titles in obedience with her Border Collies and Champion Pomeranian. Pat was the Assistant Director of Training at K-9 Obedience Training Club of Menomonee Falls, Wisconsin, the Director of Training for the Irish Setter Club of Milwaukee, and a private trainer at several other clubs in the Milwaukee area.
Pat was an Obedience Judge for more than 40 years. She judged for 25 years before becoming the AKC Director of Obedience in 1999. In 2000, she was named AKC AVP of Companion Events. Her five years as AVP saw the growth of AKC agility and the introduction of AKC rally, which is among the most successful programs AKC's recent history. It was during this tenure that she had the privilege of accompanying the 2004/2005 USA Obedience Teams to the Crufts World Cup Competition. Pat was honored to judge the 2007 Crufts Obedience World Cup Competition.
In the January 2005 AKC Gazette, Pat explained how she and her staff spent four years refining AKC rally before its debut on New Year's Eve, 2004: "We would have test sessions here in the parking lot in Raleigh. We'd bring our own dogs, set up signs, and run different exercises, trying to decide what would work and what wouldn't. It took a long time to be satisfied we had a sport agreeable to dogs of all breeds and people of all ages."
In May 2005 Krause retired from AKC and resumed judging Obedience and Rally. In her spare time, she volunteered at the Northwoods' Wildlife Rehabilitation Center as an animal/raptor rescuer and rehabilitator.
Betty M. Winthers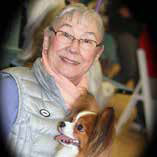 Betty M. Winthers, of Lynnwood, Washington, has been active in the sport for more than 60 years, encompassing a wide range of experience as breeder, exhibitor, trainer, judge, and as an AKC Executive Field Reprehensive of Obedience, Tracking and Rally. Betty is an AKC Breeder of Merit who has bred and exhibited German Shepherd Dogs with obedience titles ranging from CD, CDX, UD, UDT; a Champion CDX Miniature Poodle, a CDX Papillon as well as many Champion Papillons.
She became an AKC-approved judge in 1969 and is now approved to judge Obedience, Tracking, Rally, Conformation and Junior Showmanship. Betty has judged throughout the United States, Canada and overseas. She is and active club member, serving as an officer and Board member for the German Shepherd Dog Club of America, German Shepherd Dog Club of Washington, the Washington State Obedience Training Club, and Olympic Kennel Club and is also a Life Member for those clubs.
Betty served as show secretary for the German Shepherd Dog Club of America for seven years and is a club member of the Papillon Club of America and Papillon Association of Puget Sound. She was the AKC Delegate for the Olympic Kennel Club from 1987 until 1992 and became their Delegate again in 2014. During her tenure as a Field Rep she conducted seminars and worked with prospective judges to expand AKC judges' base. By educating judges to conform to AKC Rules and Regulations, she helped to create exceptional judges.
Betty was nominated for the AKC Lifetime Achievement Award in 2011, and is the recipient of the Gaines Sportsman award for the German Shepherd Dog Club of Washington State. She is also the recipient of the D'Ambrisi award from the Association of Obedience Judges.
Nominees in Performance Events
Kevin Culver
Kevin Culver, of Fort Valley, Virginia, has been involved in the development of the Irish Setter, predominantly in the field, for the past 45 years. The Irish Setter has had a re-emergence in AKC field events, both at trials and hunting tests. Kevin is proud to be a part of it. The increase in dual champions is absolute proof of the way today's breeders are working together to protect the purpose of the breed.
Kevin has owned and trained many field champions to both their AFC and FC titles and has had several breed champions as well. At Runnymeade, they believe in dual potential. His males have been privileged to have "met" some beautiful bitches and Runnymeade is proud to be a part of their ongoing success in the conformation ring, the field and in hunting.
Kevin sat on the Board of the Irish Setter Club of America and serves on the ISCA Walking Weekend and AKC Walking Gun Dog Championship advisory committees. He has chaired this event on three occasions, and is the chair of the 2018 event in Delaware. Additionally, Kevin was last year's recipient of the AKC Outstanding Sportsmanship Award from ISCA.
There is nothing more important to Kevin than engaging newcomers to the sport. At Runnymeade he hosts fun days to introduce beginners' dogs to birds. Since retirement, Kevin has had more time to interact with people and he often gets morning phone calls asking, "Kev, are you going to train today, and can I come along?"
Kevin and his wife, Jean have two sons, Keith and Judd, both of whom have enjoyed success with their dogs in the field. Keith is an AKC field trial judge.
Kevin is thankful for the honor of the nomination.
A. Kenneth Engle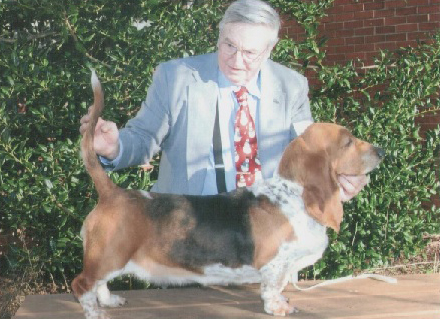 A. Kenneth Engle, of Liverpool, Pennsylvania, has been involved with Basset Hounds for more than 75 years. His parents raised Bassets, so growing up they were his playmates.
Kenneth has been active in Basset Field Trialing since 1951, first with his father, breeding and training many Field Champions and several Conformation Champions. His father passed in 2001. Since then, Kenneth bred several Field Champions and a Dual Champion. He won Absolute at the BHCA National Field Trials twice and is an AKC Basset judge, judging many FT's and Hunting Performance Tests.
Kenneth is a Charter Member of Susquehanna BHC, serving on every committee and has held every office except President. Currently He serves as Secretary/Treasurer and FT secretary, also serving as Show Chairperson and Show Secretary.
He joined the BHCA in 1960 and has been an active member serving 20 years as a Director and four as an Officer, National FT Chairperson, National FT Secretary, and several times as National Hunting Performance Test Chairperson-. Currently, he is a Director of the Field Trial Advisory Council, the BHCA Hunting Performance Committee and the Nationals FT Chairperson for 2017, 2018 and 2019. He has been awarded BHCA Life Membership and a 50 Year membership pin.
He is also a member of the Valley Forge BHC (served as President, VP and Director), Lenape BHC, Patroon BHC, Capital District BHC, VFW, American Legion, American Military Society, Perry County Sailors Association (Director), Fleet Reserve Association (President Branch 106) and the Swatara Beagle Club (Treasurer).
Kenneth is retired from the Navy in 1985 as a Senior Chief Aviation Electricians Mate. He enjoys spending time with his Bassets and two great grandsons. Kenneth is honored to be nominated again for the AKC Lifetime Achievement Award.
Judy Powers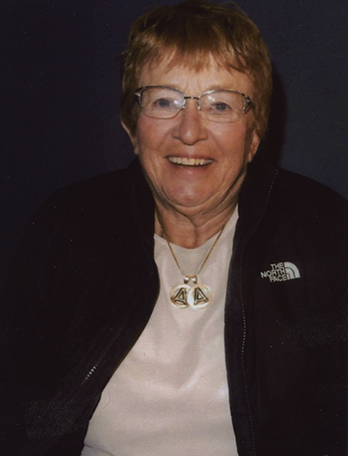 Judy Powers, of Sheboygan, Wisconsin, and her husband Jim, have been training, and competing with their Labrador retrievers and contributing to AKC member clubs for more than 35 years. Judy is a "life member" of Wisconsin Amateur Field Trial Club for 36 years, serving as Field Trial Secretary for 32 years; "life member" of Manitowoc County Kennel Club for 36 years, serving as field trial secretary for 26 years; Women's Field Trial Club for 16 years, serving as Board Member and Treasurer for 11 years; and a member of the Badger Golden Retriever Club. She continues to contribute to retriever organizations whenever requested, including marshaling, judging, heading committees and/or working in the field. She aspires to do everything she can do to ensure the continuance of this wonderful sport of dogs.
Judy has judged 79 major retriever stakes, 19 minor retriever stakes, and the 2010 National Amateur Retriever Championship. She has served on marshals' committees for another eight national events. She was board member of the National Retriever Club during the 16-year term. She served as marshal, chief marshal, Vice President and President (2002) during her board term.
In 2016, Judy was elected by her peers into the Retriever Hall of Fame, Grand Junction, Tennessee, where she joins the Powers' two-time National Amateur Retriever Champion Candlewoods Ramblin Man, inducted in 2012.
She and her husband have owned and titled 10 championship dogs including 2XNAF FC Candlewoods Ramblin Man. Judy has titled four Labrador retrievers and was a finalist with FC AFC Badger State Ram Kicker in 2008 National Amateur Retriever Championship in Stowe, Vermont. Judy and Jim are AKC recognized as Breeders of Distinction of Golden Retrievers and Labrador Retrievers.