In its endless pursuit to recognize outstanding members of the fancy, The American Kennel Club Lifetime Achievement Awards were created and first awarded in 1999 to honor our best. The purpose of the awards is to celebrate those individuals whose many years of dedication have led to significant contributions to our sport on a national level.
As in the past, this year's nominees were selected by AKC member clubs that cast their votes for one nominee in each of three categories: Conformation, Companion Events, and Performance. The three nominees receiving the most votes in each category were selected as the finalists. Member clubs have now been asked to cast their vote for one nominee in each of the three categories. This final round of balloting will close on Friday, October 9th, 2015. A special awards presentation will be held in conjunction with the AKC/Eukanuba National Championship in Orlando, Florida in December 2015.
The AKC is honored to present photos and bios of the nine finalists who were selected by our member clubs in recognition of their exemplary participation in the fancy.
Nominees in Conformation
Hon. David C. Merriam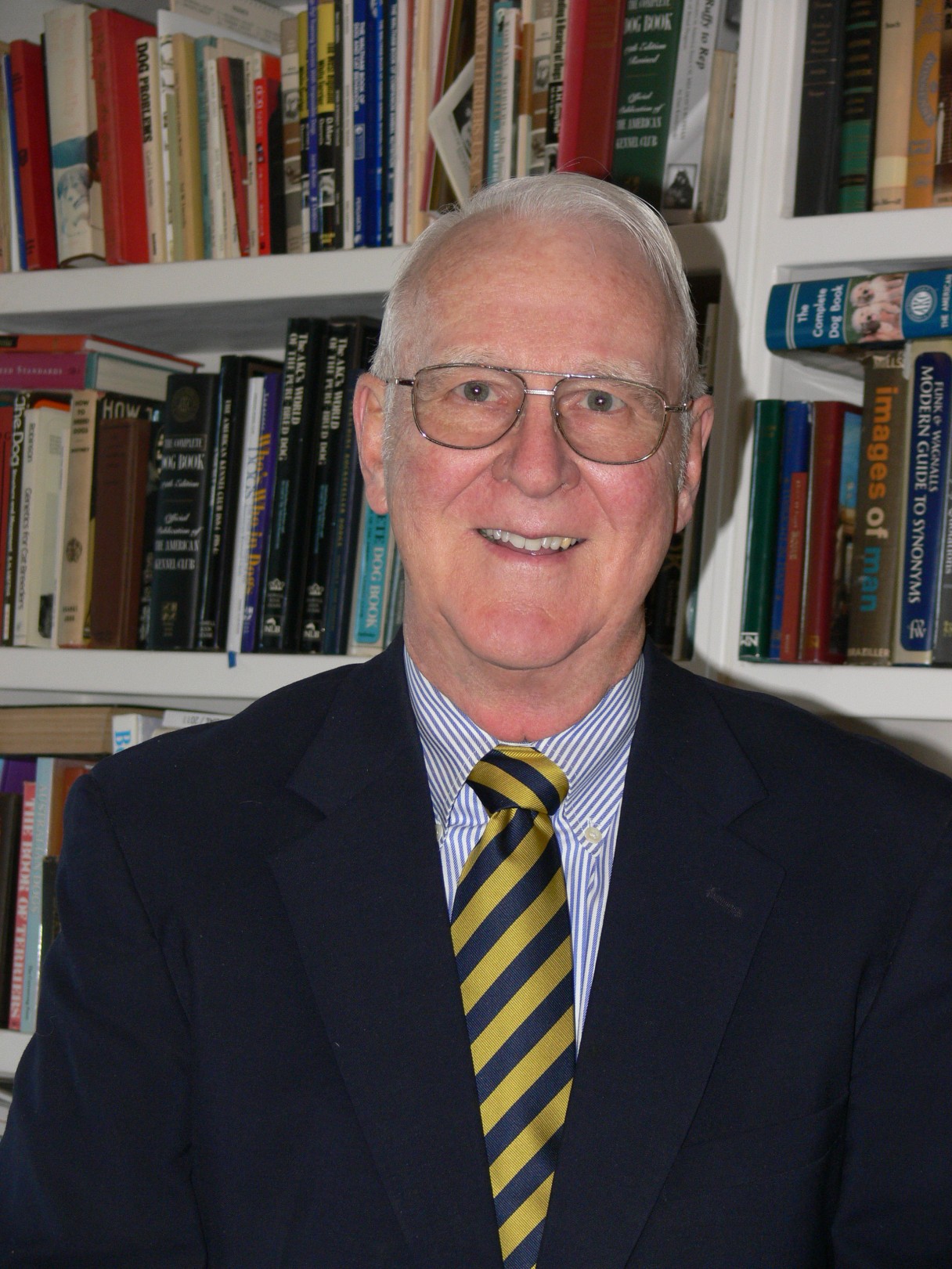 Hon. David C. Merriam, of Bonsall, California, entered the sport at 14 with a white Bull Terrier bitch. The ensuing 63 years have been both eventful and rewarding. His first Bull Terrier litter was whelped in 1954 and his most recent in July of this year. His dogs have won three All-Breed Bests in Show, as well as numerous Terrier Group and Specialty wins.
David was approved to judge Bull Terriers in 1996 and went on to judge the Terrier Group and Best in Show. Judging highlights include the Group at the AKC/Eukanuba National Championship (twice), Montgomery County Kennel Club (twice), and Westminster Kennel Club. In 2015, David was the Westminster Kennel Club's Best in Show judge. Foreign assignments include Crufts in 2001 and 2013.
David was an AKC Delegate for more than 25 years and served as AKC's Chief Executive Officer in 1996. He was AKC Chairman (1996–2002), and Vice Chair (2002–2009). Club offices include President of the Bull Terrier Club of America (1995-1997); Vice President and Show Chairman of Montgomery County Kennel Club in 2009; Show Chairman for Kennel Club of Riverside for 14 years; and President of the Golden State Bull Terrier Club when he was still in law school.
David has been recognized with multiple awards. In 2003 he was the recipient of the Bull Terrier Club of America's Lifetime Achievement and Langdon Skarda awards. He is also the recipient of Dogdom's Writer of the Year (1987) and Dogdom's Man of the Year (1996).
During his years in the Sport, David somehow managed to find time to be a lawyer and trial court judge.
Dr. Claudia Orlandi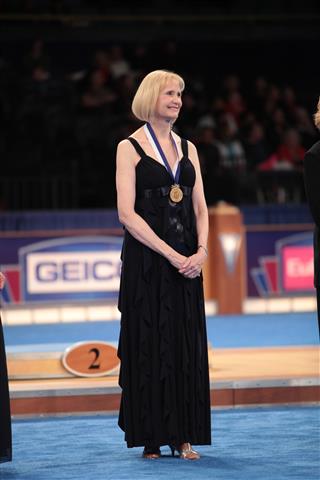 Dr. Claudia Orlandi, of Essex Junction, Vermont, has been in the fancy for over 50 years. She has successfully bred Basset Hounds for more than 25 years under the Topsfield prefix and with her late husband, Dom, has produced over 140 champions. Topsfield Bassets have won more than 100 All-Breed Bests in Show and hold numerous Breed and All-Breed show records. The top group-winning dog and the top-producing dam in the history of the breed were bred by Topsfield and the top winning dam was sired by a Topsfield dog.
Claudia's enthusiasm for breeding is matched only by her passion for teaching and working with other breeders. Her ABC's of Dog Breeding and Practical Canine Anatomy & Movement self-study courses form part of the AKC's Bred with H.E.A.R.T. education program, reflecting her belief that anyone can understand the practical rules of genetics and canine structure in their quest to breed better, healthier dogs. Knowledge, coupled with integrity and honesty about health problems, are cornerstones of her breeding and teaching philosophy.
Claudia has authored numerous articles and for many years chaired BHCA Judges' and Breeders' Education for which she developed an educational concept called Basset Hound University, whose course designs are available for parent clubs to use as templates. Claudia never charges for her popular seminars and has spoken at over 150 dog clubs and AKC/CHF Breeder's Symposia.
She was recently honored by Dog Fancy Magazine as one of the "45 people who changed the dog world" by helping to improve dog breeding and making canine genetics easier to understand. Claudia was the recipient of the 2009 AKC Breeder of the Year award.
Patti L. Strand
Patti L. Strand, of Portland Oregon, started in the dog world with a pet Dalmatian. Attendance at a fun match while in college caused Patti and husband Rod to jump wholeheartedly into the sport of purebred dogs more than 46 years ago. To this day they remain captivated.
Rod and Patti developed the influential Dalmatian bloodline, Merry-Go-Round Dalmatians, known for good health and temperament and for producing some of the top-winning Dalmatians in history. They were the recipients of the 2014 Non-Sporting Group Breeder of the Year Award. The Strand's co-authored An Owner's Guide to a Happy Healthy Dalmatian. Patti was twice honored to judge the DCA National.
As anti-breeder legislation and anti-purebred sentiment mushroomed in the late 1980's, Patti found herself lobbying, writing articles and forming alliances advocating purebred dogs. In 1991 she co-founded the National Animal Interest Alliance (NAIA), an advocacy organization dedicated to preserving the human-animal bond, raising animal welfare standards, countering negative propaganda and protecting the rights of responsible animal owners. Today, NAIA is nationally prominent, and is routinely cited in mainstream media. In 1992 Patti and Rod co-authored the first US book on animal rights extremism, The Hijacking of the Humane Movement: Animal Extremism. Patti was named the 1993 Dogdom's Woman of the Year and received the Fido Award for her advocacy of purebred dogs and responsible dog-ownership.
In 1995, Patti was elected to the AKC Board of Directors, serving four consecutive terms. She devotes her local volunteer time to Rose City Classic to help produce the best shows possible. Patti is motivated by her high regard and affection for the skilled and dedicated breeders, owners and trainers who make up the purebred dog community.
Nominees in Companion Events
Susan (Suzi) B. Bluford
Susan (Suzi) B. Bluford, of Carmel, California, received her start in the sport during the early 1970's with her Golden Retriever, Wendy, who became a breed CH, UD, WC. She has since been an active participant in conformation, obedience, rally, tracking, retriever hunt tests and field trials, herding and agility. She finished her Golden, Rabbit, entirely from the BBE class and in 1977, her Golden Retriever, Streaker, was the number one obedience dog in the United States as well as a breed champion and an owner-handled group winner. Her Golden Retriever, Allie, qualified for the AKC National Agility Championship four years in a row, while two other Goldens qualified several times for the Master National Retriever stake.
Suzi is a member of National Association of Dog Obedience Instructors (NADOI) and served as the organization's corresponding secretary for six years. She is also a founding member and consultant for the therapy dog program at her local hospital.
Suzi is an AKC judge, approved for all levels of AKC obedience, rally and agility, and has judged many AKC hunt tests for retrievers at the Master Level. She has served as show and obedience chair for the NORCAL Golden Retriever Club specialty and also chaired the Del Monte Kennel Club's annual agility trials as well as their obedience program.
For several years, Suzi wrote the obedience column for the Golden Retriever Club of America's magazine, The Golden Retriever News. She is a life member of Del Monte Kennel Club and was that club's past recipient of the AKC Outstanding Sportsmanship Award. Suzi has been nominated several times for the AKC Lifetime Achievement Award in Companion Events.
John Cox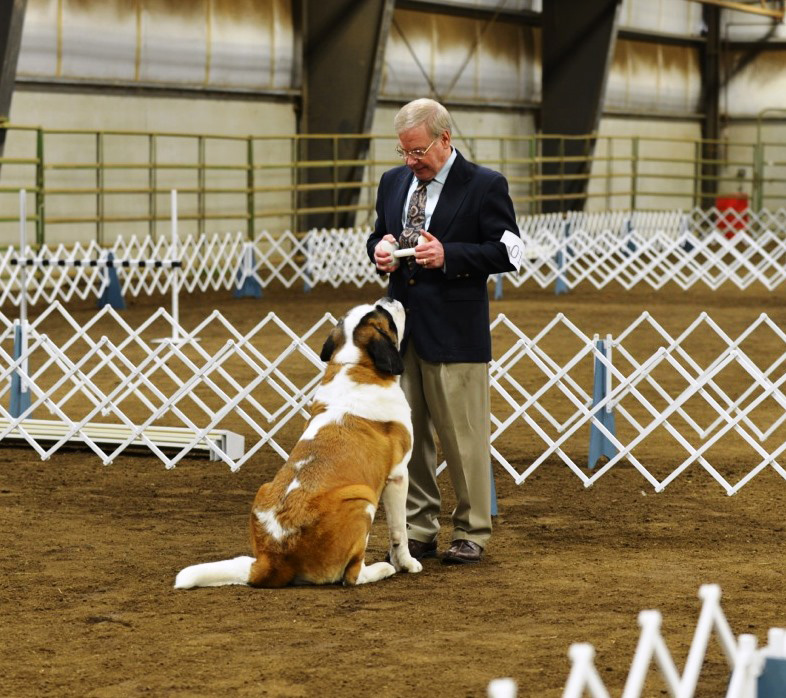 John Cox, of Shoreline, Washington, received his first Saint Bernard, Nicklus, in 1969. This puppy went on to become the breed's most-titled (at the time) American and Canadian Champion, as well as American and Canadian Utility Dog. Since Nicklus, John has lived with eight other Saints earning additional championships and UDTs, and a Pembroke Welsh Corgi earning a Tracking title. He started all over again in 1998, with a Saint puppy Kris, imported from Belgium. Kris surpassed John's other Saint's record as the most-titled Saint Bernard Champion with 39 titles to his name (nine Master titles in Agility, UDT, TD, RAE2, DD, plus a VCD2.) His current Saint, Ms. May, completed her Bronze Grand Championship along with a BN, PCD, GN, PCDX, CDX, CGCA. She now holds the breed's record for the most-titled Grand Champion at the different levels. All John's dogs are owner-handled to all titles.
John started judging AKC obedience in 1978, making 2015 his 37th year of judging. Over the years he has been writing the "Dog Talk" and "Random Little Tidbits" articles for Front & Finish. It is his hope that the articles will point out to handlers where points can come off and maybe the team's scores will go up with a better understanding of the Obedience Regulations. It is not always the dog that errors!
After 40 years of research, John has built a Saint Bernard National Archives with data on the Saint Bernard reaching back to 1879. The Archives has the names of every Saint Bernard who earned AKC titles, plus conformation/performance records, firsts of the breed, and records of the breed.
Donald A. Levinson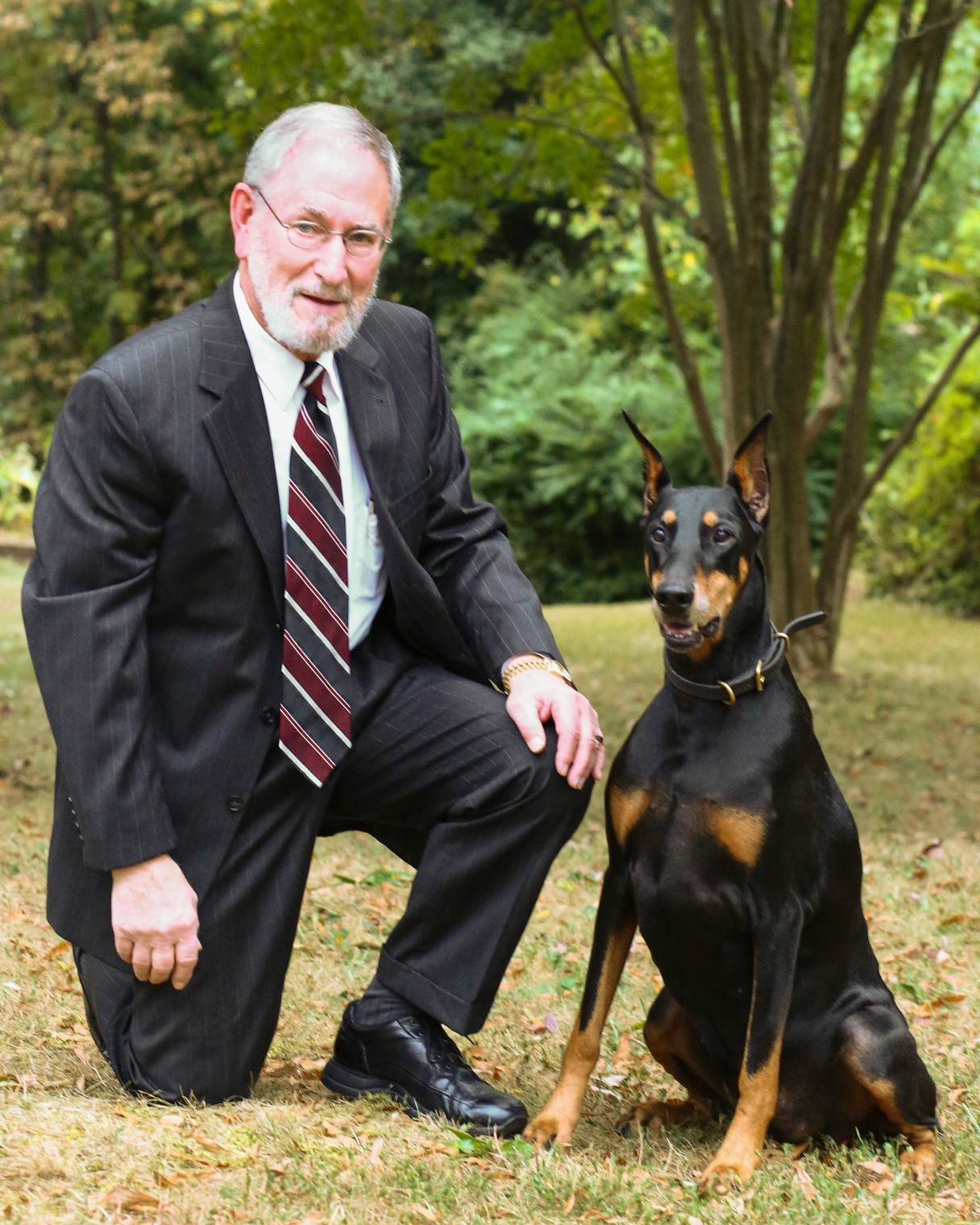 Donald A. Levinson, of Alexandria, Virginia, is a father, grandfather, and retired jeweler with a BA in Marketing from the University of Miami in 1963 and was honorably discharged from the US Army in 1969.
His involvement with dogs started with a 10-month-old Doberman puppy in 1973. His wife at the time insisted that if he were to keep the dog, it would be Donald's job to train her. This dog went on to become a breed champion and earned her Utility Dog Title in Obedience.
Donald has been exhibiting since 1974 and judging AKC Obedience since 1985. He currently shares his home with a lovely young Dobe bitch that earned her CD earlier this year and is now learning the Open exercises. She is Donald's ninth dog with at least one obedience title. In addition to his Dobermans, he also lived with a Poodle and two All Americans.
Donald is a member of, and past president of, both the Mount Vernon Dog Training Club and the Potomac Valley Doberman Pinscher Club, and a member of the Doberman Pinscher Club of America. For the past thirty years He has been a volunteer instructor for the Mount Vernon Dog Training Club, teaching a basic obedience class.
Donald enjoys instructing and training as well as exhibiting, stewarding and judging. He has had the honor of judging the NOI/NOC three times in addition to judging many tournaments and has conducted a "Judges Perspective" seminar. As a young judge, Donald had the help of several experienced judges who mentored him. Now he does the same by offering help to several of today's newer judges.
Nominees in Performance
Ray (Jerry) Cacchio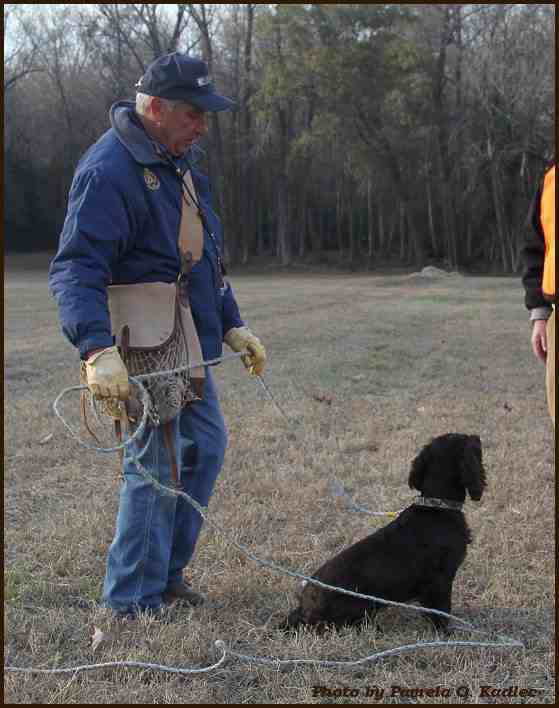 Ray (Jerry) Cacchio, of Staatsburg, New York, received his first dog when he was 15. His introduction to the sport was through his grandfather, Herman Mellenthin, owner of My Own Kennels, who owned, trained and handled "My Own Brucie," a two-time Best in Show at Westminster,
Jerry ran his first field trial in 1967, receiving a third place. In 1969, when he was 26, his uncle convinced him to buy an English Springer Spaniel named "My Own Alex", who he trained morning and evenings while working at IBM during the day. When Jerry retired from IBM, he began training dogs full time. He purchased Pond View Kennels in Clinton Corners, New York and based his training business out of Pond View.
Jerry was President of the American Spaniel Club for five years, and Field Trial Chairman for two Nationals. He has judged more than 100 U.S. trials, as well as five Nationals, more than anyone else in the U.S.
Jerry won two Nationals with two different dogs and was inducted into the Hall Of Fame in 2012. The following year, his NFC Pondview's Left In The Light ("Lefty") was inducted into the Hall Of Fame.
Jerry retired from training in 2005, and now works as a consultant for Purina and Orvis, and teaches, on average, four flushing dog seminars a year.
Now Jerry gives back to the Sport. He currently mentors Dan Lussen, an up-and-coming trainer and his son Alex, who won his first two puppy stakes with his first Springer.
Because of the dogs, Jerry has experienced unconditional love and had a wonderful life. He is thankful he is being considered for this great honor.
John Russell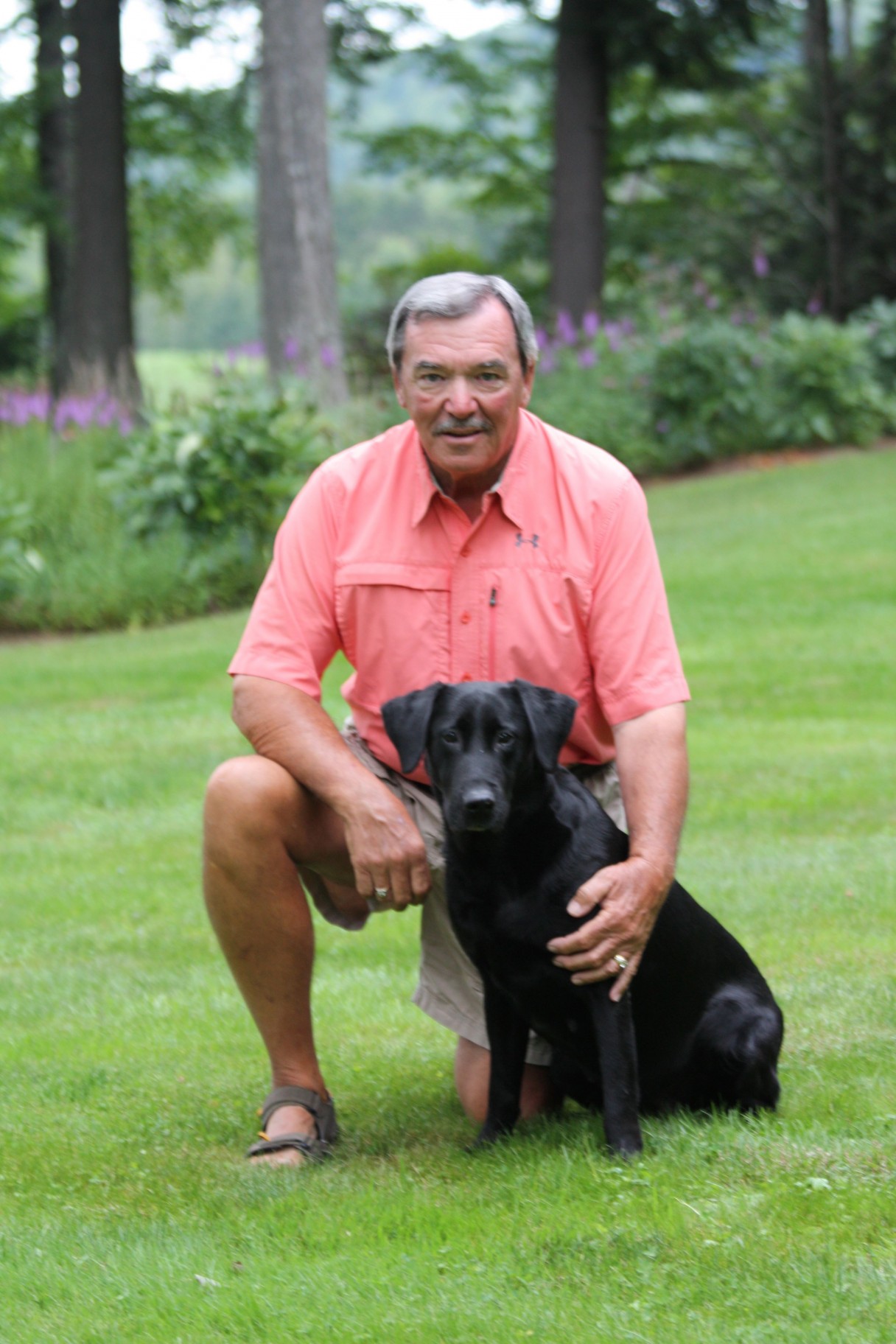 John Russell, of Gainesville, Texas, began in retriever field trials in 1970 at age 20. He became a member of the Colonial Retriever Club, holding several positions, starting as game steward and moving on to field trial chairman. He judged his first licensed field trial in 1975 and has been an active judge ever since.
John made his first amateur field champion in 1981, and his first field champion in 1984. Since then, he and his wife Martha have had 14 additional field champions. John has had two National Amateur field Champions, and was the co-breeder of 2013 National Field Champion Trumarc's Dot Come.
In 2003, his NAFC-FC Adam's Acres Cherokee Rose earned 268 all-age points qualifying for sixteen consecutive national championships (2nd most all time), and completed 8 (also 2nd all time). In 2014 NAFC-FC Texas Troubadour won the national championship. Their 2014 NAFC was the first pure amateur-trained national winner in more than 30 years. Martha and John do all their own training.
John has had six double-headers with four different dogs. In retriever field trials a double header is when the same handler wins the open and amateur at the same trial with the same dog.
He served as National Amateur Retriever Club Vice President (1996-1999), President (2000), and Secretary/Treasurer (2000-2007). He serves on the National Championship Gun Committee since 1993.
John is an AKC Delegate and was elected to the Delegates Field Trial and Hunting Test Events Committee. He serves on the Retriever Advisory Board and was appointed Chairman in June. He currently serves on the Performance Events Trial Board.
John is honored and privileged to be considered for this prestigious award.
Grant Stanfill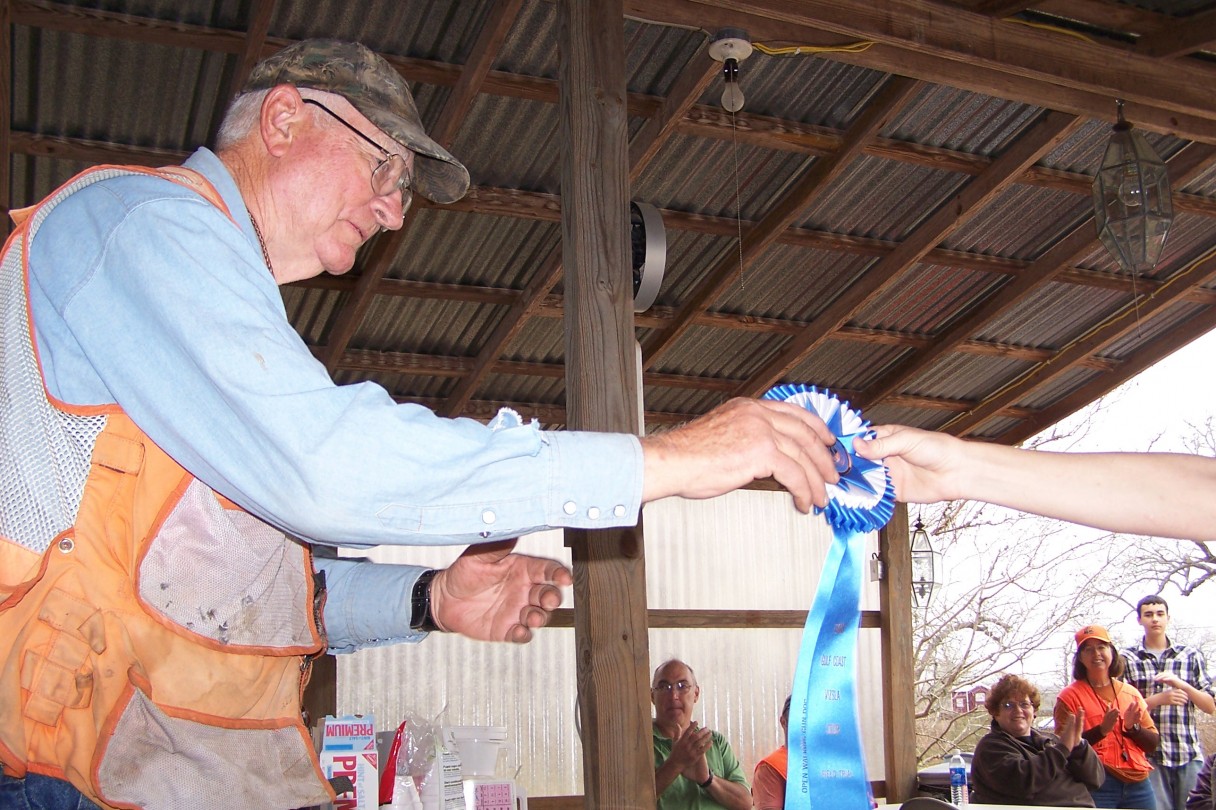 Grant Stanfill, of Ovilla, Texas, was born July 8, 1932, and raised on a farm in southwest Oklahoma. As a boy, he and his brother hunted and fished.
Grant spent 26 years in the Air Force flying fighter and training airplanes. In 1960, while still in the Air Force, he bought a German Shorthaired Pointer and started hunting birds. The bloodline was Kaposia which he later mixed with Dixieland Rusty. His dogs still go back to his first GSP.
Grant began showing dogs, finishing two show champions as well as five Field Champions and four Amateur Field Champions. One of his females, FC/APC SpareTime's Kandoit, produced one National Amateur dog and two Dual Champions.
Grant started field trialing in 1971 as a member of San Antonio GSP Club. Fred Hunt, a long-time field trialer, got him interested in judging, connecting Grant with several well-known judges such as Claude Butler and Lee Sienkonski. He was also honored to observe pro-handlers like Ed Husser, John Rabidou, and Terry Kremmenhoek, thus improving his knowledge. Grant judged numerous AKC and American Field Trials in addition to several National Field Trial Clubs' Championships.
From 1971 until 1978, Grant was a member of San Antonio GSP Club. He later joined Lone Star GSP Club, a very active club conducting field trials, hunt tests, and confirmation shows. They also conduct annual rattlesnake avoidance training sessions to help protect dogs.
In 2000 Grant was awarded Amateur Handler for the National Open Gun Dog Championship and is recipient of the GSPCA Outstanding Sportsmanship Award. Grant enjoys working with club members and the local community. He is honored to be nominated for the AKC Lifetime Achievement Award.