Wanna-Be English Setter Earns Agility Championship at English Setter Trial

English Setter wanna-be Amber Keens earned her AKC Master Agility Champion (MACH) title at the English Setter Association of America's trial on March 27, 2016, in Winchester, VA. Amber is actually a pointer mix adopted by Linda & Bill Keens of Falls Church, VA. Linda was searching for a pure-bred English Setter when she crossed paths with Amber.

Amber is a rescue from Above & Beyond English Setter Rescue. Puppy Amber was dumped at a shelter in the south with no papers. She was not faring well there, so shelter staff reached out to Above & Beyond and told them they had a young setter in need of help.
The rescue group, which focuses on English Setters, agreed to take her. When the transport driver arrived and asked for "the setter," he was given Amber who was clearly not a setter. But the driver was true to his mission and took her any way.

After a few months of fostering, Amber got posted to the A&B web site where Linda found her. Linda had grown up with a beautiful pure-bred English Setter and was searching for a setter of her own until she saw Amber. She had been concerned that her busy work schedule and small yard would be hard on a bird dog, but Amber's lower energy level and smaller size made her the perfect fit for Linda and her husband Bill!

After adopting her in 2011, Linda and Bill enrolled Amber in basic training classes and later, in an effort to find something more fun for their shy girl, agility classes. Agility helped increase Amber's confidence and bond with her owners, and she and Linda have been playing it together ever since.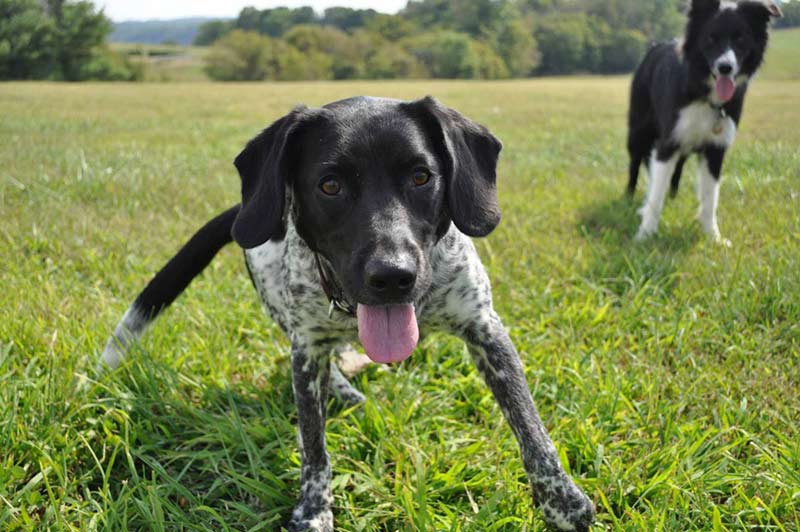 In addition to agility titles, Amber competes in lure coursing and rally and has earned her AKC Coursing Ability Advanced (CAA) title and her AKC Rally Novice title.
"Who knows what will be next for this little rescue mix who credits her start in life to English Setters and the fabulous work of rescue groups," Linda said.
Amber is a member of the AKC Canine Partners program for all dogs, including mixed-breeds and rescues.