By Bruce Hagley, II
I'm Bruce Hagley, II, and my Bulldog, Stilton, and I earned our Canine Good Citizen title on May 6, following a 15-week intensive training course.
I started out with just one dog, Mac, a Bulldog/Boston Terrier mix. He was an only dog, but I worked long hours and felt like he needed a companion during the day. I contacted a Bulldog rescue, Buddies Thru Bullies (BTB). Shortly after joining BTB and having a home inspection I was on my way South with my dog to meet three Bulldogs for Mac to choose from.
We opened the gate and let Mac inside. He and a dog then named Tuggles immediately hit it off. Once home, I renamed Tuggles after an English cheese, Stilton.
It was evident Stilton had not had the easiest life; several teeth had been pulled, and he was very thin. Because he'd had a rough time, I allowed certain behaviors to slide... He was very difficult to potty train, even though he was 5 years old. He would go slightly crazy when left alone. Trying to crate train was a nightmare. He was an escape artist and counter surfer, who could clear a coffee table in the blink of an eye. But then he'd give a look that would melt my heart. (How could I get upset at that face?)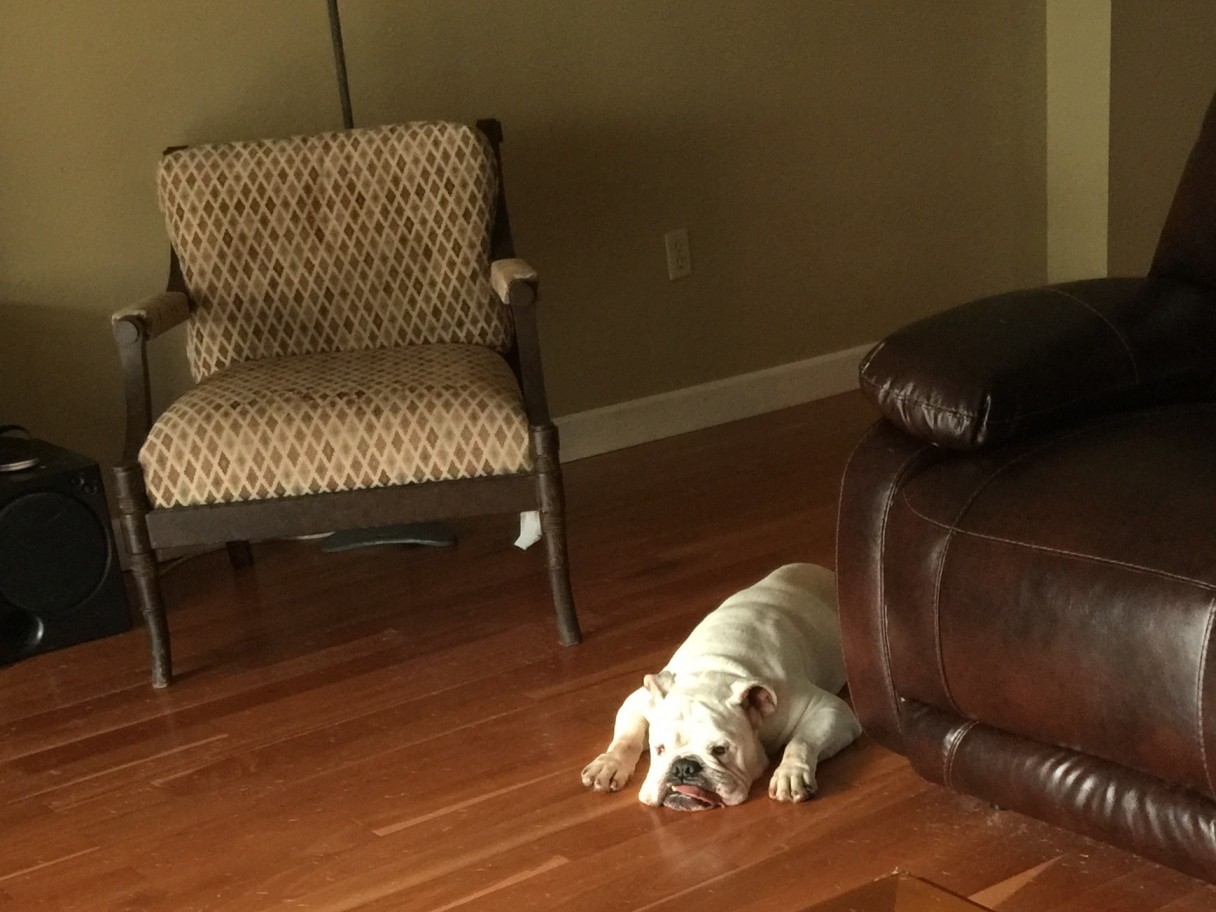 When my boyfriend, Timothy, moved in with me I had glossed over some of the worst aspects, but it didn't take Timothy long to see them for himself. He told me, over and over, that Stilton needed training.
I kept making excuses, but when Timothy and I were in the process of adopting a Brittany puppy, I knew it was time to get Stilton under control so Fancy wouldn't learn bad habits.
Timothy found Down Home Dog Training. After a few weeks the difference was amazing. Trainer Lindsay Smithson gave us tips and tricks and we were able to stop him from going to the bathroom in the house by exercising in the morning and leaving him tuckered out by the time I left to go to work.
We also needed help with leash training (his former name was Tuggles for a reason) but after a few weeks he was walking great and obeying.
No longer was I scared or nervous coming home, wondering what mess I would find when I walked through the front door. Suddenly there were two well-behaved dogs just waiting for me in the hallway. We've since added our puppy.
Having Stilton achieve his CGC has made me realize how much nicer it is having a good dog in the home instead of using the "he's just a dog" excuse.
Find a dog trainer near your location and take the Canine Good Citizen test for your dog.
More Like This:
http://www.woofipedia.com/articles/setting-dogs-up-for-success
http://www.akc.org/learn/akc-training/wild-girl-turns-good-citizen/
http://www.akc.org/learn/akc-training/essential-skills-for-every-dog/