Just as we humans get cold in chilly weather, your dog may, too. And while Siberian Huskies, Alaskan Malamutes, other northern breeds, and dogs with dense coats may be just fine in winter, short-haired, small, and light-bodied breeds could use an extra layer of protection. Old or infirm dogs may not tolerate the cold well, either. Luckily, there are dozens of types and styles of dog sweaters to choose from, so your pup can be warm and fashionable.
Choosing the Right Dog Sweater
• Consider the material. Wool is very warm and provides great insulation. However, it may require hand washing or be itchy on some dogs. There are acrylic and wool-blend dog sweaters that provide plenty of warmth, while still being soft and easy to care for.
• You know the old saying "measure twice and cut once"? Take just as much care measuring for dog clothing as you would for your own clothes. Measure around his neck, the deepest part of his chest, and his length. You'll also want to make sure that the leg openings aren't constrictive and allow for freedom of movement. A dog sweater should be snug, but not too tight.
• Look for a sweater that's easy to get on and off. Walks shouldn't have to begin with a struggle to get your dog dressed. Some sweaters have Velcro, buttons, or other means of closure, but make sure there's nothing he can chew off the sweater.
• Keeping these pointers in mind, you can get creative when it comes to color and style. Unless your dog fancies himself a runway model, he won't care how you deck him out. He'll just be glad for the attention and the warmth!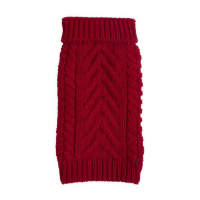 Go classic with this Aran-style sweater for your dog. The turtleneck will keep him toasty warm, and the 100 percent acrylic knit is ultra-soft and almost looks hand-knit.

Chilly Dog Boyfriend Dog Sweater
If you're a wool purist, this 100 percent wool boyfriend dog sweater is just the thing. It's made using organic plant dyes and following fair trade guidelines. As a bonus: it's pretty good-looking!


The handsome cable design is knit from soft 100 percent acrylic and is machine-washable. The pockets are a handy bonus, and the braided buttons are a nice finishing touch. You may wish you had a sweater as stylish as this one!

Made of polyester fleece, this dog sweater is just right for small dogs. It's easy to get on and off, and the hood will protect your dog's head and ears from the cold.


No matter how dreary the weather, you can have some fun with these colorful animal-patterned turtleneck dog sweaters. Choose from a collection of critters, but you might not want to tell your dog he's carrying a squirrel or a fox on his back!

Blueberry "Ugly" Christmas Dog Sweater
Next time you're invited to an ugly sweater party, your dog can come, too. Even though it's called an ugly sweater, it's really pretty darn cute! It has a sensible leash opening and is made from 100 percent ultra-soft acrylic.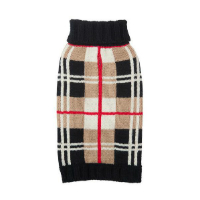 The prefect sweater for the preppy dog, you can never go wrong with this classic Burberry-like plaid. The collar can be unrolled for extra warmth, and the acrylic knit is ultra soft.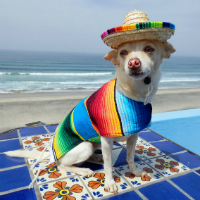 And now for something completely different! Brighten up the dreary winter days with a hand-sewn sweater made from handwoven Mexican serapes. Each poncho has Velcro straps, a harness or leash opening, and polyester lining.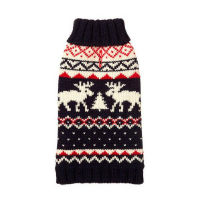 Fair Isle sweaters are timeless, and now your pup can sport one of these unique and festive patterns. Lots of warmth with no itch, and it's machine washable, too.

Personalized Chevron Dog Sweater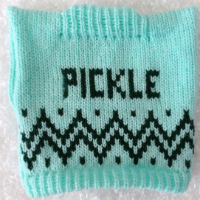 Whether you have one dog or a whole pack, all dogs can have sweaters personalized just for them. The sizes go from a tiny 3-4 pounds through 24 pounds, so there's one sure to fit your small dog(s).
Puppy Socialization
Socializing your dog in an important step in raising a balanced and happy dog. Not sure where to start? Download this e-book for some tips.