By Wayne Bleazard, Executive Field Representative
Most ten year old girls are interested in the latest styles and fashions and Justin Bieber! Kelsey Deuth's ideas about important things focuses on the animal kingdom. She LOVES all animals, especially dogs, and enjoys helping Kim and Doug Shade, a professional trainer from Oregon, at their kennels. She has even assisted them in delivering a litter of puppies! Instead of watching MTV, Kelsey visits the kennel and helps socialize the puppies. Rather than worry about what to wear tomorrow, Kelsey is helping to feed and throw training marks.
About two years ago, Doug Shade's female, "Chigger" had a litter of puppies. One of the pups, JNJ's Dusty Widow Yella Weed, "Tanzie", found her way back to Doug's kennel, into Kelsey's heart and eventually her family. Doug said Tanzie adopted Kelsey right off the bat. He asked if Brent, Kelsey's father, would like to keep Tanzie and give her a good home.
The training group now includes Kelsey and Tanzie, Brent and Camo XXX, JH, and Doug and Kim Shade and their dogs. The group attended the Oregon Retriever Trial Club, Inc. Hunt Test on July 17, 2010. While running the second series of the junior, Tanzie got a little confused on the line on the first bird across water. Kelsey kept her cool, calmly talked to her dog, got Tanzie to focus, and sent her for the mark!! Success!!!!! Most new handlers would have been way too frazzled to pull that off, but Kelsey thought nothing about it as this was going to be her third pass in the junior division.
Kelsey and Tanzie need one more pass to get their Junior Hunt title, and hope to complete that at their next test. Her goal is to pursue Tanzie's Senior Hunt title and, possibly to run Camo. Dad says Camo is quite a handful, but Kelsey loves to accept challenges!
In between dogs and puppies, Kelsey plays basketball and softball–even making a local All-Star team as short stop. Needless to say, her team won the tournament, and with Kelsey's grit, determination, and cool demeanor, it is a sure bet that team Tanzie and Kelsey will also make their titles!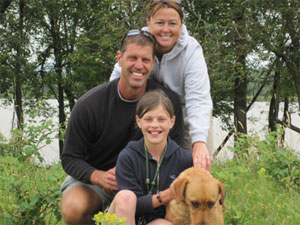 Traci, Brent and Kelsey Deuth with Tanzie.

Kelsey and Tanzie.