With a registered name like DC Jewels Peridot & Pearls MLC SAR-W, the dog you'd expect to see might be a prissy homebody that lavishes attention on people and strolls about in elegant attire. Not this little blonde dynamo, believed to be the first of her breed to earn an AKC search and rescue (SAR) title.
What you see isn't what you get with Allie, a 10-year-old, 10-pound miniature longhaired Dachshund that doubles as an on-call search and rescue worker and has earned American Kennel Club dual championships in conformation and field events.
Allie is right at home bounding across an open field or nosing through dense underbrush in Pennsylvania in search of a missing person, but is equally comfortable basking in the limelight of tense competition before a packed house at a major all-breed dog show, which will include the Westminster Kennel Club Dog Show for the first time this month.
Owner Monica Galley of Greensburg, Pa., always appreciates the nonstop smiles and awe this Doxie with moxie receives from bystanders and law enforcement officers introduced to the tiny "tracking tool."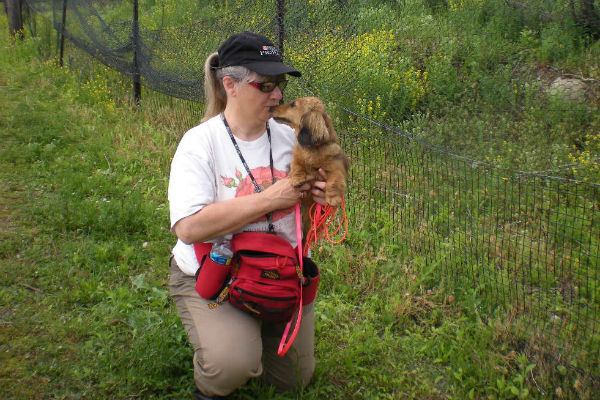 Galley, 58, purchased her first Dachshund in 1980 after owning a Doberman Pinscher, Golden Retriever, and several all-American dogs. Allie, born in 2006 as part of a two-girl litter, started her conformation and field careers at 6 months old and didn't waste any time becoming recognized — placing third in her first field trial and earning a three-point major in her initial conformation outing.
The route to search and rescue wasn't always easy for Allie and Galley. "I was always thinking about search and rescue," says Galley, an artist/designer/owner of a company that sells breed-specific jewelry and home décor items. "I had approached a few local Western Pennsylvania groups, but as soon as I said 'Dachshund,' I was told, 'We do not accept that breed.' I explained to them Dachshunds are the smallest hunting breed and that three-fourths of their head is nose, but they would just chuckle and turn me down."
In 2012, Galley was scanning Facebook and spotted a friend's post about a new search and rescue group forming three miles from her home. She recalls being "excited, but ambivalent, figuring I would get the same line as before: no Dachshunds."
But upon contacting the team leader, Melissa Mayer, Galley received the response, "Bring her down. Let's see what she can do."
 
When the enthusiastic Galley and Allie walked into the Youngwood, Pa. fire station several days later, all eyes were cast on the little hound at the end of the lead. The unflappable Allie greeted all the onlookers and quickly proceeded to dazzle them with her SAR skills. By evening's end, the pair was invited to begin training immediately.
Nine months later, Allie was certified with the American Mantrailing, Police and Work Dog Association. The certification test trail is at least one-half-mile long and runs for a minimum of one hour. There are at least two turns, and the dog must cross a minimum of two surfaces, one of which is a roadway. The team has 30 minutes to find the correct "victim." (There are other victims situated in the field.) Galley carried a GPS, and the rules stipulate the team cannot be more than 20 percent off the track.
Upon sizing up Galley and Allie on one of their first deployments, a state trooper commander looked the owner in the eyes and asked, "How far can she go?"
He assumed because of her short legs, Allie could not cover long distances. The pair tries to walk at least two miles daily and often goes for three. Endurance, obviously, is critical in search and rescue.
While Allie runs with the big dogs (German Shepherd Dogs, Belgian Malinois, and other traditional SAR breeds) in open settings, she can maneuver into small spaces the bigger breeds cannot. That is called rubble search. "After talking to others about working rubble, I declined to put Allie through that," Galley adds. "It is dangerous work with broken glass, metal shards, and dust from concrete, and other substances that can harm a dog. I am sure that if we were needed that, she could find human scent, but we are not trained or certified for rubble."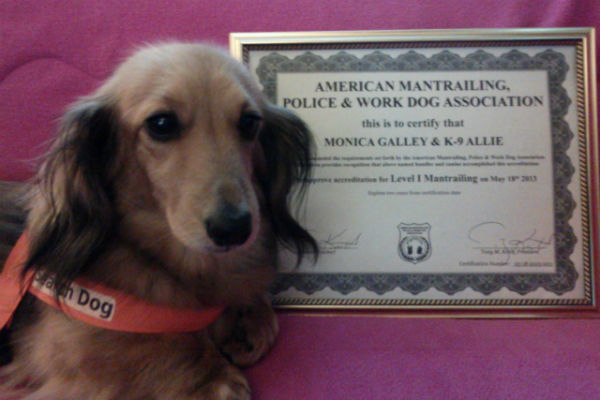 As a search and rescue dog, Allie responds to calls for lost Alzheimer's patients, lost children, and adults in all weather conditions. She and Galley do not respond to dangerous criminal calls, however.
"We have experienced both high and low points," says Galley, "and unfortunately not everyone we search for is found alive. The SAR motto is: 'We are at our best when you are at your worst!' "
Eight is the most number of calls Allie and Galley have responded to in one year. Of the searches in which they have been deployed, all but two of the targets have been deceased. "Our mission is closure for the family, alive or dead, so they know where their loved one is."
Since those early SAR days, Mayer and Galley have formed their own team, Sentinel K9 Search & Rescue, which is nationally certified and responds to calls over a larger geographical area. It is deployed through the 911 system, with the majority of the calls coming through the Pennsylvania State Police, since "wilderness calls" most often are in rural areas that fall under its jurisdiction.
While Allie tends to elicit the wow factor from many, there are also those who misperceive her role. When they see her vest, Galley adds, some assume she is the mascot.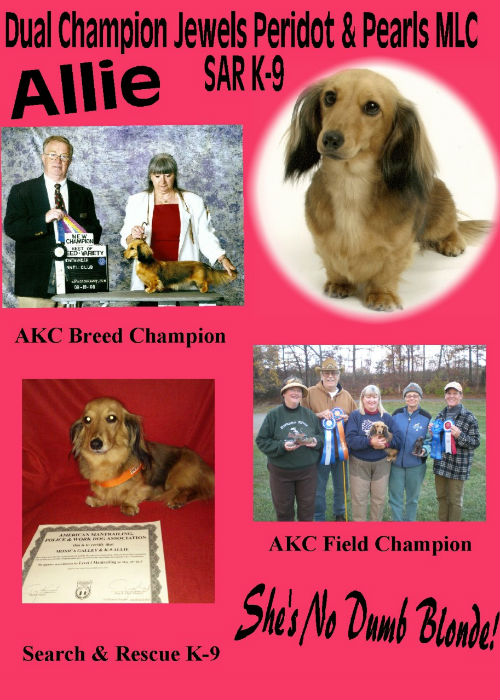 "When we were on a search on a hot day a few summers ago, the Red Cross set up cooling tents. Allie and I went to relax and cool off after she had worked her grid area. "There were two detectives also under the tent, and as we walked in they looked at her and me. I could see by their expressions they were confused and amused. I said, 'Yes, she finished her shift.' They were impressed and bent down to give her some love."
Mayer, the team leader, regularly tells other handlers, "You should see that dog work. Be ready to go when you flank the Dachshund. Or this ultimate compliment for the little worker, "K-9 Allie has a really deep nose."
And she adds, "All of my dogs have 'tude.' I like to think they are 'bombproof.' "
How difficult is it for Allie to switch gears in her pursuit for missing parties to securing a ribbon in the show ring?
"Not at all," Galley responds. "We had a sequence where we went from the show ring, to a field trial, and then had a search call a few days later, followed by a conformation show the next weekend."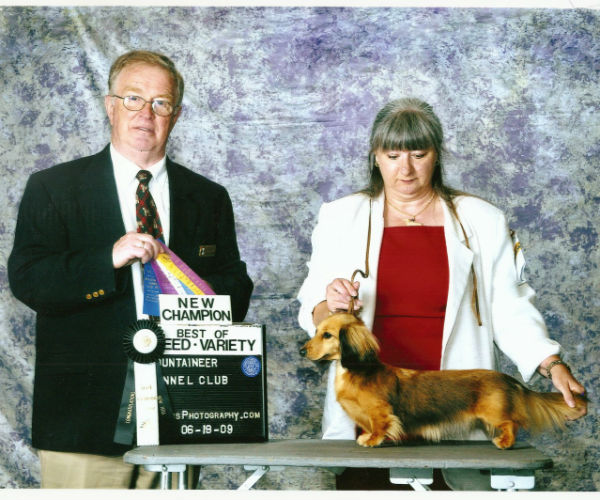 No matter the site, Galley doesn't let an opportunity slip by. It's not unusual for her to recruit "victims" to track or hide at show site following the competition, then watch Allie come and find them. "The show grounds are a great place to lay track, lots of scent everywhere, and it really makes her work," she adds.
While Allie is aging, Galley figures she has good SAR years ahead. To continue the Doxie legacy, the owner is training her next generations, Ada and Amauri.
Galley and Allie seldom find themselves bored at home. "Dogs were bred for a job," she concludes, "and I believe that every dog should be able to do the job for which it was bred.
"Our breed standard states: 'Inasmuch as the Dachshund is a hunting dog, scars from honorable wounds shall not be considered a fault.' "
https://www.akc.org/wp-admin/admin-ajax.php
Get Your Free AKC eBook
Canine Good Citizen (CGC)
This program is recognized as the gold standard for dog behavior. In CGC, dogs who pass the 10 step CGC test can earn a certificate and/or the official AKC CGC title.