If you're in the St. Louis area and you love dogs and art, make your way to the AKC Museum of the Dog. A special treat awaits you in the Sally Johnson Spillane Special Exhibit Gallery: "The Canine Art of Maud Earl." The exhibition of paintings and prints by the master includes her enigmatic, life-size "Portrait of a Lady with Two Dogs."
Maud Earl was born in London in 1864. She was reared in an artistic household where a love of animals prevailed. The Earls came from a long line of sporting families, and Maud's father, George Earl, and her uncle, Thomas Earl, were well-known painters of animals and sporting scenes. Maud's brother Percy was also a painter of dogs, represented by three works in the AKC collection. Maud attended the Royal Female School of Art, her most influential teacher was her father, who recognized her natural talent and grounded it with studies of anatomy and skeletal structure.
By age 21, Earl was already an established artist when she first exhibited a painting at the Royal Academy. Her passion for dogs, combined with her total mastery of canine anatomy, soon led to a specialty in purebred-dog portraits. Art historian Susan Brown says, "Her intuitive understanding of canine personalities took her paintings beyond skillful renderings of a dog's physical appearance and won her the admiration of Queen Victoria and the Prince and Princess of Wales, whose royal patronage assured her success."
Sometime around 1915, with war raging in Europe, Earl relocated to New York City. Her reputation preceded her, and she quickly became the darling of America's leading dog fanciers who wanted their great champions immortalized on canvas. Her reign as the queen of canine portraitists ended only with her death in 1943.
Let's take a look at three Earl classics: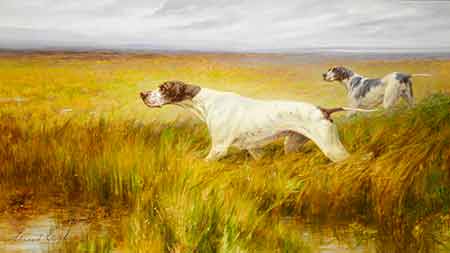 "Two Pointers on Point in a Field"
This picture, dated 1905, hangs in the AKC collection in New York. Art dealer and historian William Secord writes: "Maud Earl acknowledged that to portray the correct conformation, expression, coat texture and other attributes of the dogs she painted, she enjoyed the tutelage of some of the greatest breed experts of 19th and early 20th century dogdom. The eminent British authority, William Arkwright, was her mentor regarding the characteristics of Pointers."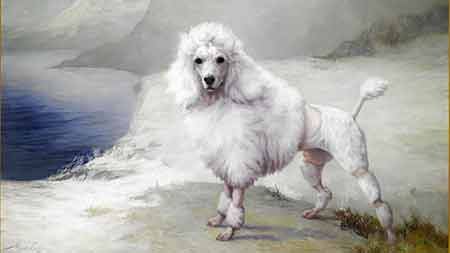 "Ch. Nunsoe Duc de la Terrace of Blakeen"
This 35 x 60-inch canvas was commissioned by Mr. and Mrs. Sherman Hoyt in 1935 to commemorate their famous standard Poodle, still considered one of the greatest show dogs and sires of all time. He was the first of his breed to win Best in Show at Westminster. (See "The Toast of Blakeen" for more on this magnificent champion.)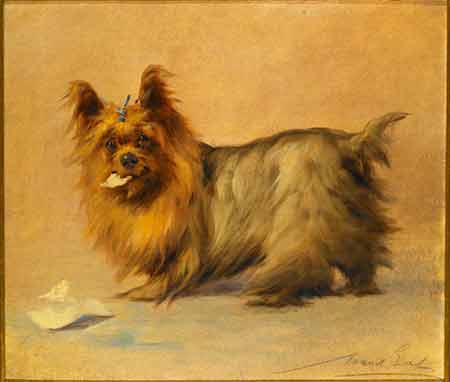 "Yorkshire Terrier"
In this delightful picture from the AKC Museum of the Dog collection, Earl captures the mischief and vivacity so typical of Yorkies. "You can't paint dogs unless you understand them," Earl said. "I don't mean merely from the fancier's point of view. You must know whether they are happy and comfortable, and if not, why not. You must know how to quiet them when they become excited and nervous. You must know all their little likes and dislikes, and this knowledge comes from long experience."