Earth Day (April 22) is around the corner and is the perfect time to consider ways to reduce your household's carbon foot- (and paw-) print. This DIY dog toy, with instructions and photos by DogVacay, allows you to upcycle your old T-shirts and turn them into something good enough to chew.
What you'll need
A couple of old cotton shirts
Scissors
Cloth tape measure
How to make the toy
Cut nine strips, each about 20 inches long by 2 inches wide (you can go longer if you need to). Gather all your strips and tie a knot at one end.


 

Separate the strips into threes and start to braid.


 

Leave some room at the end to tie another knot.


 
Safety Note: Soft shirts work the best as they tie more easily, but if you have bigger dogs with stronger teeth, you may want to use tougher fabric. Be sure to monitor your dog during play with this toy, and take it away if it begins to fray. Swallowing fabric, especially long strings, can lead to a dangerous obstruction.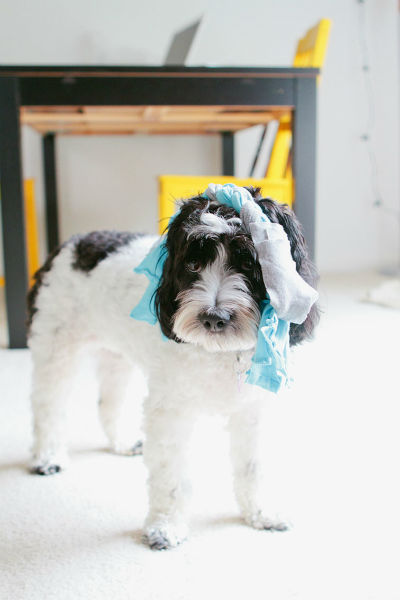 And if you've decided that DIY isn't for you, we have all the toys you could possibly imagine on the AKC Shop. There are tug toys, fetch toys, interactive toys, and more. Find the perfect toy for your dog, here.
https://www.akc.org/wp-admin/admin-ajax.php
Subscribe to Family Dog
AKC FAMILY DOG MAGAZINE
This article was originally published in AKC Family Dog magazine. Subscribe today ($12.95 for 6 issues, including digital edition) to get expert tips on training, behavior, health, nutrition, and grooming, and read incredible stories of dogs and their people.