Your dog, of course, is perfectly well-behaved on the leash, never pulling, jumping, zigzagging, or trying to wriggle out of his collar. Unless he isn't. Using a dog harness instead of a dog collar makes it easier to control and manage any dog, even those with leash manners that aren't quite perfected. Harnesses have other advantages, too:
They're a good training tool for puppies that haven't yet learned to walk on a lead. A harness will prevent him from getting tangled up in the leash and possibly hurt in the process.
Harnesses offer better control, which is especially important on busy streets or in crowds.
If you have a strong or very large dog, a harness gives you much better control and is also easier on your arms and back.
Very small dogs can be prone to injury from pulling or tugging on the leash. A harness disperses pressure over a larger area of his body, reducing strain on his neck and back.
Harnesses discourage pulling. When your dog is wearing a collar and pulls on the leash, he's still moving forward, which makes him think the pulling is successful. A harness, whether attached on his chest or between his shoulder blades, redirects him; there's no reward because pulling doesn't get him anywhere.
If your dog needs a little assistance standing after lying down or sitting, a harness pulls him up gently without causing him any pain or discomfort.
Finally, harnesses are a great solution for those little escape artists that are on the lead one moment, then you blink, and they've wriggled out of their collar.
Once you've decided to use a harness, which one is best for your dog? Find some of our best-reviewed harnesses here. These harnesses have varied features and uses to help you choose the right one.
In Partnership with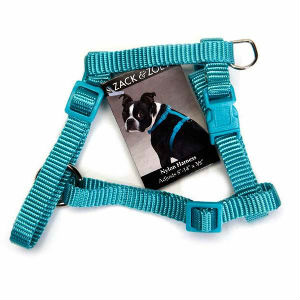 This simple adjustable nylon harness comes in several sizes and lots of fun colors. It's reasonably priced, too, and suitable for all dogs.
This lightweight, breathable harness has a quick-release buckle, is adjustable, and comes in eight bold colors. It's a good choice for toy breeds, dogs with sensitive necks, and puppies.
If you're going to use a harness, why not get one that does double duty? The Cooling Reflective Harness has reusable cooling packs that will keep your dog cool even in hot weather. Fill the packs with cold water or freeze them to keep your dog cool and comfortable for up to six hours.
Some dogs do better with a leash attachment on the front of the harness, which redirects your dog's attention, instead of pulling him back. This reflective harness puts no pressure on your dog's sensitive neck and has four adjustment points for a perfect fit.
Big Dog Reflective No-Pull Harness
This heavy-duty harness is strong enough for any dog and has an easy-grab handle on top to help you control your dog in difficult situations. The padded shell is a nice comfort feature, too.
Heavy-Duty Dog Harness & Leash
This durable double-layered harness comes with a bonus: a leash and an instruction manual. It's good for training, walking, and even running with your dog.
With five adjustment points, this harness is almost like having a custom fit for any dog. The padded chest plate prevents stress on the dog's sternum and trachea. The harness comes with a 10-inch lead that can be used as a seat-belt loop in the car.
Who says function can't be fashionable? With gingham frills and a satin bow, this harness will suit even the fussiest canine fashionista. The mesh material is lightweight, soft, and breathable, so your dog can strut the runway in comfort. Offered in three colors and several sizes.
Think of this harness as athletic wear for dogs. It's made of breathable nylon, with a mesh liner. The rugged construction and materials make it just right for the active dog that joins you running, hiking, jogging, or cycling. Clip the leash in the front on your dog's chest or between his shoulder blades.
No-Pull Neoprene Padded Harness
It's not often that a useful item looks so good. Offered in bright, lively colors, this harness has a wide chest piece that spreads pressure along the harness to reduce injury or discomfort. It also has reflective strips on the front and the webbed straps for nighttime safety.
AKC is a participant in affiliate advertising programs designed to provide a means for sites to earn advertising fees by advertising and linking to akc.org. If you purchase a product through this article, we may receive a portion of the sale.
https://www.akc.org/wp-admin/admin-ajax.php
Get Your Free AKC eBook
Tips for Responsible Dog Owners
This e-book is a great resource for anyone who's considering dog ownership or already owns a dog. Download for tips on how to be the best dog owner you can be.