With names like Spin and Tumble you know there is going to be plenty of action.
And in the case of this pair of Australian Shepherds you wouldn't be wrong. You might want to add versatility to the mix, too, since they are working and service dogs, as well as agility partners for their owner, Maria Duthie, who is in her 40s and legally blind.
The 7-year-old litter-mates perform an assortment of chores on the 6½-acre Medina, Ohio, property owned by Duthie and her husband, Ken, which is home to six sheep, five horses, and five dogs. But Spin and Tumble are also service dogs for Duthie, who was diagnosed with Stargardt's disease, the most common form of inherited juvenile macular degeneration, at age 13. Decreased central vision is the most common hallmark of the disorder; side vision is usually not impacted.
Duthie, who competed at The Masters Agility Championship at Westminster this past February in New York City, has also entered numerous national events with the pair and their father, Flip, now 13, who was her starter service dog.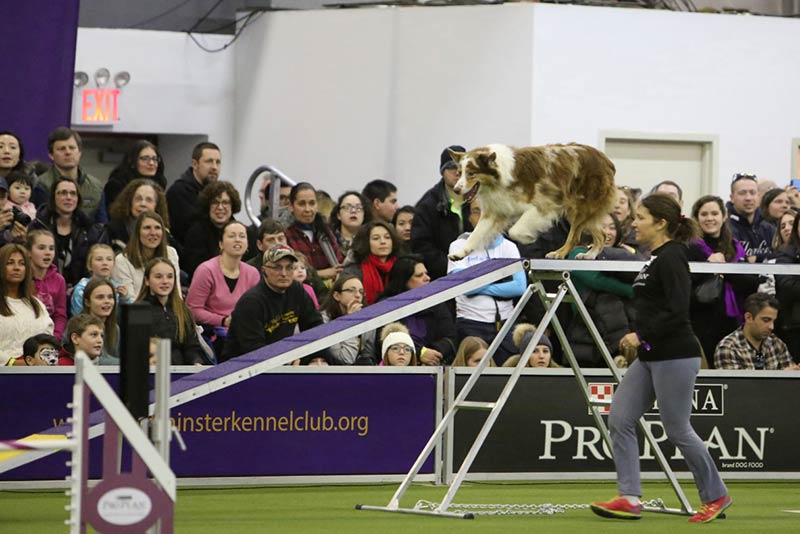 "I am unable to drive," she says, "so getting to trials is difficult. I cannot see the numbers on the agility courses, consequently I have to follow someone around. Most of my fellow competitors are very willing to help. Everybody jokes that it takes a village sometimes. In my case, that's correct, but I pride myself on independence, too."
Maintaining a connection with Spin and Tumble in the midst of competition isn't done through the customary eye contact. It's accomplished through body language and sheer bonding.
Competing on a national stage is challenging enough for someone with full sight, but Duthie sees that pathway as a huge confidence builder in the big scheme of things. "I thrive on challenge and am not one to sit around with a woe-is-me attitude," she adds. In addition to agility, she hikes and show-jumps her horses.
An animal-massage therapist for almost 18 years, Duthie entered the agility arena to better understand what her clients and their dogs encountered to send them to her care. "I fell in love with the sport quickly," she confesses.
Because she cannot drive, she operates the massage business from home. "My eye disease actually helps with my work because I focus more by incentive feel for everything and work every nook and cranny in the dog's body."
In their service capacities, Spin and Tumble assist Duthie chiefly on the stairs and uneven surfaces, along with helping her maneuver through crowds, particularly at large airports.
"I have a unique relationship with the two dogs," Duthie says. "Because they are with me 24/7 in a working capacity, they anticipate my moves and read my body language nonstop. As a result, I don't see my sight deficiency as too big an obstacle in the agility ring."
​See Duthie and Spin in the ring:
In addition to weekend competitions throughout the year, Duthie trains both animals periodically at home with an emphasis on "relationship building," which includes plenty of walks and play.
Duthie purchased her first Australian Shepherd before the breed was recognized by AKC (1991).
"I really had no idea what I was getting into, but I loved their energy, sense of humor, intelligence and desire to work. They fit my lifestyle perfectly with the horses, sheep, and the small farm."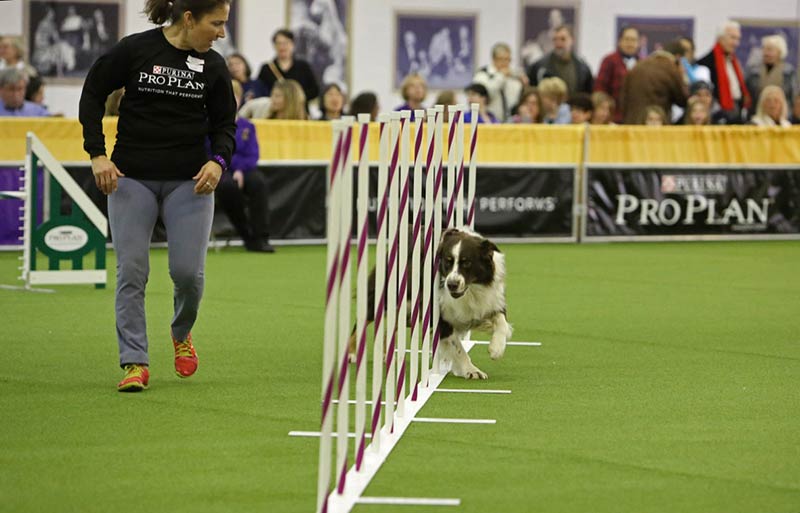 But in competition, there's a whole different dynamic at work. Sometimes she cannot see where she is in the running order and is forced to ask people. "Some will say just look. Once I tell them I can't see it they will apologize and are very helpful most of the time," she adds.
One of the most challenging aspects of her vision deficiency, says Duthie, is identifying people. "I go by the way they walk and talk. Also, I have had some say I am making up my eye disease simply because I can do lots of things. I'd like to say that not being able to drive is the hardest thing about this, but it's not. The most difficult is not seeing all the amazing things in this world like a bird or a beautiful butterfly.
"All of this is further complicated by the fact that I don't know how much worse it will get and if this is my last day, week or year of any functional vision. I don't want to waste a minute."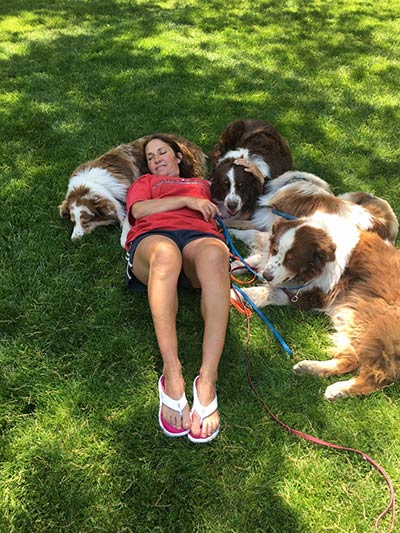 And she isn't. The incredible bond she has built with Spin and Tumble has led to coveted MACH 4 titles for both. Spin's was earned at Westminster this year. Duthie's next project is Slide, a 16-months-old Australian Shepherd who she says oozes with potential.
Consequently, you can assume she won't waste any time putting him on a fast track.
Image at top: Christina Frausini, Westminster Kennel Club.
Agility is a fun and challenging sport for both you and your dog. This sport is a great way to develop your bond with your dog and definitely requires dog-handler teamwork. If you're interested in learning more about the sport or want to get involved, click here.