The marketing and advertising industries experienced unprecedented growth in the 1950s, and a gorgeous rough coat Collie led the way.
The website of the Museum of Broadcast Communications tells us, "Lassie helped to demonstrate the potential development of ancillary products associated with television programs, appearing in everything from comic books and Big Little Books to Viewmaster slides, watches, and Halloween costumes."
In other words, it's all about the merchandise.
Long before George Lucas built his Star Wars empire on the sales of "ancillary products," the producers of the Lassie TV series (1954–1974) were blazing the trail. In fact, Lucas, a child of the 1950s, might have been thinking of his Lassie lunchbox the day he licensed his first Darth Vader mask in the late '70s.
Immediately following World War II, several developments—TV, rock 'n' roll, the baby boom, a revved-up postwar economy—combined to give kids unprecedented buying power.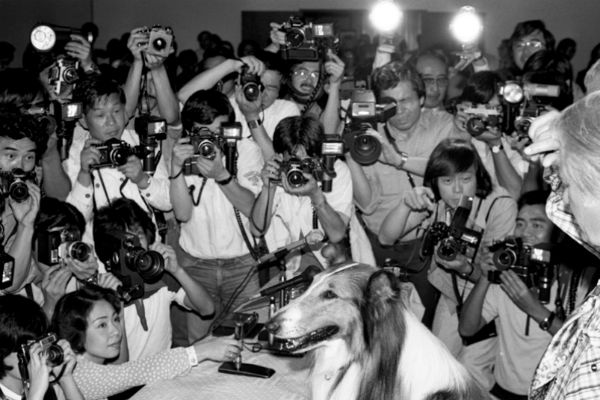 We are today resigned to a mass-marketed youth culture based on the proposition that growing up is the only truly unforgivable sin. But when Lassie first hit the airwaves, popular culture was for grownups, and pitching products directly to children was unexplored territory.
The '50s was a time of astounding growth for the advertising business. The industry journal Ad Age reports that the decade saw annual advertising-industry billings grow from $1.3 billion in 1950 to $6 billion in 1960. "Children were targeted for the first time," Ad Age says in its history of the industry, "as advertising tapped their newfound affluence. Phonographs, records, radios, magazines, clothing and soft drinks, among other products, found a receptive teen audience."
The pioneers on capitalism's final frontier, the kid market, were an unlikely trio of pop-culture heroes. First, there was Elvis Presley. Elvis moved tons of merchandise in the '50s, not just records but all kinds of branded products.
Elvis made his fortune on the squeals of pubescent girls. Boys of the era sought out more rugged, outdoorsy heroes—and for a time none was bigger than Davy Crockett. The Crockett craze, fueled by Disney's wildly popular TV and film adventures of the legendary frontiersman, was a merchandising bonanza. Ads urged boys to emulate their hero by wearing replicas of Crockett's famous coonskin cap—and boys eagerly responded. At Crockett-mania's peak, Disney was selling 5,000 of the faux-fur caps daily to the future he-men of America.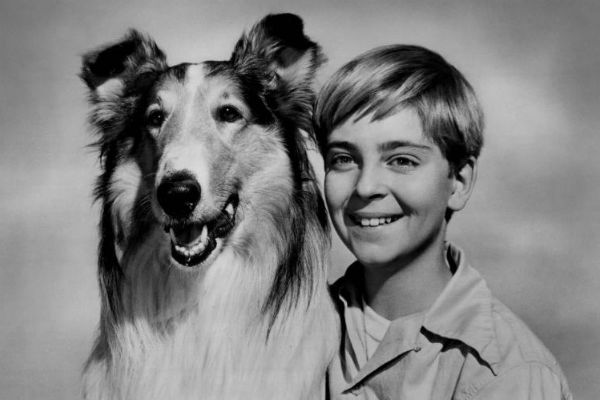 Lassie's marketing edge on such formidable rivals was crossover potential: The gentle but stouthearted Collie was loved by kids of both sexes. (That Lassie was a female character played by a male dog, and that the show's creators took no pains to conceal this fact, is an oddly androgynous footnote to his/her fame.) Team Lassie struck while the iron was hot and affixed Lassie's name and likeness to every conceivable type of youth-oriented product.
In the decades since, Lassie's fame has somewhat diminished—recent efforts to revive the franchise have been met mostly with indifference—but the image of the regal, full-coated Collie lives on in the American consciousness; the name Lassie is still synonymous with "good dog." Rummage around for Lassie stuff in America's communal attic, eBay, and you will find thousands of vintage Lassie tie-in products, now prized as collectibles.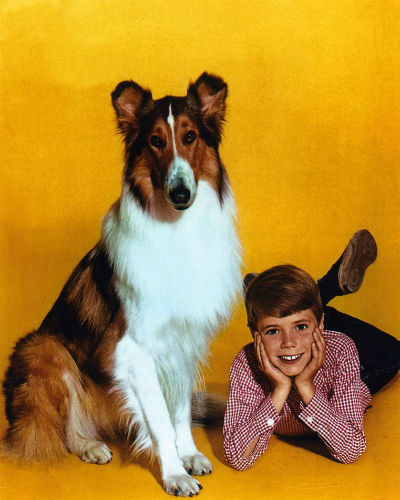 What will they think when these artifacts are unearthed in a thousand years? Perhaps fourth-millennium archeologists will classify them as evidence of a crass commercialization of childhood that began in the mid-20th century. But maybe, if we're lucky, they will add that any culture preoccupied with such a nice doggie could not have been all bad.
To view the internet's largest archive of vintage dog photography, visit AKC Gazette Facebook.
 
Header photo credit: AKC Gazette collection