If your dog is elderly, has lost some mobility, or is recuperating from an operation or ailment, he might have trouble getting around. Even if he is perfectly healthy, but is a breed with very short legs, tiny stature, or one that has difficulty in extreme weather, you may think you'll have to give up long walks or outdoor outings. Thanks to the proliferation of dog strollers, your canine pal can join you in the fresh air without having to lift a paw.
Dog Strollers Are the Solution to So Many Challenges:
• Older dogs that still love going on walks, but simply can't keep up with their humans or with other pets.
• Dogs that don't do well in hot weather, such as Pugs and Bulldogs. Now you can let your dog walk for a while and then cool off in a covered stroller.
• Puppies may get tired on walks. Let him go his own distance and then rest in the stroller, while you continue your walk.
• Very small dogs may get underfoot in a crowd, for example at a farmers' market or street fair. They may even get tripped over or stepped on. You can keep him safe by putting him in a dog stroller.
• If your dog is on "crate rest" after surgery or has an injury or illness, you don't have to deprive him of the sights, scents, sounds, and fresh air outdoors. He'll also be glad to spend the time with you instead of alone in his crate.
Choosing the Right Dog Stroller
Consider the size of your dog and what you plan to use the stroller for. Are you in an urban area with smooth sidewalks and easy street crossings? A light, portable stroller will probably work fine. Do you have to maneuver country roads or plan to take your dog on your favorite jogging trails? In that case, choose a dog stroller meant for use on rough terrain.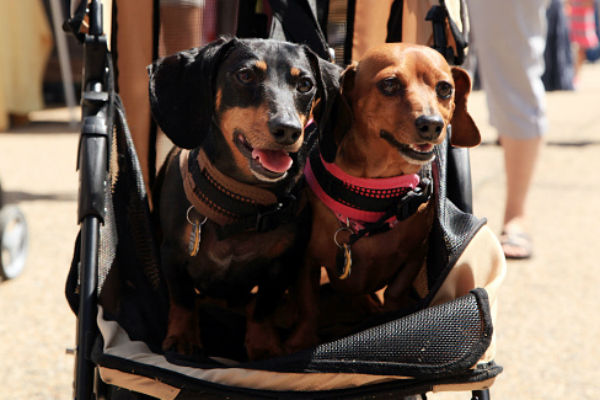 Get Your Dog Used to the Stroller
Place him in the stroller or tempt him to get in with some small treats. Let him get used to the space. Make sure he's secured. If the stroller has no leash clip, you'll have to hold the leash. If your dog is an escape artist, you'll probably want a stroller with a cover.
Your dog may get nervous when the stroller starts to move, so start out slowly and gradually, even if it means moving only a foot or two. Reward him if he stays calm. Gradually increase the distance, as well as the distractions in the environment. Your stroller adventure may start by moving it down the front walk, then going some distance on the sidewalk, and finally taking a stroll around the neighborhood. Once your dog is used to his new transportation, it will be a fine way to have him join you on more public outings.
Some of Our Top Stroller Picks
Pet Gear No-Zip Happy Trails Lite Dog Stroller
With Velcro closures, an adjustable canopy and mesh screen, this stroller will let your dog enjoy all the sights and sounds around him. The elevated paw rest lets him sit up and take it all in, and the storage bin has room for his treats and yours.

Roll Around Travel Dog Carrier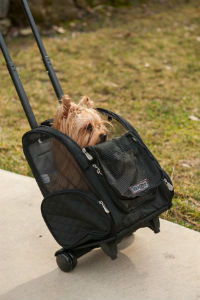 While not strictly a stroller, this versatile product can be used as a car seat, dog bed, or backpack, and as a rolling dog carrier. It has zippered side pockets for carrying essentials and is ideal for travel with your dog.

This three-wheeled dog stroller is stable and sturdy, with lots of convenience and safety features, including rear security brakes, a seat belt leash, retractable hood, cup holders and mesh windows. Use one hand to fold it up for storage.

2-in-1 Dog Stroller & Bike Trailer
If you love to take your dog along on adventures, this is the equipment you need. The full suspension system and sturdy steel frame provide maximum stability. It comes with a universal bike hitch and converts to a stroller without the need for tools. Lots of safety features, too!

Pet Gear Expedition Dog Stroller
Even big dogs sometimes need a ride, and this sturdy stroller holds up to 150 pounds. It sits lower to the ground than most strollers, so it's easy for your dog to get in and out.

Four Paws 3-in-1 Dog Stroller & Carrier
With a zippered roof and inside leash, your dog will be safe and secure. Meant for small dogs, the carrier can be removed from the frame for easy travel anywhere.

Whether you're going for a stroll around town or a jog through the park, the 3-wheel design of this stroller makes for a smooth, safe ride. Mesh front and rear windows give your dog ventilation and a great view, and you can collapse the top to make a larger opening.
https://www.akc.org/wp-admin/admin-ajax.php
Get Your Free AKC eBook
Life with a Senior Dog
As your dog ages his needs will start to change. Download this e-book to learn what to expect and get helpful tips on caring for your senior dog.